Lip-smacking sticky chicken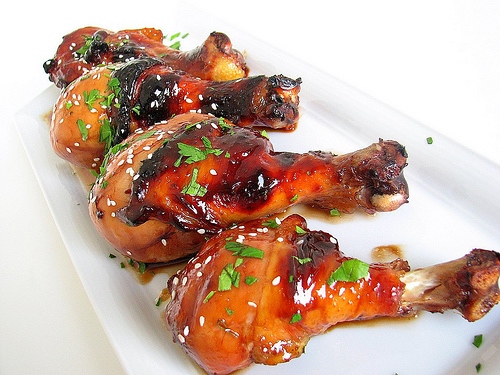 Ingredients
3 tbsp honey
3 tbsp balsamic vinegar
3 tbsp soy sauce or Worcester sauce
680g chicken breasts, cut into 1" cubes
Preparation
1. Mix together the honet, balsamic vinegar and soy sauce. Toss the chicken into the dish and coat thoroughly, and leave to stand for at least 30 minutes in the fridge.

2. Heat a frying pan, add the chicken cubes and marinade. Cook on a high heat for about 20 minutes, until all the liquid has absorbed into the chicken. Make sure to stir regularly to prevent burning.

3. When the chicken is thoroughly cooked, serve immediately on a bed of crispy salad or with some vegetables.
Cooks Note
This is a great dish for barbecues, too. You can use chicken drumsticks or thighs instead of chicken breasts. Same method: marinade until they're ready to barbecue.