Posted on
15 December 2014
Nuts with Sugar and Spice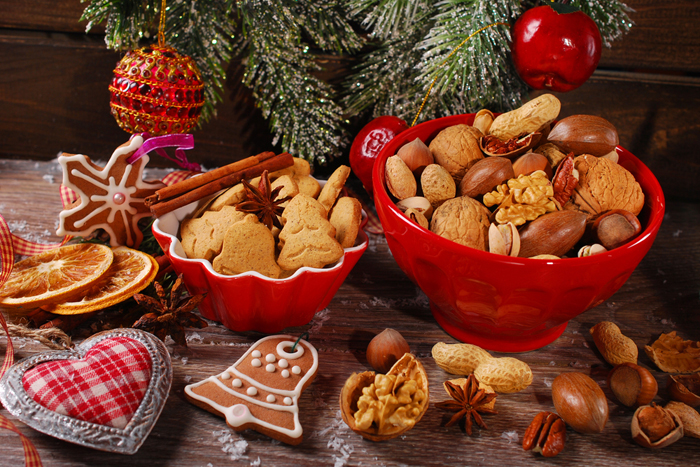 Ingredients
1 tsp salt
½ tsp ground cumin
½ tsp cayenne
½ tsp ground cinnamon
½ tsp dried ground orange peel (available at Waitrose, or just make your own by grating orange peel and drying it in the oven for a few minutes)
450 grams of Pecan Halves
2 tbsp butter
Brown Sugar/ Raw Sugar/ Coconut Sugar
Preparation
Line a baking tray with parchment paper. In a small bowl mix together:

• 1 tsp salt

• ½ tsp ground cumin

• ½ tsp cayenne

• ½ tsp ground cinnamon

• ½ tsp dried ground orange peel (available at Waitrose, or just make your own by grating orange peel and drying it in the oven for a few minutes)

Toast 450 grams of Pecan Halves in a heavy bottomed fry pan until aromatic and golden. Melt in 2 tablespoons of butter, and add the spice mixture. Cook for a few seconds.

Sprinkle 4-6 tablespoons of a combination of Brown Sugar/ Raw Sugar/ Coconut Sugar. Add a splash of water and cook, stirring, until the nuts are coated with this delicious glaze.

Spread the nuts out on the prepared baking tray and cool completely. Store in an airtight container for up to 3 weeks.
Cooks Note
Nuts are an integral part of any festive table. But instead of eating store bought spiced nuts that are full of preservatives, how about making your own. Here is the DinnerTime adaption of Chef Alton Brown's Spiced Pecans.
Find out more on DinnerTime here >>