Shahi Gola Kebab Masala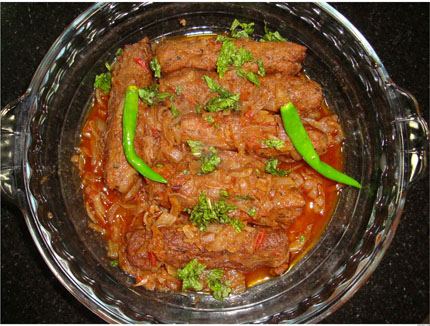 Ingredients
1/2 kg beef mince
1 tbsp ginger garlic paste
1 tbsp gram roasted
1 tbsp poppy seeds roasted
1 tbsp desiccated coconut roasted
1/2 cup brown onion ground
1 tsp salt
1 tsp all spice powder
2 tbsp yogurt
1 tsp cumin crushed
1 tsp chili powder
1 tsp raw papaya ground
For Masala:
1 large onion chopped
1 tbsp ginger garlic paste
1 tsp chili powder
1/2 tsp salt
4-5 green chilies chopped
1/2 cup oil
1/2 bunch fresh coriander leaves
Preparation
Roast poppy seeds and coconut grinded with roasted gram.

Marinate your mince with yogurt, grinded masala, ginger garlic, salt, all spice, and chili powder.

Mix everything well and grind once again in chopper.

Lastly add brown onion, raw papaya.

Mix everything well. Make big round kebabs and keep aside.

<strong>Method for masala:</strong>

Heat oil fry onion till light brown.

Add ginger garlic paste, chili powder and salt.

Fry well add half cup water.

Add in your gola kebabs. Cook on low flame on 1 side for 5 mins.

Turn and cook the other side for another 5 mins.

Cover and leave it on dum. Lastly add chopped coriander and green chilies.