Posted on
17 September 2012
Stuffed Tomatoes With Prawns and Rice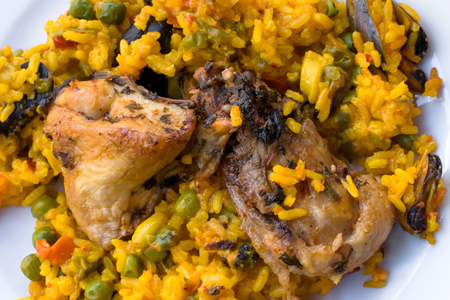 Ingredients
Tomatoes 4 to 6 (medium size)
Prawns 0.5lb(medium)
Rice 5 oz.(boiled)
Lemon juice 1/2 tsp
Parsley 3 tsp.(finely chopped)
Spring onions 3 tsp.(chopped)
Mayonnaise 1 oz.
Black pepper 1/2 tsp.
salt to taste
cucumber 1 oz.(chopped small)
oil 1 oz.
Preparation
Wash and clean the prawns,take out 6 pieces of prawns and keep seperate.In a blender coarsly chop the rest of prawns

Take out in a mixing bowl,now heat 2 tbsp of oil and saute prawns ,also add spring onion, salt and pepper,stir for 2 to 3 minutes and turn off the flame ,now add rice,mayonnaise and lemon juice into this mixture and check for the taste

Wash and dry tomatoes,with a sharp knife cut off the upper part of tomatoes and carefully scoop out all the pulp,now stuff tomatoes with prawn mixture

Put the remaining pieces of prawns in a pan cover and steam for 2 minutes

Now place each prawn over a toamato and arrange on a serving plate and microwave for 2 min

Garnish with chopped parsley and serve on a bed of fresh lettuce leaves and cucumbers.