Tasty Tuna Salad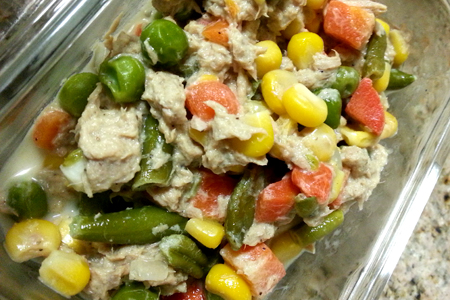 Ingredients
Tuna – light meat
Mixed vegetables (frozen packed)
Evaporated milk
Onion
Garlic
Oil
Pepper (powder)
Salt
Quail Eggs
Frozen shrimp
Mushroom
Preparation
Sauté garlic and onion in a pan.

In a small bowl, put together all vegetables and set aside.

Add tuna in the pan and stir up to 5 minutes.

Put the vegetables in the pan and continue stirring up to 3 minutes.

Add the milk and stir up to 10 minutes until slightly dried.

Remove from pan and serve hot with steamed rice.