Tom Kha Gai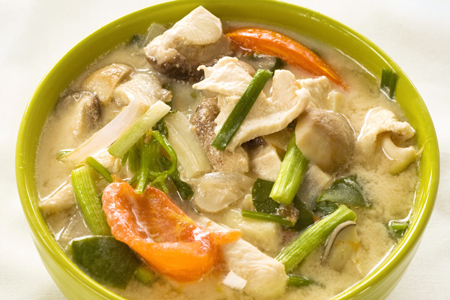 Ingredients
375g boneless chicken
3 tablespoons vegetable oil
3 cups coconut milk
2 cups water
2 tablespoons grated ginger
4 tablespoons fish sauce
4 tablespoons lemon juice
1 teaspoon chilli pepper
½ ground turmeric
½ bunch spring onions, sliced
Chopped coriander
Preparation
Slice chicken into thin strips and stir fry in oil until chicken meat turns white. Set aside.

In a saucepan, boil water and coconut milk. Reduce heat and add ginger, lemon juice, fish sauce, chilli pepper, chicken and turmeric.

Simmer at least 15 minutes or until chicken is well done.

Sprinkle with coriander and spring onions.

Serve hot. Enjoy!
Cooks Note
Serves 6, Preparation 15 minutes, Cooking time 20 minutes