Vegetable Hariyali from Govinda's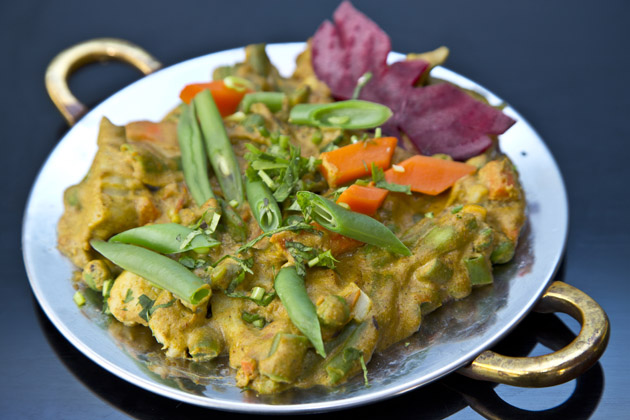 Ingredients
100g Tomato Gravy
100g Boiled and Chopped Vegetable Melange
25g Mint Chutney
25g Boiled Grind Spinach
2g Cumin Powder
3g Coriander Powder
1g Chili Powder
Paneer Pieces
1g Kitchen King Masala
1g Special Garam Masala Mix
1g Chili and Ginger Paste
Preparation
1. Heat up a tsp of ghee in a pan (usually frying pan works but could be done in a stainless steel pot as well).

2. Add in the chilli ginger paste and let it simmer with the tomato gravy, spinach and mint chutney.

3. Now we can add in all the veggies and spices and give it a couple of tosses over high heat.

4. You'll notice the mixture starting to thicken and coagulate.

5. Lastly add in a few pieces of paneer (we need to make sure it doesn't over cook), keep on medium flame for a minute and serve hot, garnished with fresh chopped cilantro.
Cooks Note
If you would like to try more 100% healthy. 100% vegetarian recipes visit Govinda's!