FIFA World Cup Russia 2018: Where to Watch in Dubai
Discover the top places in Dubai to watch the World Cup this year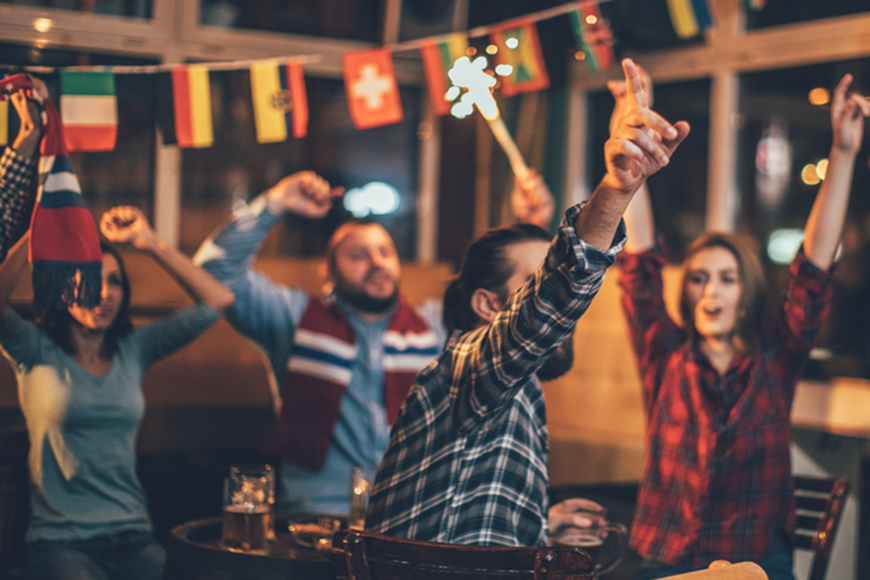 The 2018 FIFA World Cup in Russia kicks off on 14th June at the Luzhniki stadium, with hosts Russia against Saudi Arabia –as the countdown is on for football fans across the globe. However, not all fans will make it to the tournament as we've prepared a guide on where to watch the 2018 FIFA World Cup matches in Dubai.
We've rounded up the best sports bars in Dubai for expats and football supporters to follow their team, with all the live match screenings, special promotions, fan zones and World Cup celebrations (or commiserations) throughout the 2018 tournament.
Fans can still experience 90 minutes of joy, nerves and tears here in Dubai, as each team fights to win the famous gold trophy. Here are just some of the venues that will screen the FIFA World Cup 2018 in Dubai –stay tuned for further updates and confirmed details…
Trump International Golf Club
Between June 14th - July 15th, experience an electric atmosphere at The Terrace restaurant at Trump International. With an indoor mega screen showing all of the games, you can beat the heat while you enjoy fast paced football action with friends and family. From delicious sharing platter promotions and bucket deals, to stunning views of the golf course –this will be one of the top places in Dubai to watch the world's biggest sporting event.
For more information contact: 04 245 3939 or email [email protected]
Where:: The Terrace restaurant at Trump International, DAMAC Hills, Al Hebiah Third District

Footy Fan Zone by The Dubliner's
We're getting ready to host the Footy Fan Zone by The Dubliner's. An air-conditioned tent with gigantic screens showing live soccer dedicated to the football fans! Le Meridien Dubai is entering this football tournament scene with a bang! Fan groups of 8 or more can enjoy a free bottle of house beverage on the house during the first week of the championship. Guests can also enjoy a bucket of selected beers for only AED150.
For more information call 047022455 or email [email protected]
Where: The Footy Fan Zone by The Dubliner's, Meridian Village, Le Meridien Dubai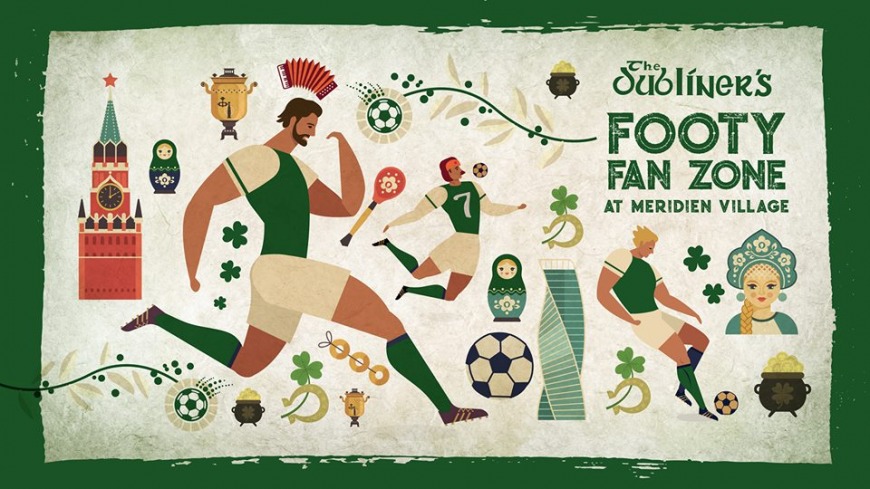 Soho Garden DXB
Soho Garden DXB are transforming their cosmopolitan enclave into the ultimate World Cup Football hang out this summer, with all 64 games live on multiple cinema screens throughout the venue from June 14th. You don't need to worry about Dubai's summer heat, as there will be a huge 10ft structure around the venue to keep you cool in the air-conditioned space!
There will also be food for fans with a tasty menu of burgers, nachos, flatbreads and many more to indulge in. Soho Garden DXB are also providing post-match entertainment with Dubai's best DJs every night from June 17th, with parties running until 2am.
Open from 4pm until 2am everyday starting Thursday June 14th for the World cup opening game.
Contact: +971 52 388 8849 / +971 56 822 2559 or E-Mail [email protected]

Barasti Superdome
Barasti is sure to bring the World Cup party spirit with a great atmosphere and an abundance of TV screens for you to watch your team. The party-venue will broadcast the latest 2018 World Cup action, as you can celebrate your team's victory overlooking the beach.
Perfect for: Party atmosphere and big screens
Where: Barasti, Le Meridien Mina Seyahi Beach Resort & Marina, Dubai Marina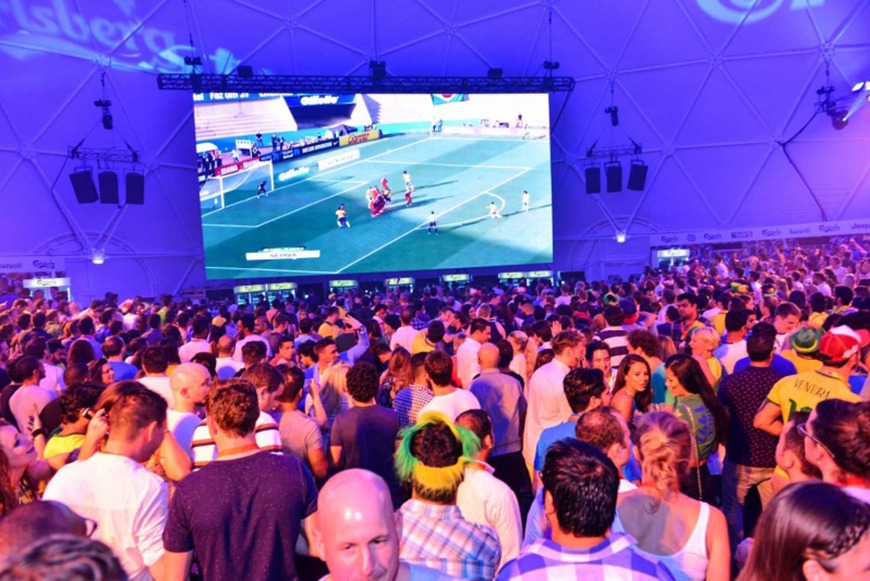 McGettigan's
Although Ireland didn't make the cut for the World Cup this year, Irish Bar McGettigan's will still be showcasing matches across their locations in Dubai. With giant screens and TV's throughout the venue, it'll be difficult to miss the action, as you can also enjoy World Cup happy hour specials, breakfast deals and even a World Cup themed brunch on 15th June at JLT and Souk Madinat locations.
Perfect for: Football chants, great atmosphere and World Cup Brunch!
Where: McGettigan's JLT -Bonnington Hotel, Cluster J, Jumeirah Lakes Towers
McGettigan's DWTC -next to Dubai World Trade Centre, Sheikh Zayed Road
McGettigan's Souk Madinat Jumeirah -Souk Madinat Jumeirah, Umm Suqeim
Burger & Lobster
Starting on 14th June, fans of Burger & Lobster will be able to enjoy the World Cup at the DIFC venue on a 3x3 meter wide screen, combined with the flavours of signature and brand-new Burger & Lobster favourites in a combo package for two. World Cup Package priced at AED 195 and is available from 14th June to 14th July –during the matches.
Perfect for: Watching football with fancy food!
Where: Burj Daman Building - 312 Al Sa'ada St, Dubai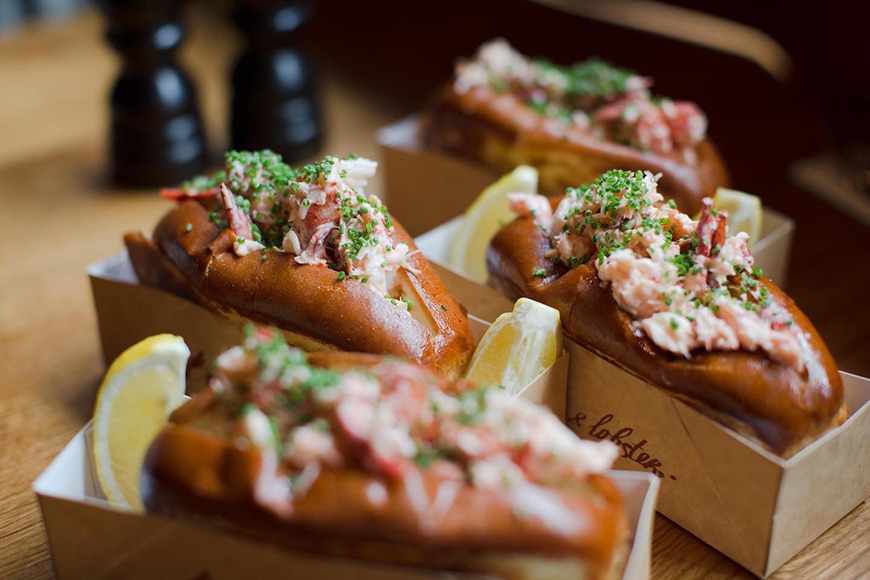 Nezesaussi Grill Dubai Marina
Watch live telecasts of all the FIFA World Cup 2018 games on 24 super-size screens as you savour a menu with football-themed selections; enjoy half-time entertainment and lively tunes on the jukebox. Priced at AED 99 per person including two drinks, chicken wings and special World Cup themed gift. From 14th June to 15th July at 4pm to 2am.
Perfect for: A World Cup themed football frenzy
Where: Address Dubai Marina Al Marsa Street, 66, Dubai Marina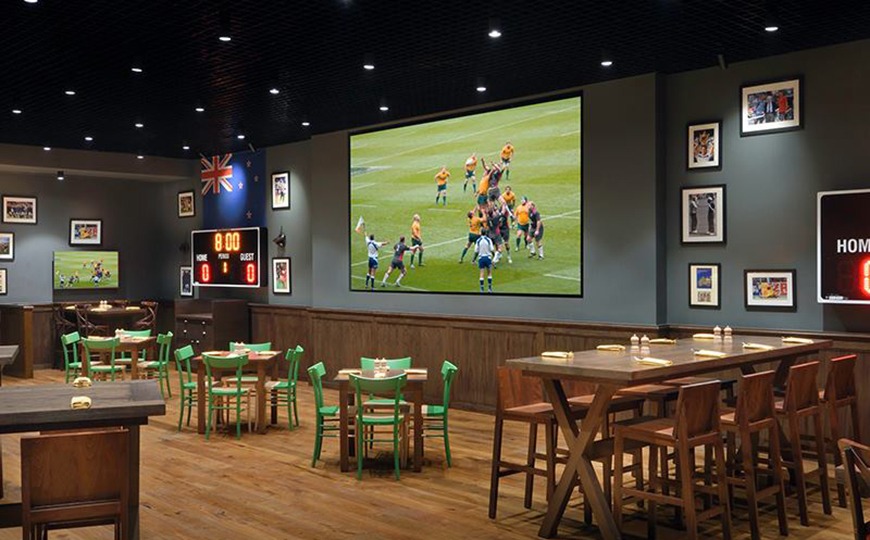 Atlantis, The Palm "World Cup Fan Zone"
In celebration of the FIFA World Cup 2018, Atlantis, The Palm will launch the ultimate 'World Cup Fan Zone' from 14th June to 15th July 2018. With a capacity of over 2000 fans, the 'Atlantis World Cup Fan Zone' will be the place to watch the FIFA World Cup, airing all of the action, live from Russia in an electric atmosphere. Ladies enter for free and guys pay 100 AED on the door which is redeembale against food and drinks.
Perfect for: Different zones to enjoy the match, gamer's corner with Playstation and specially-designed football food menu
Where: Atlantis, The Palm

Lock Stock and Barrel
For a roast of the day, daily happy hours and live World Cup matches, Lock, Stock & Barrel's Barsha Heights bar is the perfect place to put on your football shirt and follow your team. The football won't be the only entertainment, but with 13 screens to watch the game you definitely won't miss a kick.
Perfect for: Good grub and watching the game!
Where: 8th Floor, Grand Millennium Hotel Dubai, Barsha Heights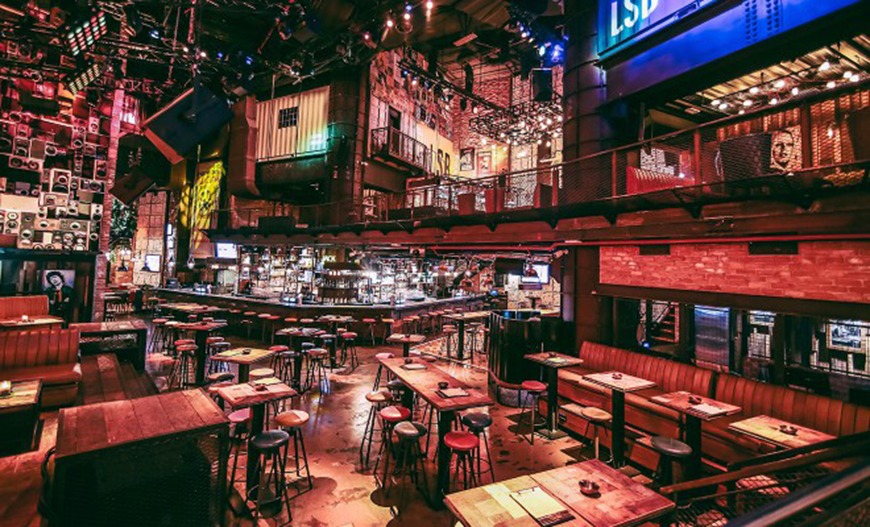 Kickers
Kickers Sports Bar is dedicated to covering every moment of the 2018 FIFA World Cup with special large projector screens and plenty of World Cup offers on drinks. As one of the best Dubai sports bars, you can expect a lively atmosphere and a great following at matches.
Perfect for: If you live near Sports City and projector screens
Where: Sports Village, Dubai Sports City

Wavebreaker Beach Stadium
Wavebreaker, the beach bar and grill are setting up a fully air-conditioned and smoke-free fan zone tent at their JBR location. Every match will be broadcasted live and there are a range of food and beverage options available too, with a variety of deals starting from AED 150. You'll also get beach access with your purchases, and there is a kid-friendly zone with activities.
Perfect for: Beach access and child-friendly zones as well
Where: Hilton Dubai Jumeirah, JBR
[u]bk
[u]bk has four different areas dedicated to watching the world cup matches, plus 19 TVs and two huge projector screens. During each game there will be an unlimited two-hour drinks package for AED 99 and there will also be a range of mini games and competitions, including a PlayStation tournament!
Perfect for: Drinks, games and the match!
Where: Mövenpick Hotel Jumeirah Lakes Towers, Cluster A, JLT
World Cup Tent at Fairmont The Palm
With one giant screen and many other smaller screens set up, fans won't miss single moment of play throughout the tournament. Servers dressed as referees will take care of you and your friends with an extensive menu of food and snacks, including nachos, popcorn shrimp and beef sliders, as you cheer on your favourite team. Minimum spend of AED 95 per person.
Perfect for: Football fan zone theme and atmosphere
Where: Palm Courtyard, Fairmont The Palm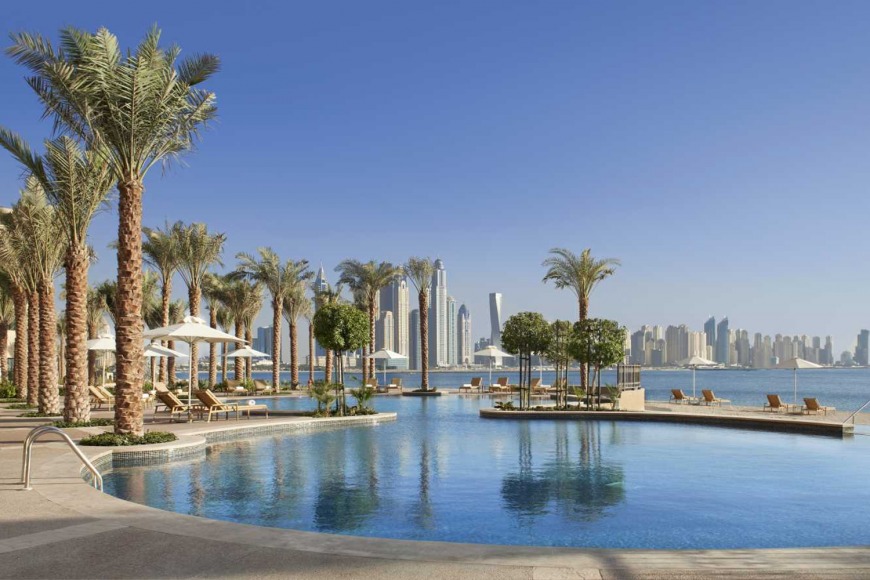 Reform Social & Grill
This British-style pub is launching "Your Local Fanzone" with an air conditioned tent and huge viewing screen. There will be happy hour prices, plus loads of games and prizes to be won, as well as a special world cup menu with different drink and food packages available –starting from AED 99.
Perfect for: Football at your local -with a pint and fish and chips!
Where: Reform Social & Grill, The Lakes, Emirates Living
Toro + KO
Toro + KO, the Barcelona inspired tapas bar located at The Square, City Walk, will be bringing fans all the live football action this summer by screening all the 2018 World Cup matches. With three large screens and a variety of enticing offers, Toro + KO's lively, yet laid back atmosphere will provide the perfect setting for fans to cheer on their favourite team.
Perfect for: Watching football with tapas and the chance to win some amazing prizes
Where: The Square in City Walk
Arabian Ranches Golf Club
Cheer for your favourite team as you enjoy some appetising pub grub and beverages in a dedicated fan zone at Ranches Restaurant! Bound to ensure that you feel the live energy of the stadium.
Perfect for: À la carte featuring special football inspired food and beverages. Plus, special 2 for 1 offer on selected hop beverages
Where: Arabian Ranches, Emirates Road
Aloft Me'aisam
Watch the games indoors or on the big screen by the pool at the recently opened Aloft Me'aisam. Football fans can order a special main course for AED 89 (including hops), or a traditional football snack, special nacho platters at AED 69 (with hops) or AED 59 (with a soft drink) and shisha, nachos and soft drink package will be available for AED 99. Minimum spend of AED 100 per person.
Perfect for: Watching the match poolside with shisha and nachos.
Where: Production City

Perry & Blackwelder's
Watch the world cup matches with a menu of comfort food and plenty of beverage deals at P&B. All games will be shown live on 10 screens throughout the venue and major matches featured on the big screen at the main bar. Sharing deals start from AED 99.
Perfect for:Comfort food full of Southern charm to accompany the game.
Where: Souk Madinat Jumeirah
QDs
Gather your own team for live screenings in high-resolution at QDs fully air-conditioned tent. Guests will be offered a variety of food and beverage offers to complement each match, with sharing options from AED 380 for 4 guests and AED 1,500 for up to 10 guests.
Perfect for: Group deals for the whole squad to enjoy
Where: Dubai Creek Golf & Yacht Club
Zero Gravity
The day to night beach club is offering free-entry to its indoor venue and also hosting a special World Cup Brunch for big matches for AED 250 with unlimited food and beverages. There are also drink deals to enjoy and football food such as pies, burgers and hot dogs.
Perfect for: Brunch deal, atmosphere and footy themed food
Where: Zero Gravity, Skydive Dubai Drop Zone, Dubai Marina
Garden On 8
Garden on 8 are hosting a fully air-conditioned world cup fan zone with a giant flat screen and more than 7 TV screens, plenty of seating setups and great food and drinks options. The menu includes favourites from around the world such as Wiener schnitzel strips, tangy BBQ chicken wings and crispy chunky onion rings. There will also be liver entertainment, competitions and face painting.
Perfect for: Football menu, competitions and face painting
Where: Media One Hotel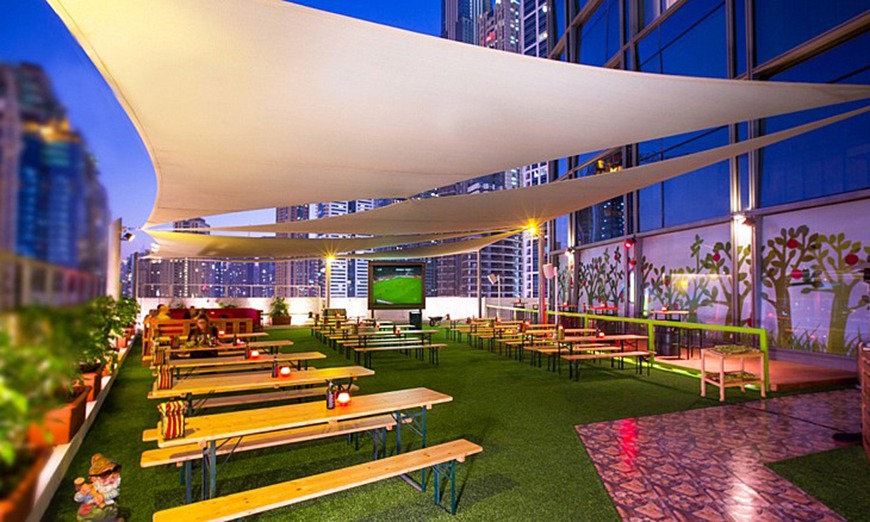 The Els Club
The Els Club's will feature every world cup match on the big screens at the indoor bar and lounge 261, the outdoor air conditioned terrace and The Big Easy's Overlook Lounge , alongside live cooking stations and promotional bucket deals which start from AED 99.
Perfect for: Bucket deals and a choice of venues
Where: Dubai Sports City
Bidi Bondi FIFA Tent
Bidi Bondi have created a fully air-conditioned fan zone tent, where football fans can catch the live action on one of the 17 HD screens, three of which are giant screens. You can purchase a special season ticket for AED 155 per person which includes four beverages and a meal, or five beverages.
Perfect for: Season ticket offer
Where: Bidi Bondi, Palm Jumeirah
Copper Dog
Cool down in Copper Dog's Fan Cave and watch the games live on any of their screens throughout the restaurant and bar. Enjoy the action with special world cup offers on food and beverages. Loyal fans will also be given the Copper Dog World Cup Passport which will be stamped on every visit and give fans the chance to redeem AED 500 on food and beverage throughout the summer.
Perfect for: Pub grub and Copper Dog World Cup Passport for loyal fans
Where: Doubletree by Hilton, Dubai Jumeirah Beach –The Walk
The Penthouse
If you want a luxury world cup viewing experience and the chance to win FIFA World Cup tickets, then head to this Palm Jumeirah rooftop bar. Games will be showcased on multiple screens within a transparent air-conditioned tent .You'll also be able to watch the game from the pool, ordering sliders, sushi, gyoza and more from AED 50, with deals on drinks including buckets from AED 180.
Perfect for: VIP World Cup Extravaganza
Where: FIVE Palm Jumeirah