5 Of Dubai's Most Expensive Food Items
Who has the money to spend on these!?
Posted on
9 February 2017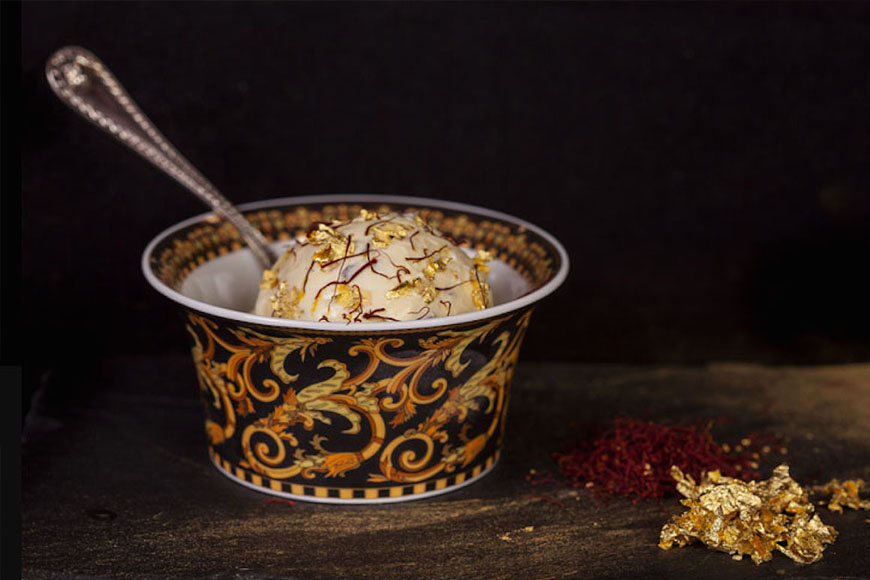 Image Credit: vid.alarabiya.net
Expensive, opulent and extravagant — the world blames Dubai for its unabashed display of luxury.
Be that as it may, this notoriety undeniably helps tourists and locals to taste the extravagant pleasures of life. It also helps artists and creators to experiment with their creativity – without any budget hindrance.
Paying a tribute to the city's affluence, we've compiled a list of the most insanely expensive food items that Dubai has to offer.
1. The Black Diamond Ice Cream - AED 2,999
(Pictured above) If you're thinking how in the world a scoop of ice cream can equal your entire month's food budget then here's the breakdown: The Black Diamond Sundae is made of vanilla bean ice cream from Madagascar and topped with rare and expensive Iranian saffron and black Italian truffles. Throw in 23-carat of edible gold sheet flakes, a Versace bowl and spoon (yes, you get to keep it) and you have it.
Of course, you can avoid all the expense and simply opt for the AED 15 scoop from the same place — Scoopi Café located on Jumeirah Beach Road.
2. The Golden Phoenix Cupcake - AED 3,700
Ever bought a cupcake with 23-carat edible gold dusting? Bloomsbury, a small boutique cafe in the Dubai Mall, celebrated its one year anniversary in 2012 with a Golden Phoenix cupcake.
The eye-watering expensive dessert is made with premium Ugandan vanilla beans, Amedei Porcelana chocolate and decked with gold dipped strawberries. Served on a 24-carat gold empire cake stand – this is the priciest cupcake in the whole wide world.

Image Credit: images.foodworldnews.com
3. The Burg-Khalifa Burger — AED 230
It's a five storey meaty deliciousness wrapped in 24 carat gold sheet.
The UK-based food truck, The Roadery served this whopping luxe delight at Eat the World DXB food truck event at Burj Park in February 2017. This mighty feast is made with 5 Wagyu beef patties and topped with truffled cheese, blackberry ketchup. A 24K gold-leaf bun adds the royal touch - think you can eat it?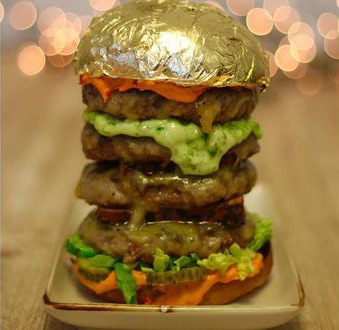 Image Credit: www.arabianbusiness.com
4. The Royal Pizza — AED 777,000
Pizza is perhaps the most intercontinental dish of the world. But Dubai's definition of a Royal Pizza takes the international part to a whole new level.
Dubai's pricey restaurant, Pierchic, created ''The Royal Pizza'' for Dubai's Royal Family. And what makes this otherwise ordinary dish royal — you might ask? Its white Italian truffles, black Perigord truffles, French foie gras, Mongra saffron from Kashmir, Beluga caviar soaked in Dom Perignon, Japanese matsutake mushrooms and two full ounces of gold leaves.

Image Credit: langlaislifestyle.files.wordpress.com
5. 27.321 The Most Expensive Cocktail — AED 27,321
Pricey and expensive don't justify the amount you'd be spending on this 55-year-old single malt, served at Burj Al Arab. Aptly named after its exorbitant cost – 27.321 is made self-prepared bitters, homemade passion fruit sugar. The drink comes with a stirrer made of valuable oak cases.
The priciest element: It comes in an 18-carat gold glass that officially belongs to the customer.

Image Credit: www.arabianbusiness.com