James Martin On Why It's Such An Important Time To Start Embracing British Food
Lauren Taylor meets the popular TV chef, after his epic road trip around the British Isles
Posted on
24 February 2019

When it comes to TV chefs, there are only a few who've been chopping, frying and serving up dishes on our screens for more than 25 years – and James Martin, with his straight-talking, homely and down-to-earth manner, is one of them.
Cookery programmes have been a mainstay since Philip Harben showed BBC viewers how to make lobster vol-au-vents back in the 1940s, but even before Jamie Oliver and Nigella Lawson shot to fame in late-Nineties, Yorkshireman Martin was already a familiar face on telly, and has been ever since.
Following his popular foodie road-trips around France and America, he's now back with a new show – James Martin's Great British Adventure on ITV – plus a cookbook of the same name (his 23rd, he says).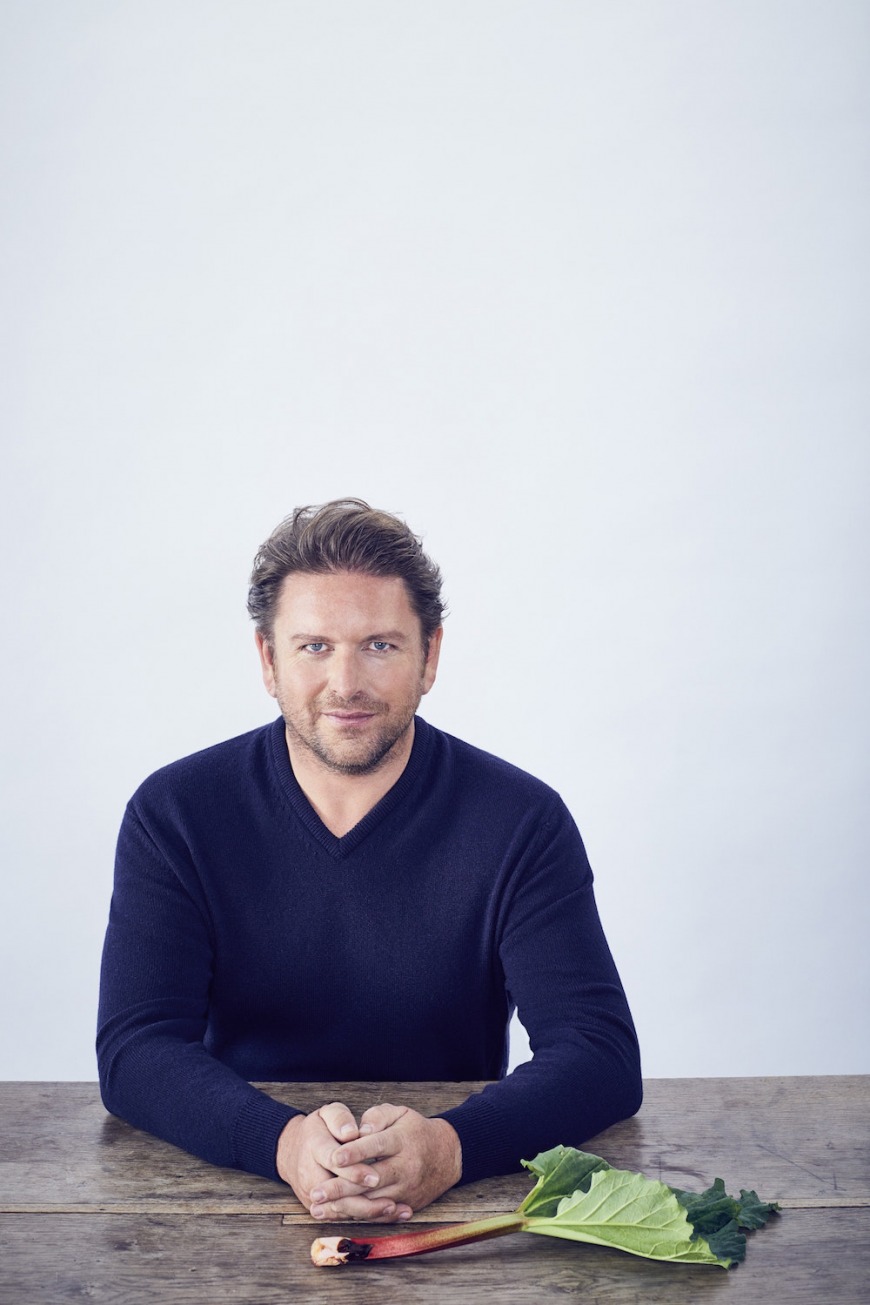 Now, especially as the Brexit deadline looms at the end of March, is an important time to really embrace British food, says the chef, admitting this was one of the "fundamental reasons" for wanting to do the book and series in the first place.
"I'm a farmer, and this is an amazing country we live in. There are some amazing people producing some amazing food – whether they cook it, serve it, make it, or brew it," Martin enthuses.
Like a love letter to Britain and its food, James Martin's Great British Adventure takes viewers and home cooks on a journey the entire length and breadth of the land – from the Isle of Wight for feta and halloumi and Wales for the beef and lamb, to Northern Island for langoustines and Scotland for "the best fruit in the world", along with many other gems in-between.
"It was one hell of a road trip," Martin says. "I've always wanted to travel but I spent 10 years on Saturday Kitchen in the studio. I was doing home comforts that were all based here, but I wasn't going anywhere. I wondered what it would be like, to venture out."
He did venture out – and the result is a showcase of the best of the best; from cooking with Michelin star chefs and some of Martin's personal food heroes – including Clare Smyth, Sat Bains and Michel Roux Snr ("I pulled my black book of chefs out"), to uncovering little known food producers and suppliers in rural locations.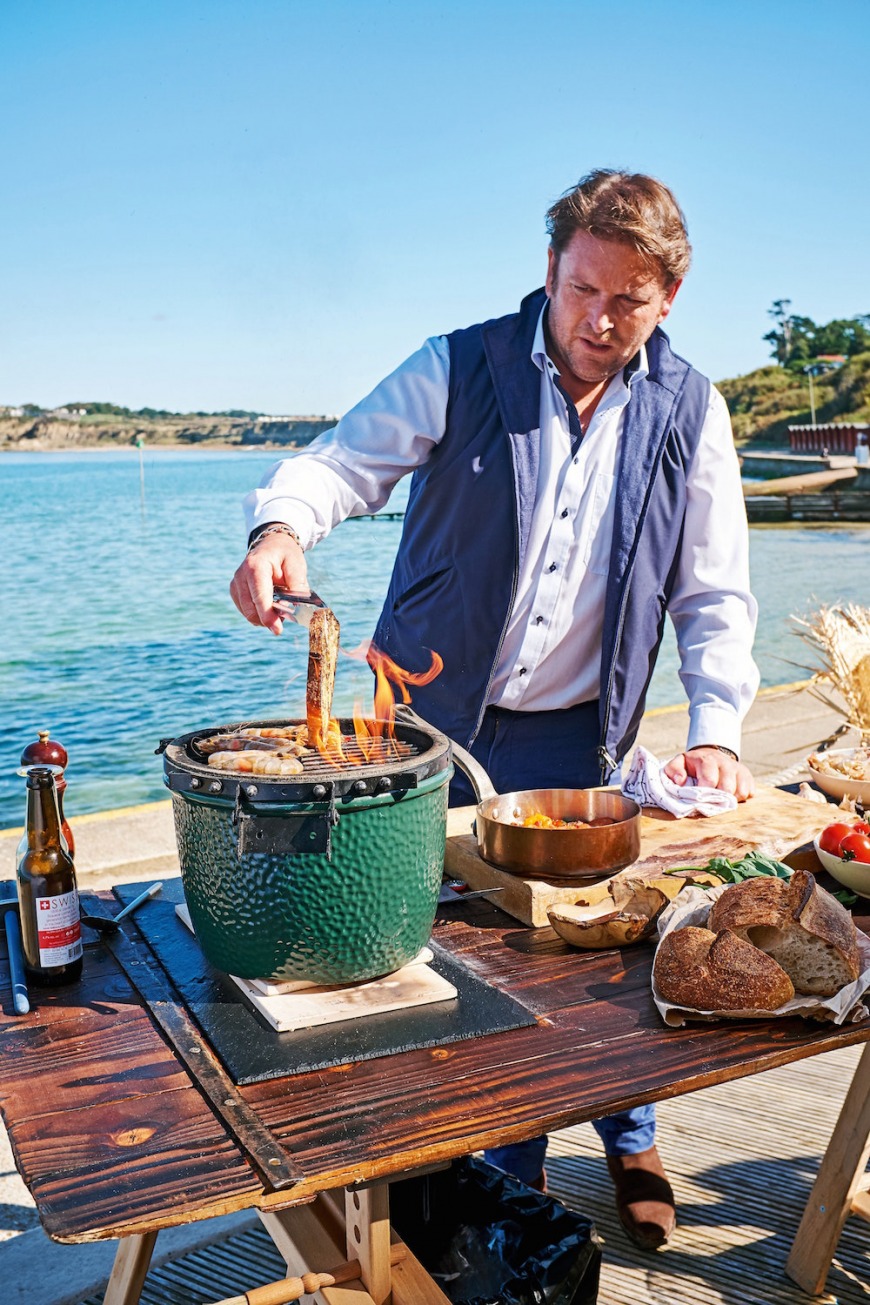 Cooking on the Isle of Wight (Peter Cassidy/PA)
It's these people Martin is most passionate about: "The lamb farmer working in -7°C up in Scotland, getting up at 5am in the morning, isn't doing it for a new Range Rover every year – he's doing it because he's the seventh generation of the family, and we need to keep supporting that. If nobody shouts about it and we just travel all over the world all the time, that's not good."
He's almost overflowing with stories of fascinating people and underrated produce from his exploration of the British Isles. There's the vinegar producer in the Orkneys who set up his business in his dad's garage, a breed of acorn-fed hairy pig called Mangalitsa in the New Forest – and another, Middle White, farmed on the Wales-Gloucestershire border. "It's the best pork you'll ever taste, and used to be really famous in the Thirties but now we all want pigs to look like they've done 100-metre hurdles, with no fat on them, but that's where the flavour is," says Martin.
"There are 200 Middle White sows in the world and this guy has got 100 of them – they're rarer than the king panda" – but only because we don't buy their meat. "People are creatures of habit," Martin adds.
Plus, we import a lot of meat from Europe. Whatever your stance, a departure from the EU will have some bearing on this, and the British food industry in general. "There are positive and negatives," Martin says. "Fishermen hopefully should be better off because they'll stop exporting Dover sole and langoustine. But the offset of that is that the floodgates [of import trade] will open to New Zealand and, if we don't sort out this bloody mess, it will decimate the lamb industry overnight.
"Everyone knows about Welsh lamb, but people always want cheaper and cheaper food – New Zealand can produce masses of it and we can't compete against them."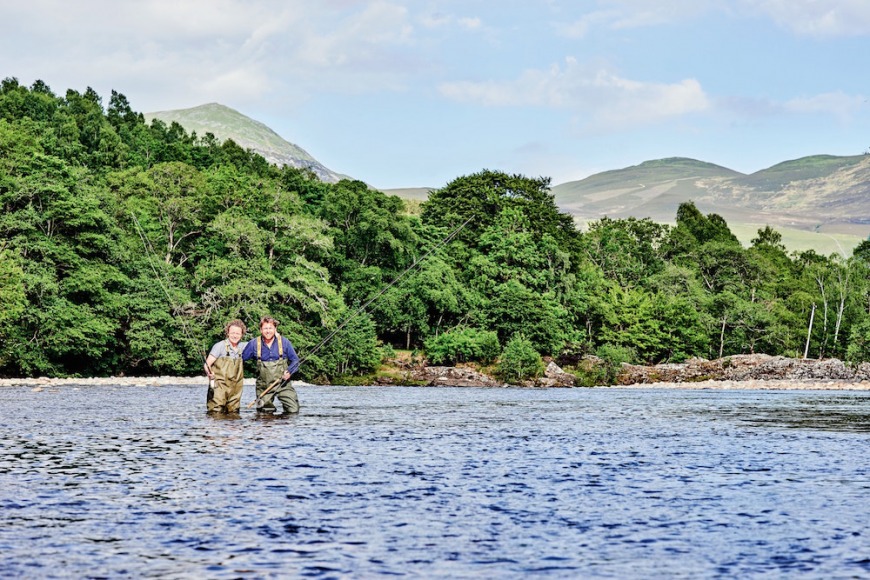 Fishing with Tom Kitchen (Peter Cassidy/PA)
But the uncertainty of Brexit isn't the only reason it's time to take a closer look at what's made on our doorstep. British cuisine, with its modern multicultural power, is finally having its moment in the spotlight. "Thirty years ago, we were deemed as the poor cousin around the world in terms of food, but in France I met some of the greatest chefs in the world, and their attitude towards British food and British chefs is totally different. Now we're on a level playing field, if not better – they see London as the gastronomic capital."
Famed for recipes that don't overcomplicate for the sake of it, long-standing Martin fans will be be pleased to know that his latest collection stays true to that approach. "I'm still off the ethos that you should never cook anything on TV that my mum can't get north of Watford," he says. "I think chefs can go too restauranty and you'll start to lose people." And although he takes some inspiration from British classics and age-old techniques, "it's fundamentally about the place, about the ingredients, about now", he adds.
It's been a long time since Martin first did work experience, aged 14, in a London kitchen, at the Park Lane Hotel ("Getting my arse kicked") – and longevity, in a world of Instagram foodies and YouTuber cooks, is not to be sniffed at. "This book is an accumulation of 35 years of work, of knowledge, built up over the years," he says. "And that knowledge, you can't buy it and you can't Instagram it."
He's got no time for flash-in-the-pan trends either. "The health food bloody thing or vegan month, do we need a whole month for it? We spend 11 months eating what we want, then comes January… It's baloney," he says, laughing.
"Food is one of the pleasures of life, and most of us don't enjoy most things and do a job we don't like, so for Christ's sake, just eat what you want."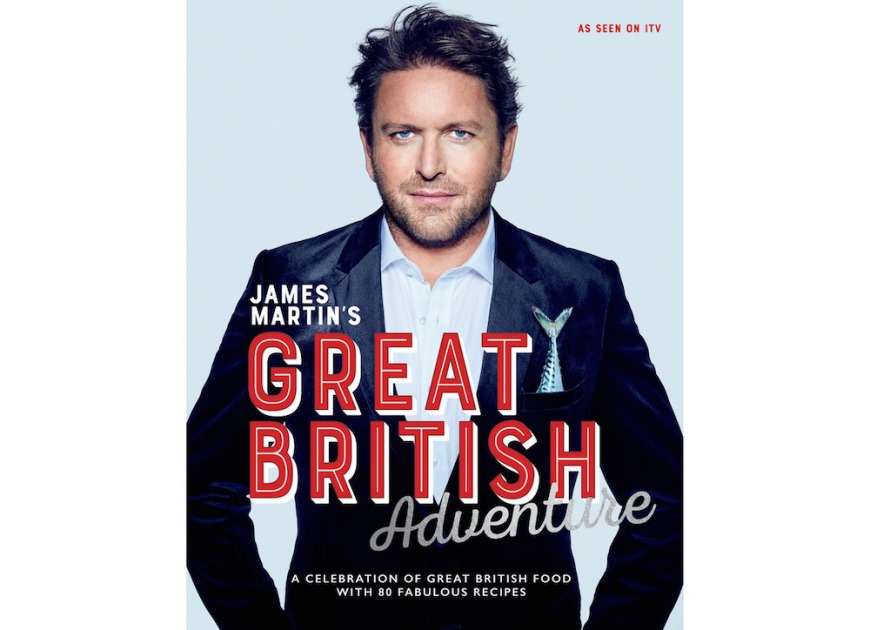 James Martin's Great British Adventure: A Celebration Of Great British Food With 80 Fabulous Recipes by James Martin is published by Quadrille, available now.