6 Delicious Kebab Skewers For A Healthy-ish Eid Dinner
To a guilt-free delicious Eid!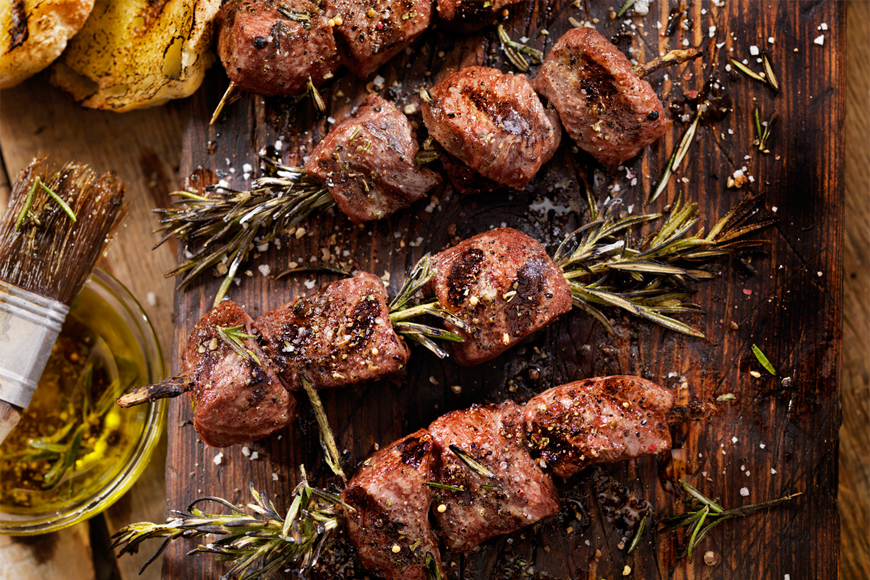 YES, we know healthy is the last word you want to hear anywhere around Eid but then again, Eid will come and go but the extra flab from eating oily gravies and fatty meats will stay till Christmas.
Maintaining a balanced diet on festivities is hard but not impossible. Sure, with SO many mouth-watering meaty dishes on the table, you'll be tempted to devour that plate of spicy rice with a juicy lamb leg but opting for less fattening options such as grilled skewers will let you enjoy Eid savouries without adding any extra pounds.
Scroll down to see some yummy kebabs skewer ideas to add some healthy-ish options to your Eid dinner. These exotic delicacies may have their roots from Turkey and Armenia but the concept of eating skewered meat has fans around the world.
From Middle East's lamb chunks to grilled steak kebabs, these barbeque staples are a hit because of their flexible recipes, portable cooking method and of course, the health factor.
1. Beef Souvlaki Kebabs
A simple marinade of olive oil, garlic, oregano and lemon is all you need to make these easy, healthy, and flavourful beef Souvlaki kebabs with tzatziki sauce.
Let your beef marinade for 8 or more hours and you'll be ready to surprise your guests at this Eid's bbq night.
image credit: Pinterest
2. Grilled Steakhouse Kebabs
Avoiding a quarter-pound steak? Have it on a stick instead.
With a marinade of steakhouse flavours including Worcestershire, soy sauce, lemon juice, mustard, and garlic give these kebabs are filled with robust flavours.

image credit: Pinterest
3. Grilled Lamb Kofta Kebabs
Grilled kofta made with ground lamb flavoured with onion and spices and then shaped and skewered onto kebabs. A grain free and paleo entree for Eid grilling season.

image credit: Pinterest
4. Grilled Asian Garlic Steak Skewers
Marinated in a delicious Asian garlic sesame sauce and grilled to tender and juicy perfection, these savoury skewers will leave your guests asking for more.

image credit: Pinterest
5. Grilled Steak Fajita Skewers with Avocado Chimichurri
Eat anything with avocado in it and you know you're covered in the health department.
These perfectly seasoned tender and juicy steak skewers with bell peppers served with the avocado chimichurri is a must-try for a gluten-free meal.

image credit: Pinterest
6. Sweet and Sour Meatball Skewers
Need a break from all those spices? Try these easy sweet and tangy meatball skewers made from frozen meatballs.
You can add a hint of apricot jam, honey and bbq sauce to amp up the flavours.

image credit: Pinterest