Stay Cool This Summer, Rehydrate with Infused Water
Water does not have to be boring! Add some fruit slices to jazz up your fill of H20.
As the temperature rises, so does our need to hydrate. But what do you do when you are not much of a water drinker? You do not have to resort to pricey vitamin water or other fancy drinks that claim to be hydrating and packed with nutrients. Some of these drinks have too much sugar and will only add to your caloric intake. The answer? Fruit infused water! It's all the rave these days because of of how delicious and healthy they are. Some also drink infused water because of their nutrients and ability to detoxify your body. Hydrates and helps you lose weight, it's a win-win situation. 
Here we have some healthy infused water ideas. When you have fruits, a mason jar or glass pitcher, some herbs and spices, the possibilities are endless to make different flavors. 
 
 
What you will need:
Mason jar or glass pitcher
Fresh fruits
Drinking Water
Sweetener or Agave syrup
Seltzer if you want the extra fizz
 
---
Fruit Infused Water Recipes
---
Grapefruit, Orange and Lime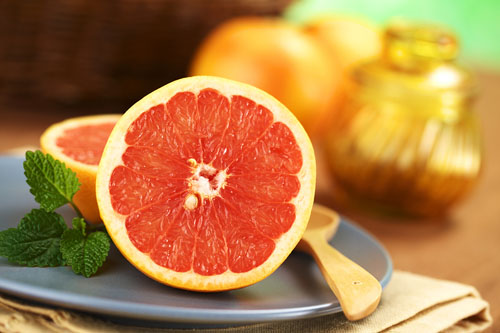 Ingredients:
1 grapefruit
1 orange
1 lime
drinking water
sweetener or Agave syrup
Directions:
Slice fruits into wedges or circles. 
Remove the seeds (it can make the drink bitter when soaked for a while).
Dump them into a mason jar or a glass pitcher. 
Add the drinking water. 
Sweeten with Agave syrup or sweetener (optional). 
---
Lemon, Cucumber and Mint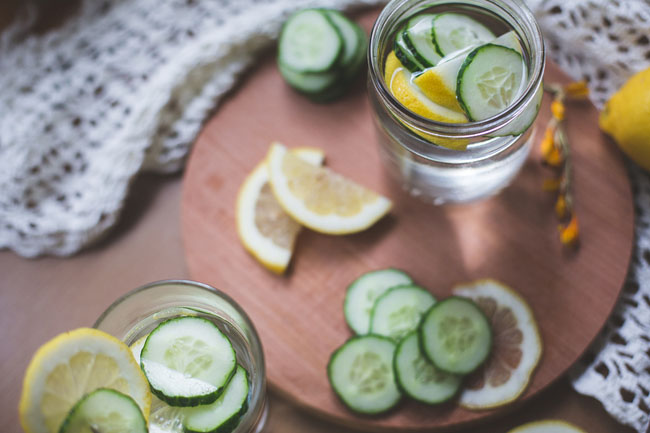 Ingredients:
1 cucumber
1 lemon
bunch of mint leaves
Directions:
Chop the cucumber until you have circular pieces. 
Chop the lemons to make the same shape or any way you like. 
Infuse the water with the chopped fruit and vegetable, then add the mint leaves with the drinking water.
 
---
Strawberry, Basil and Cucumber

Ingredients:
3 basil leaves roughly chopped
1 strawberry sliced
3-5 slices of cucumber
Ice
Water
 
Directions:
Combine all the ingredients in a large glass, and let sit for at least 5 minutes before enjoying.
(Source)
---
Orange, Strawberry & Mint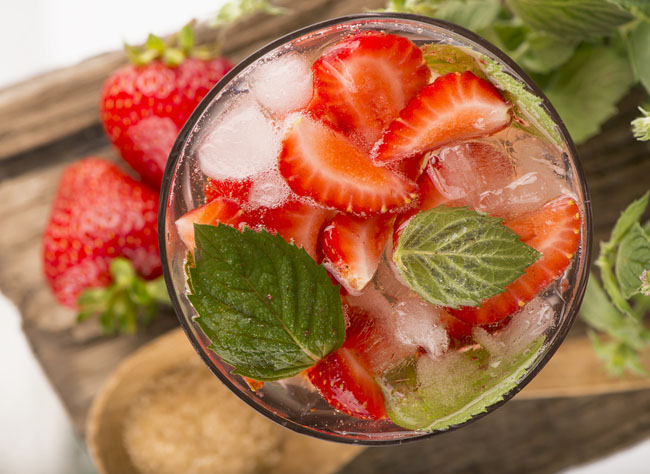 Ingredients:
1/4 cup fresh mint 
1/2 cup strawberries, sliced
1/2 orange, sliced
16 ounces filtered water
 
Directions
1. Place all fruits and herbs into the mason jar.
2. Fill to top with water.
3. Seal mason jar tightly and let it sit overnight in the refrigerator. 
Recipe provided by Eat, Drink, Shop, Love
---
More variations
---
Minty Cucumber Lime
1/2 a cucumber, sliced
1/2 a lime, sliced
1/4 cup fresh mint leaves
Strawberry-Lemon with Basil
1/2 cup sliced strawberries
1/2 a lemon, sliced
1/4 cup fresh basil leaves
Watermelon Mint
1 cup cubed watermelon
1/4 cup fresh mint leaves
Pineapple-Orange with Ginger
1/2 cup cubed pineapple
1/2 an orange, sliced
1 tablespoon freshly-grated ginger