Lemon and raspberry cupcakes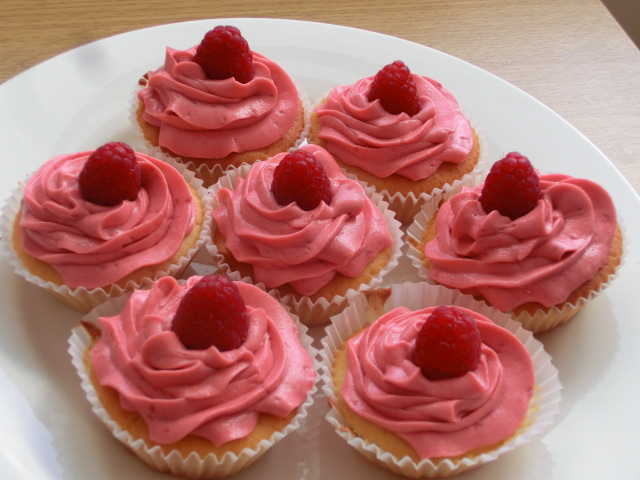 Ingredients
90g fresh raspberries, plus 15 more to top the cakes 2 lemons
235g soft butter
180g sugar
2 eggs
1 and a half teaspoons of vanilla extract
180g plain flour
2 teaspoons of baking powder
Salt
110ml semi skimmed milk
250g icing sugar
2 teaspoons of low fat crème fraiche
Preparation
These colourful little fairy cakes, with the fresh fruity flavours of lemon and raspberry, make a lovely summer treat. Makes 15 small cakes.
Cooks Note
1. Place 90g of raspberries in a small saucepan with a tablespoon of juice and a little finely grated zest taken from half a lemon. Cook over a low heat, stirring occasionally, until the raspberries are soft and broken down. Simmer gently for about 5 minutes to thicken then remove from the heat and leave to cool.
2. Preheat the oven to 180 degrees or 160 degrees fan oven.
3. Cream the softened butter with the sugar until they are well combined.
4. Whisk the eggs and the vanilla extract in a small bowl, add to the butter and sugar and beat together thoroughly.
5. Sieve the flour into a bowl then mix in the baking powder and a pinch of salt. Add these dry ingredients to the mix a little at a time until everything is well incorporated.
6. Gently beat in the