10 Wedding Food Ideas Your Guests Will Obsess Over
From signature drinks to take-home treats, check out our list of unique wedding day food and beverages that are sure to wow your guests

The way to a wedding guest's heart is through their stomach...
Make your big day extra memorable with these trendy, unconventional menu options. When the "I do's" are over, it's time for the fun part: food, drinks, and dancing. If you've already got your venue and DJ all sorted out, keep your guests on their toes with a reception menu that's out-of-the-ordinary.
SEE ALSO: 7 Exciting Summer Foods You Need to Try
Whether you're a couple who finds that a traditional sit-down dinner might not be your style, or you want to add a touch of something quirky, lighthearted, and special - we've got a list of 10 creative and fun wedding foods.
From food trucks to themed dishes, check out these wedding day menu ideas that will surely surprise, inspire, and satisfy your guests.
1. Signature drink popsicles
Turn your signature drinks into popsicles where guests can either enjoy it as it is or let it melt into a glass. Perfect if you're a summer bride or if your venue's somewhere outdoor and warm like a beach - your guests will thank you for it while admiring the fun touch to a traditional wedding beverage.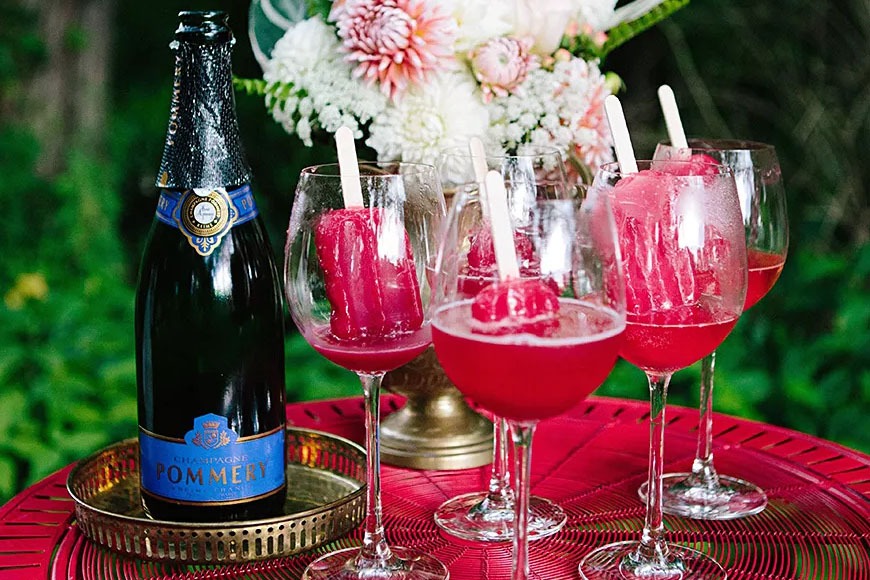 Photo credit: The Knot
2. Fish and chips with a beer shot
A comfort food trio for some, but with your wedding, it has to be all about presentation. Dress up everyone's pub grub favourites into a great reception snack.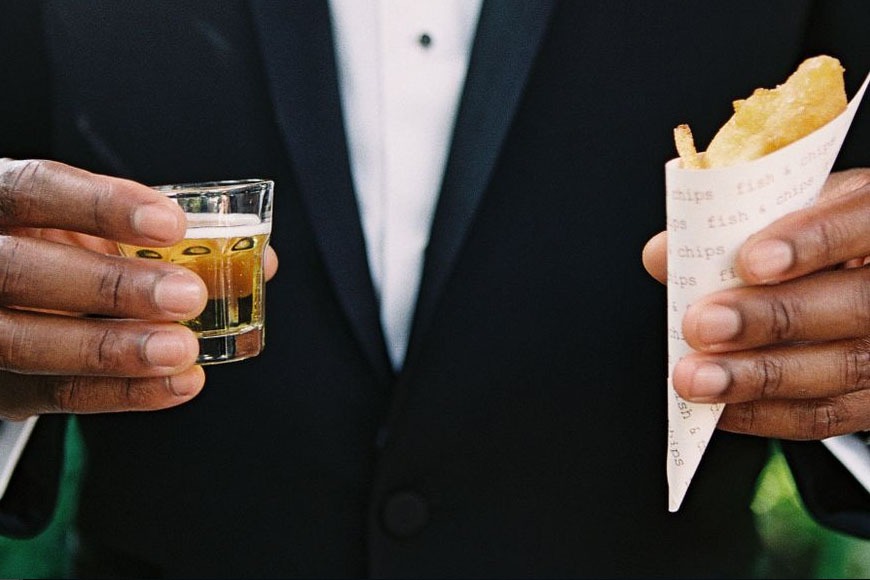 Photo credit: Braedon Photography
3. Candy apples
If you're super crunched for time and budget, you still can't send your guests packing while empty-handed. Wrap up some delicious, crunchy candy apples with a special little thank-you card. These make for super cute favours that are great for autumn weddings.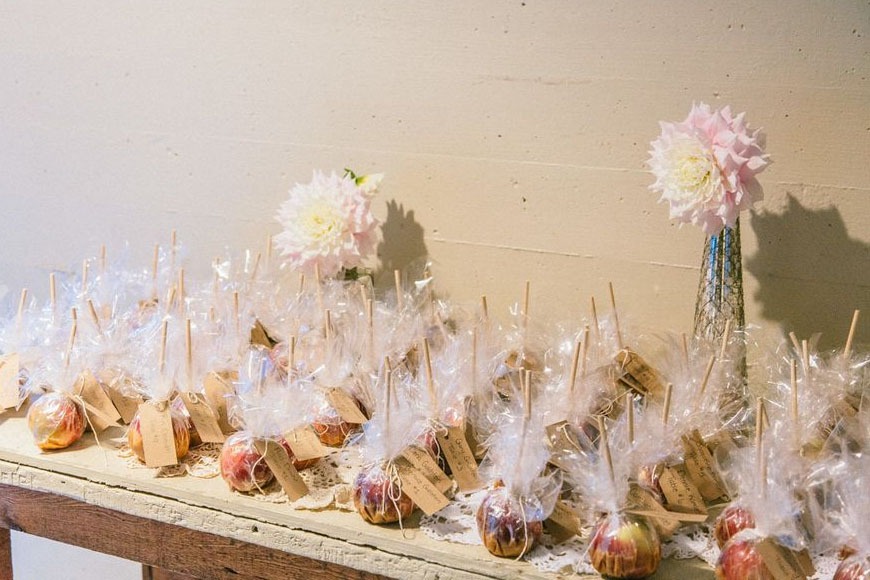 Photo credit: The Melideos
4. Popcorn bar
If you're opting for a casual theme, set up a popcorn bar with a variety of flavours like salt, cheese, pizza, and caramel. Guests can easily fill up their popcorn bags for a quick snack during their dancefloor break. Alternatively, incorporate it as a take-home treat where guests can grab and go as they head on home after a memorable day of love and celebration.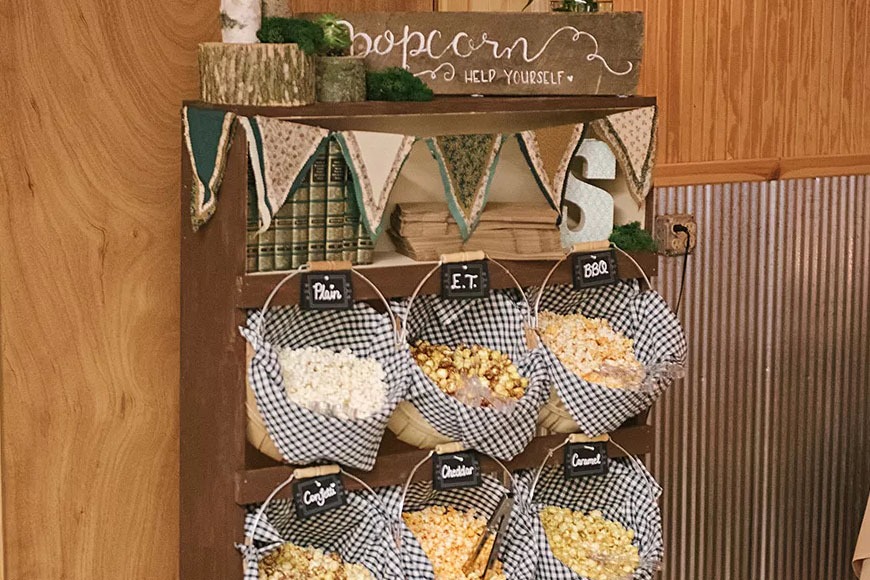 Photo credit: Allie & Co. Photography
5. Childhood comfort foods
It personalises your menu and pays homage to your lovely family. Dress up a favourite dish from your youth to share with your guests then add a note explaining who used to make it for you and how the food made you feel. It's sure to get them ''aww''-ing.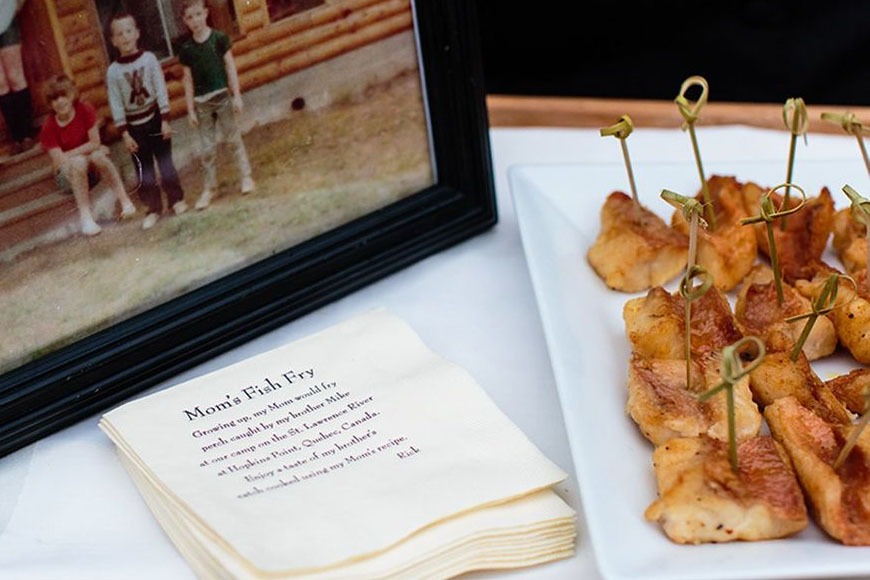 Photo credit: Tracey Buyce Photography
6. Cupcakes with champagne frosting
The price for wedding-themed anythings can be quite costly. Some brides and grooms on a budget have switched out a traditional wedding cake for something more fun-sized for just a fraction of the price - cupcakes! These yummy cupcakes contain champagne in the frosting and batter, with edible golden glittery sprinkles.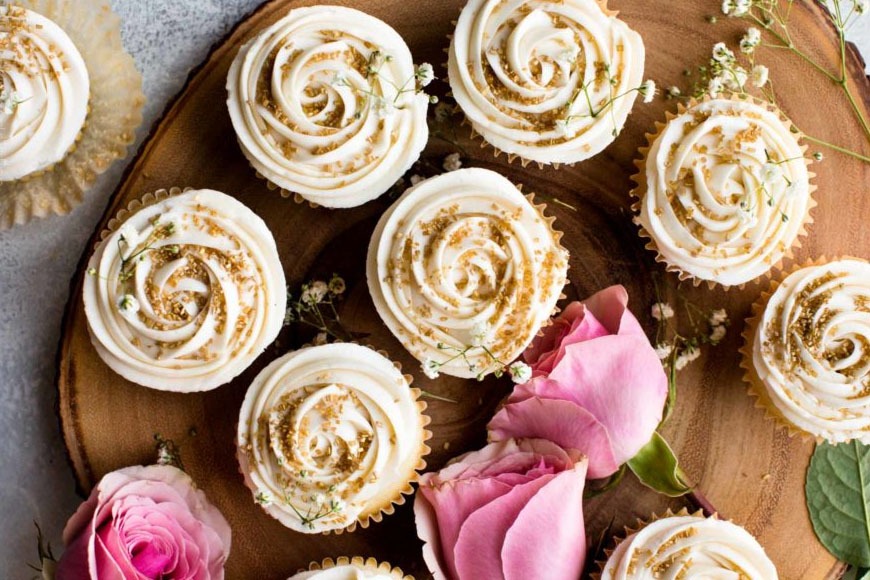 Photo credit: Sally's Baking Addiction
7. Live chef stations
Beat your guests' expectations of waiters walking around with hors d'oeuvres. Chef stations are a fun option - guests will flock to watch their meals being prepared live with fresh ingredients and are also totally Instagram-able. The choices are innumerable: sushi, pasta, steaks, finger foods, corn, etc.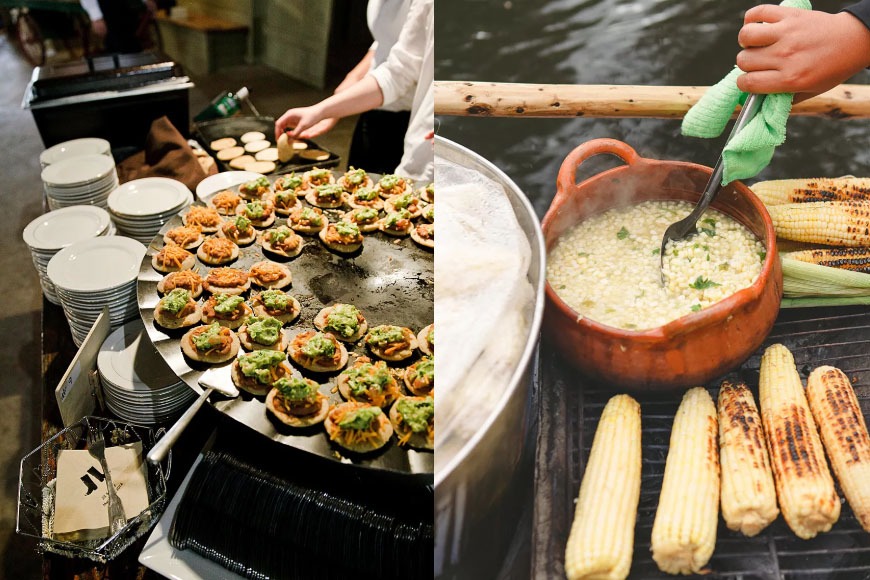 Photo credits: Doberenz Photography (left) / Detour Weddings (right)
8. Satellite bars
In case you missed what they are, satellite bars elevate cocktail presentations. Basically, it's a signature drink bar that shines a spotlight on your specialty wedding sip. You can have fun with its design and turn it into any theme you want based on the bride and groom, the wedding theme, and the drink itself.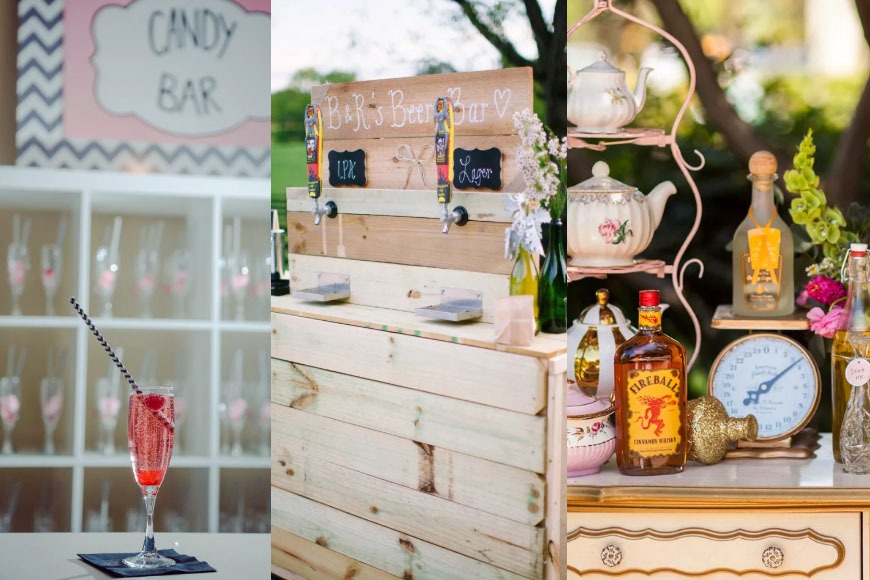 Photo credits: Blume Photography (right) / Jessica Crews Photography (centre) / Jamie Davis Photography (left)
9. Coffee desserts
Coffee desserts will keep your guests buzzing on the dance floor, especially if the party's going on until the late evenings or the wedding was held during an early morning (9 AM isn't everyone's wakeup schedule). Treat your guests to espresso-infused opera cakes for that much-needed caffeine punch. Add some decaf dessert selections as well, such as mochaccino milkshake shots.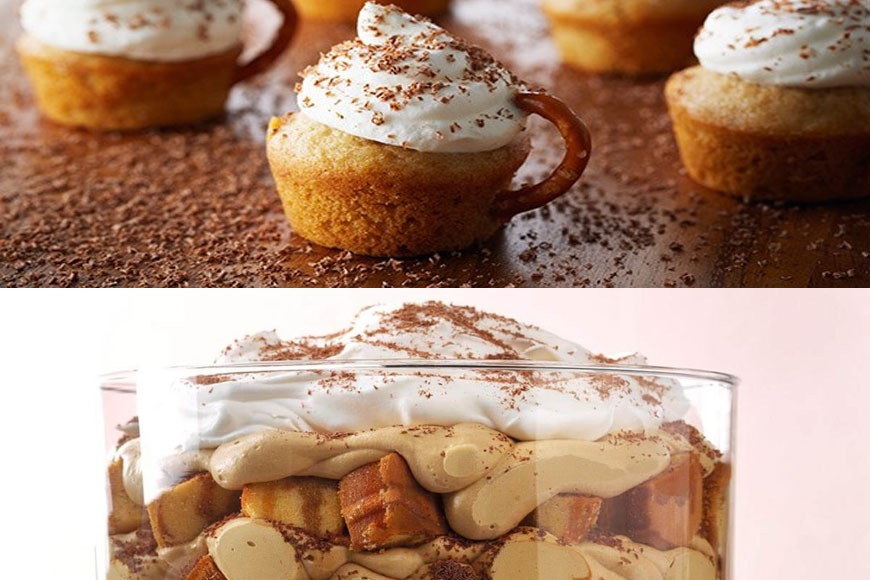 Photo credits: Food Network Canada (top) / Taste of Home (bottom)
10. Truck it
From cute caravans to themed trucks, wedding food trucks are a hot trend right now. These stylish, converted vehicles make for a great conversation point for your guests, offer delicious foods, and are uber-unique. Established trucks have menus that range from gourmet pizzas, British favourites, Asian fusion, and more. Others provide a more personalised menu for your big day.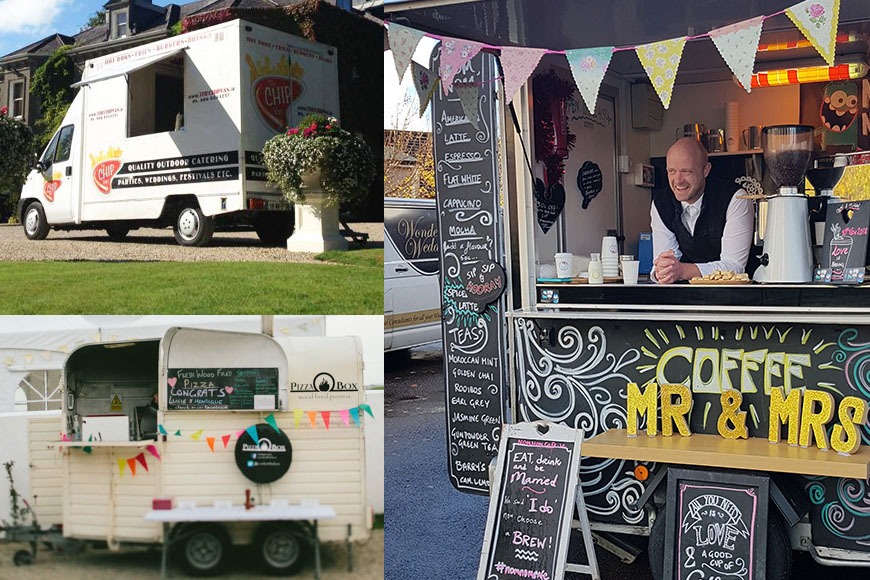 Photo credits: One Fab Day