5 Of The Best Places To Eat Tacos In Dubai
The ultimate Mexican street food in the UAE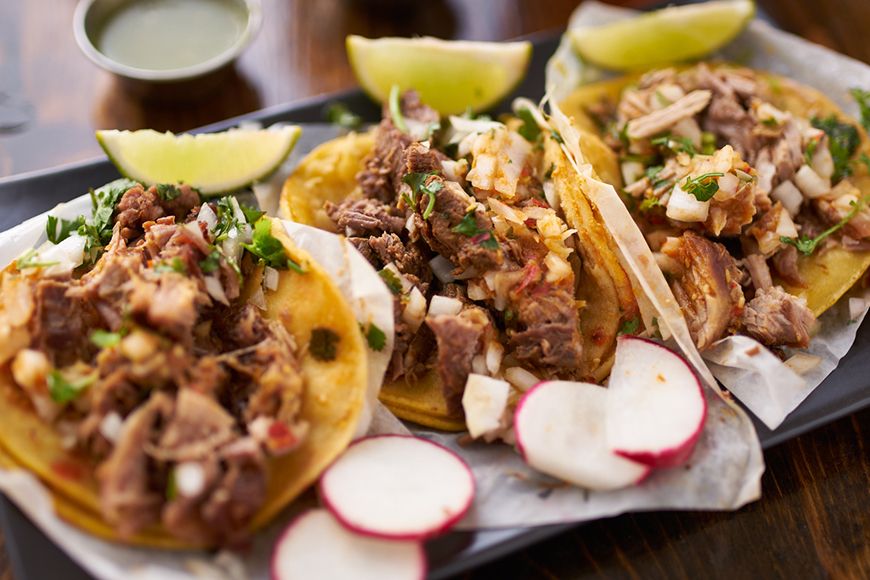 With Loca Dubai launching an unlimited taco feast experience in their new Taco Room at its Souk Al Bahar restaurant, we've been inspired to talk or taste tacos–our favourite Mexican street food!
A traditional Mexican food dish, tacos can be made with soft or hard shell tortillas which are folded or rolled and contain a variety of fillings from beef, chicken, fish, vegetables and more. Known as light lunch bite, appetiser or snack, tacos are also accompanied by salsa, cheese and heaps of guacamole!

Loca isn't the only restaurant to embrace our love of tacos in Dubai, as other Mexican and Latin American restaurants in Dubai host taco nights and all you can eat taco feasts as well. So here's our top-pick of the best taco places in Dubai…
#1 Loca
Loca Souk Al Bahar, Downtown Dubai
Open from noon until midnight, the new taco room invites you to indulge in three hours of unlimited tacos, Mexican mixed drinks and guacamole for AED 149. You can stuff and stack soft or hard shell tacos with beef, corn-fed chicken and fresh fish, finished with cheese and sauces. Set in a vibrant restaurant in the heritage hub of Souk Al Bahr, you can enjoy views of Burj Khalifa whilst you indulge in limitless tacos.
#2 Poco Loco
Dubai Marina
This place is known for its amazing tacos! The restaurant is alive with colourful murals, Latin American music and so much flavour, as the fun and relaxed atmosphere only enhances your dining experience. Poco Loco's taco tasting tray features 6 different varieties of tacos to try, as we would also recommend the crunchy shrimp tempura with spicy jalapeño salsa.
#3 La Tablita
Hyatt Regency Dubai Creek Heights, Deira
The location may be a little far out, but the tacos more than make up for it! It's worth the trip to Deira to taste La Tablita's tacos, priced at AED 12 each we advise you eat as many as possible! Choose from the tinga de pollo (chipotle pulled chicken), pescadillas (crispy fish), rajas poblanas (creamy chilli stew with corn) and texano (hard shell, beef, sour cream), or 12 other selections from La Tablita's taco shop.
#4 Tortuga
Mina A'Salam, Madinat Jumeirah, Umm Suqeim
Authentic Mexican cuisine located by the waterways of Jumeirah's Madinat, this is a great place to enjoy a taco in an idyllic outdoor setting perfect for the winter months. The guacamole is fresh and tasty making it the ideal accompaniment for Martes – Taco Tuesday, a weekly Tuesday event from 7pm until 11pm where you can have all you can eat tacos, all night, for AED 110.
#5 Coya
Four Seasons Resort Dubai at Jumeirah Beach, Jumeirah
You're welcomed into this contemporary venue by ornate doors and attentive hosts, with a buzzing atmosphere and faultless dining experience this is definitely a special restaurant to try a taco in! You can taste a variety of tacos at the bar whilst you ask the stuff what delicious dishes to choose from the a la carte menu. Even the desserts here are a must try, as the salted caramel ganache with raspberry sorbet and candied orange is the perfect way to end a taco feast!