8 Family-Friendly Brunches In Dubai To Try Out
For the whole gang to enjoy...
Posted on
30 January 2018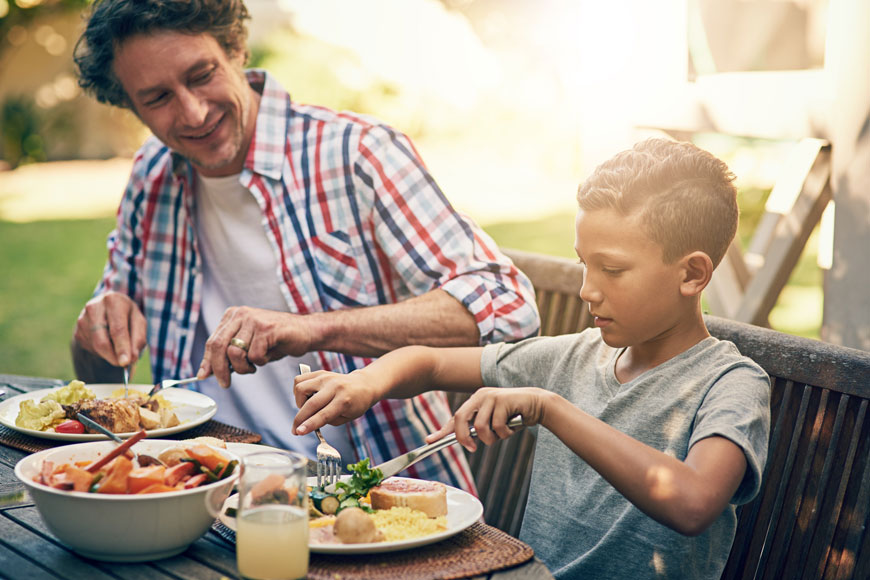 Friday brunches in Dubai are a must, we get it. But for parents, enjoying a Friday or Saturday brunch isn't as easy, as finding a kid-friendly brunch in Dubai can be tricky.
And for that reason, we gathered a list of the best family-friendly brunches in Dubai, for mums and dads to enjoy their day without having to worry about leaving the kids at their grandparents, or finding someone to look after them for the day.
These brunches in Dubai guarantee the best food, amazing vibes, entertainment for children and their parents, and hopefully no fuss from the little ones.
And without further ado, here are 8 family-friendly brunches in Dubai to try out:
1. The Terrace at Trump International Golf Club
Indulge in live cooking stations, a wide range of speciality beverages, and most importantly, a host of kids activities and entertainment like face painting and a bouncy castle. There's something for everyone at this place, and the hardest decision would be whether to sit indoors or outdoors.
Price: checking with venue is required
Date and time: checking with venue is required
2. Le Meridien Dubai Hotel & Conference Centre
Enjoy a lovely Friday afternoon at Yalumba restaurant in Le Meridien Dubai Hotel & Conference Centre with great vibes, incredible food, bubbles, cheerful entertainment and even pool access! You can even stay for an after-brunch party with DJ Kennedy until 7 pm.
Price:AED 499 instead of AED 529 for sparkling package
Date and time: Fridays from 12:30-3:30 pm
3. La Turca At Rixos The Palm
indulge in a Turkish brunch with Arabic hints at La Turca restaurant in Rixos The Palm. This place is known for it's authentic Turkish cuisine, and rish culinary diversity. Enjoy a vast selection of Anatolian favourite dishes, the freshest catch from the sea, and of course not to forget, the highly renowned Turkish sweets (yum!)
Price:AED 199 per person
Date and time: Saturdays from 1-4 pm
4. Al Badia Golf Club
Head down to Al Badia Golf Club in Dubai and enjoy one of the most impressive picnics in town, without the hassles of actually packing for it. As this place furnishes the guests with an overflowing hamper of meat and fish, in addition to al fresco bites.
Prices: AED 274-575 for adults, AED 135 for kids
Date and time: weekends from 11:30 am – 3:30 pm
5. The Westin
The Westin hotel offers a Piknik experience for the whole family to enjoy. Head to The Westin Mina Seyahi, Dubai Marina, grab your brunch hamper, choose either a blanket, a table, or even bean bags, relax on the grass and enjoy the great vibes, nibbles, delicious food and drinks. We also guarantee the little ones will keep occupied with the bouncy castle, games, live music and entertainment.
Price: AED 390 for 2 adults and 2 children
.
Date and time: Saturdays from 11:30 am – 4:30 pm.
6. Superhero Brunch at The Address Dubai Marina
Do you have a superhero mini fan or more? If yes, this is definitely the brunch you want. Get your costumes out, dress up, and head to Mazina restaurant at The Address Dubai Marina. Parents can enjoy the vast international buffet, while the little ones are entertained in the children's area with magic shows, face painting, and a bouncy castle. There's also a prize for the best costume, so don't forget to dress up.
Price: AED 315 for soft drinks package, AED 440 for house drinks package, AED 595 for champagne package. Kids under 12 get in for half price, kids under 6 get in for free.
Date and time: Saturday from 12:30–3:30 pm.
7. Füme
Probably one of the most popular spots in Dubai for family-friendly brunches, as the place turns into an indoor playground on Fridays and Saturdays and promises fun times for the whole gang. Brunches at Füme are basically family affairs with special boss-treatment for the kids. This place offers a specially crafted menu for kids, while parents can enjoy Füme's à la carte food and drinks menu. Brunch at Füme is also a great value of money.
Price: AED 199 for house beverages package.
Date and time: Fridays from 12-4 pm.
8. Al Forsan at Bab Al Shams
Kids at this brunch can get their fill of culture and fun, as Al Forsan features a petting zoo, camel and pony rides, a giant chessboard, a bouncy castle, and a lot more. Also if you get a chance to book a table on the terrace the children can run around on the lawn all afternoon. The trip there can be a bit long, but it's definitely worth it.
Price: checking with venue is required
Date and time: checking with venue is required