Review: MasterChef, the TV Experience in Dubai
We put the iconic "Mystery Box Challenge" to the taste test...
Posted on
16 October 2019

Huge fan of MasterChef? Then this is a must-try experience for you...
Just a stone's throw from Dubai Metro and situated in Millennium Place Marina, this highly anticipated restaurant has been the talk of the town since opening its doors earlier this year.
If you're a fan of the popular global TV series MasterChef, there's no doubt that this is a must-visit on your restaurant list. Both myself and a colleague visited the restaurant to try out their legendary "Mystery Box Challenge", and here's how we got on.
The staff was very friendly, and the ambiance was warm and welcoming. It's a smart casual dining experience with elements of the MastcherChef TV show shining through the decor, such as the iconic "M" logo on an exposed brick wall.
Our waitress started off the evening with a round of drinks and a choice of sharing starter to choose from. One of us dining is a vegetarian and we were pleased to see a great sharing selection that was inclusive of all dietary requirements.
Starter: Figs, Halloumi & Hazelnut Salad
This recipe is from Elena Duggen – MasterChef Aus Champion, Season 8, 2016
A beautifully light but elegant way to start the evening off. The combination of figs and halloumi go hand-in-hand, however, the addition of a lightly roasted hazelnut crush on top gave it a tasty textural element to the dish. Mixed in a bed of mesclun and oregano leaves with a light dressing of orange blossom and honey vinaigrette, it was a delightful and refreshing starter.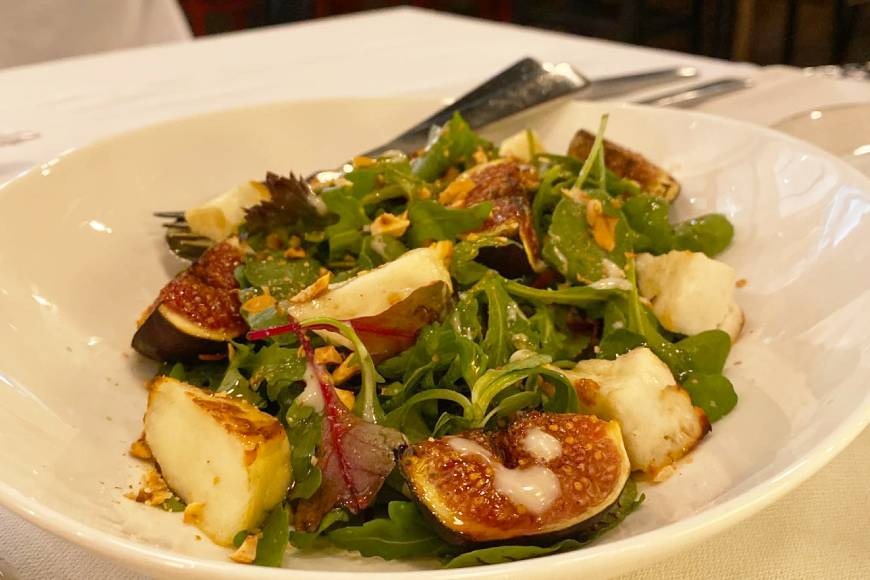 Main 1: Mystery Box Challenge
This is a concept where you choose five ingredients from the box that's prepared by the chef, and it can be shared across two or four guests since it includes a choice of a sharing starter. The chef has to create a dish using only the ingredients chosen by the customers in under 45 mins.
Ingredients chosen: Seabass, Blue Cheese, Asparagus, Potato, and Togarashi Spice, presented in the iconic MasterChef mystery box at your table.
When choosing the ingredients, we really wanted to give a mix of flavours as a challenge to the chef (hence the somewhat random Blue Cheese addition). We were pleased to see Chef Margarita take the challenge head-on, presenting a beautifully balanced dish which exceeded expectations.

The Result:
Grilled Seabass with butter and togarashi spice, quickly roasted asparagus, blue cheese gnocchi and asparagus foam.

Main 2: Pine Nut Cream and Mushroom Toast
Another recipe from Elena Duggen, Season 8 – we seem to like her cooking!
This is listed as a starter, but we wanted to try it as a main course. Originally this dish is served with eggs however they were removed due to dietary requirements. The nuttiness of the pine nuts against the mushrooms complimented each other wonderfully. The addition of confit garlic and roasted pin nut cream really brought the dish together and works well as a great comfort food dish.

Desert 1: Deconstructed Eton Mess
Recipe from James Nathan – MasterChef UK, Champion Season 4, 2008
A twist on the great British dish, this tasty number is spiced up with a lemon and Japanese Sansho Pepper meringue. Complimented by a pleasantly tart raspberry coulis, ripe strawberries, mint jelly cubes and whipped cream. A creative and indulgent dish, a light and tasty way to end your experience.

Desert 2: Mixed Berry Pie with Activated Charcoal Crumb
Recipe from Ping Coambes – MasterChef UK Champion Season 10, 2014
Advised by the staff as a "love or hate" type dish. This somewhat intimidating dish packs a punch with its experimental flavours, and we certainly appreciated it for its creativity. The berry and apple filling is a sweetie-like jelly consistency, encased in activated charcoal, which adds a slight bitterness to the dish. This was balanced out by the tabasco and strawberry sorbet but certainly a dish for the adventurous diner.

The challenge as a fun and different dine-out experience to share with family and friends, you won't be disappointed! However, if you're not feeling confident with the unknown Mystery Box, you can dine from their vast seasonal menu. Bon appetit!