Bridal Fashion To Fall In Love With From BRIDE Dubai
Dubai-based couturiers wowed on the mainstage
Posted on
11 February 2018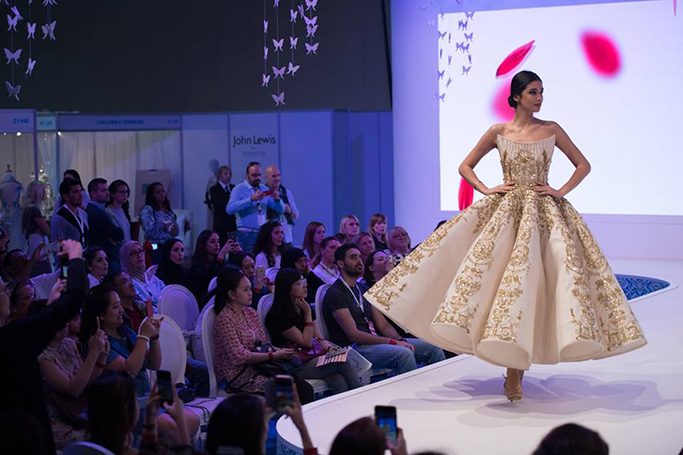 With the latest couture bridal looks from across the Middle East, BRIDE Dubai's mainstage glittered with fairy tale wedding gowns that mesmerised the audience and inspired brides-to-be. The wedding dress collections rivalled any bridal fashion week look, as the style and sparkle of the bridal fashion shows wowed the crowd.
The grand finale of the BRIDE Show Dubai was a showcase from Dubai-based couture house Amato, as the UAE label presented a brand new collection of wedding dresses which were a perfect symphony of spring style and fresh creativity.
Visitors to BRIDE were also given a glimpse into the embellished elegance of Atelier Zuhra, another Dubai couture designer, who displayed some of their mosaic ball gowns which previously stunned at Fashion Forward Dubai.
Further, BRIDE Dubai featured wedding gowns from Marwa Rabah Couture Dubai, whose intricate bridal head pieces offered a unique alternative to traditional wedding veils or tiaras. As there were plenty of bridal fashion shows at the UAE wedding event to enthuse guests and give brides an insight into their potential bridal looks.
From princess gowns to tiers of tulle, here's an insight into just some of the stunning bridal looks that we fell in love with at BRIDE Dubai 2018…
Amato
The new collection for Amato Luxe was displayed on BRIDE's mainstage over the weekend, as spring came to Dubai with dream like pastel tones, layers of tulle and intricate embroidered flowers. The beautiful bridal collection offered inspiration for both the bride and her bridesmaids, as we loved the trending dusty rose and lilac coloured dresses.
The floral detailing which grew across the gowns defined spring/summer wedding couture, as the silhouettes floated with femininity. Not only was the Amato bridal fashion show the perfect way to conclude BRIDE Dubai 2018, but the collection also left us daydreaming over fairy tale fashion looks we can't wait to see on the aisle.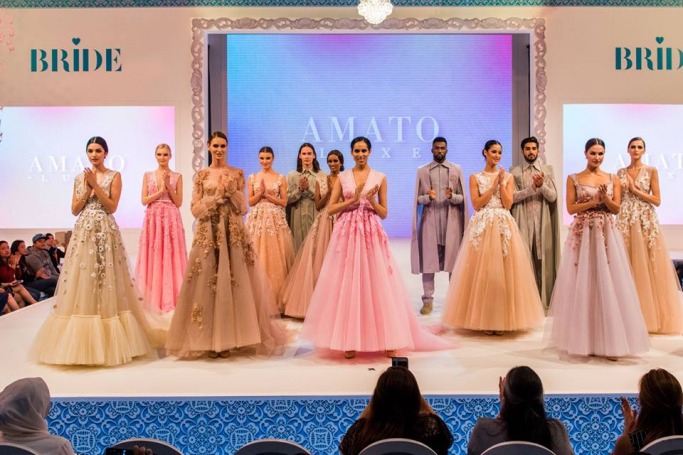 Atelier Zuhra
Prior to the show we pinned Atelier Zuhra as the couture house to watch, as we weren't disappointed with the Dubai-based couturiers collection. With fine feathered details, delicate lace and extravagant embellished jewelled work, we were transported straight back to the show at FFWD.
Fitted bodices and full flared skirts walked the runway, as Atelier Zuhra's ball-gown bridal looks were dramatic yet carefully detailed with their signature couture mosaic artwork and beading. With traditional white wedding dresses, there were also silver and grey toned gowns that we adored as the subtle hint of blue captured our bridal inspiration.
More Bridal Looks in Pictures
Here's just some of the other bridal fashion looks which inspired the crowd at BRIDE Dubai 2018...