VOTE NOW: Which Is The Most Romantic Proposal Location In Dubai?
Dubai is such an underrated romantic city!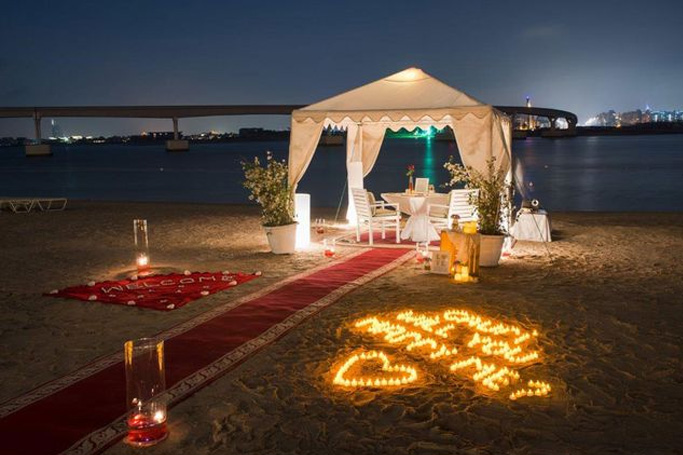 Dubai may not be as romantic as Paris, but it's still pretty high on the list when it comes to the best places to propose. With stunning beaches, iconic landmarks and gorgeous restaurants - there are so many options to make your proposal story an unforgettable one.
We, at Fergus James, have consolidated customer feedback and have compiled the top 5 proposal locations in Dubai.
Vote below and tell us which one is your favourite.
Under The Stars – Luxury Desert Safari With Platinum Heritage
Take the one you love off into the desert in style with Platinum Heritage Safaris. Enjoy a gourmet meal for 2 in the sand and sleep under the stars whilst enjoying the peace and tranquillity of the desert. If peace, tranquility and solitude appeals then this is an amazing option for you.

image courtesy Fergus James
Restaurant With A View – Atmosphere
If you have a head for heights and want the best view in Dubai for that magic moment then Atmosphere, a restaurant in Burj Khalifa, could be the proposal location for you. With 5* food and service, amazing ambience, and one of the best views in the world, this is a world-class proposal location.

image courtesy Fergus James
Beach - Nasimi Beach, Atlantis (Palm Jumeirah)
If the sound of water gently lapping up against the sand, a private secluded table for 2 on the beach, 5-star food and service, appeals to you then Nasimi Beach at The Atlantis hotel is tough to beat. The Atlantis team can help you make the moment extra special with a number of romantic 'extras' such as rose petals scattered around the dining table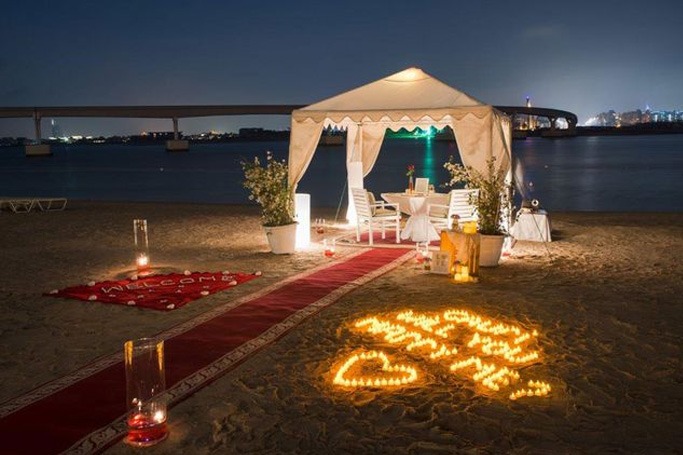 image credit: Pinterest
High In The Sky - Hot Air Balloon
If the thought of gently floating over the silent desert sands appeals to you then a balloon proposal could be the best option for you – get high in the sky for the most important question of your life - Just make sure you don't drop your engagement ring!

image credit: Pinterest
Overlooking An Iconic Dubai Landmark - Burj Al Arab
Choosing a restaurant overlooking the Burj Al Arab or hiring a luxury yacht for sunset, mooring off the Burj Al Arab, dropping to one knee, and asking the all so important question will ensure that you have a glamorous proposal story to tell for the rest of your life – it doesn't get much flashier than this!
image credit: Pinterest
Poll
Which Is The Most Romantic Proposal Location In Dubai?
Beach Proposal (Nasimi Beach)
36% (10 votes)
Under The Stars (Desert Proposal)
25% (7 votes)
High In The Sky (Hot Air Balloon)
18% (5 votes)
Overlooking The Iconic Burj Al Arab
14% (4 votes)
Restaurant with a View (Atmosphere)
7% (2 votes)
Total votes: 28