Top 5 Engagement Ring Designs
Did your ring make the cut?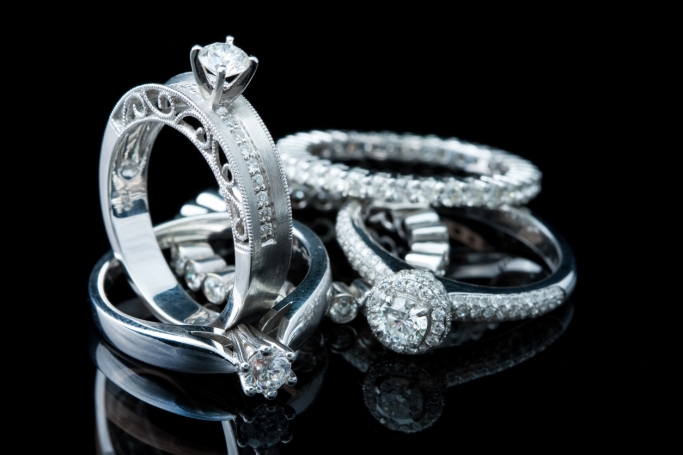 There are so many engagement ring designs currently on the market, with contemporary trends often emerging it's hard to make your mind up. From classic designs to modern elaborations, we each have our own preference. Here are the top 5 engagement ring designs:
1. Halo Engagement Ring
The halo style engagement ring has become increasingly popular with brides of today. This glamorous ring is formed of multiple small diamonds that circle a larger diamond at the center of the ring, forming a stylish boarder for the main diamond like a halo - hence where it gets its name. This style is not only attractive due to this charming characteristic, but this formation can make your diamond look twice its size no matter what the carat weight is.
There are many variations of the halo design such as a double halo, setting them with different gemstones and then there's the possible variation of the band itself. It all amounts to a stunning design for the brides-to-be who desire a little more sparkle.

Ring available at Fergus James
2. Solitaire Diamond Ring
The solitaire ring is a classic. A truly elegant design persistently admired among the most sophisticated brides. With this ring the diamond steals the show and is definitely the focal point of this design. And why not put the precious stone in the limelight, having spent a lot on the diamond it deserves to shine.
The diamond sits on a band plain, or detailed whatever your preference is. Due to the simplicity of the design, when it comes down to choosing a wedding band, the solitaire diamond can be paired effortlessly with a glitzier wedding band or eternity ring.

Ring available at Fergus James
3. Trilogy Engagement Ring
Why have one diamond when you can have three!? The trilogy ring is a beautiful design showcasing three diamonds next to each other. This design is very pleasing to the eye and the true beauty of this comes from its symbolism.
The three diamonds represent the past, the present and the future. In some cases the diamonds signify commitment, respect and trust. If you want a ring that holds a deeper meaning this is the one for you.

Ring available at Fergus James
4. Vintage Style Diamond Rings
The vintage style rings offer a unique style and usually showcase more elaborate designs. Vintage engagement rings don't necessarily have to come from old designs but simply represent a certain style. The vintage style is perfect for brides who want a more exclusive ring, something unique amongst the current trends or the classics commonly seen on ring fingers and showroom floors.
Buying vintage designs is all about personal taste. The vintage designs often consist of variations of colour and incorporate lots of detail. These adaptions give these rings the vintage flair and ignite feeling of nostalgia.

Ring available at Fergus James
5. Colourful Diamonds And Gemstones
When you first think of engagement rings, images of a classic, colourless diamond on a platinum band usually spring to mind. However, colourful diamonds and gemstones are becoming increasingly popular with brides, especially those looking for a less traditional ring.
Colourful gemstones add something a bit extra and special to the ring and can create truly stunning pieces. Whether it be your favourite colour or your birthstone these rings can be made personal to you. If you are looking to make a statement then this is the perfect ring design for you.

Ring available at Fergus James
So there you have it, 5 of the most popular designs on the market today. When it comes to buying engagement rings it's a deeply personal decision and one that should express your personality, love and relationship the best.