Why Letting Your Girl Design Her Engagement Ring Is The Best Idea
You might think you have good taste, but will she think so?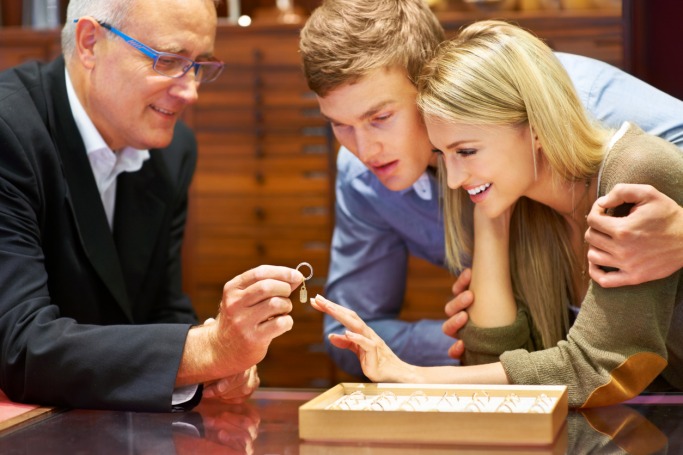 One of the toughest questions in the build up to your engagement is, whether you should let your girl buy her engagement ring or take the leap (or the proverbial plunge) and choose it yourself.
Why should you let your partner decide?
It's a big investment and something she can keep forever so there's a lot of pressure to get it right. Leaving your girl to her own devices, and buying the engagement ring saves disappointment, and the embarrassment of trying… failing and having to change it.
After all it is a piece of jewellery she will wear for the rest of her life, you want her to be happy with it. You might think you have good taste and could choose a beautiful ring but will she think so? How much do you really know about her jewellery taste? There is so much pressure to pick out the perfect engagement ring not to mention the variety of designs out there as well as the colour, size and gemstone options needless to say it's a complicated process and easy to screw up.
Considering most men know little about jewellery and rings in particular it's a big responsibility to leave solely to your man. Ultimately it is a complicated and stressful endeavour so why not go through it together. Buying engagement rings in Dubai for a man alone is like leaving your 8 year old son to pick an outfit for you to wear at your best friends wedding, they may be proud and confident in their choice but you might be left looking a little less than pleased.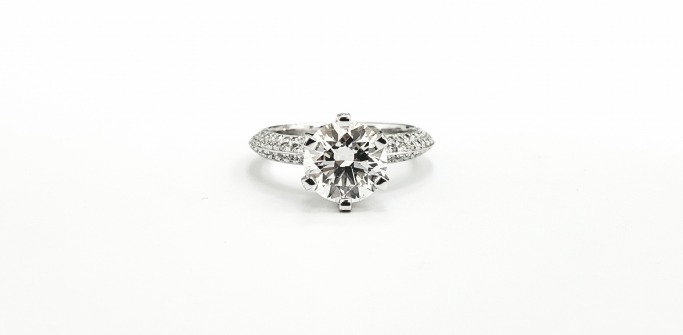 Ring available at Fergus James
Does it take away some of the magic to choose your own engagement ring?
Some people argue that the ring should be picked by the husband to be. At the end of the day there should be an element of surprise in an engagement, choosing the exact engagement ring together, takes away some of the magic of the act of proposal. It is an everlasting 'moment', and when he has chosen the ring that will sit on her finger forever, there's something very romantic about it. It's certainly a more intimate and personal gesture for the man to choose but it all comes down to how well you know your fiancé's jewellery taste. It takes a brave man to pull the trigger, but the look on her face with that perfect mixture of surprise and joy should be worth the risk. (Not to be a downer but the surprise could be mixed with another emotion… no pressure.)
Many women struggle to decide what's more important: the romance of a surprise engagement or the ring of their dreams (if they 're not so confident in their partners ring picking abilities.)
Traditionally the man is supposed to pick out his future wife's engagement ring and plan an extravagant proposal but lets face it times have changed and the less traditional brides to be, expect perfection.
With an occasion so special, no one wants to upset their wife to be.
To avoid this some people propose without a ring so the surprise of the engagement is still there but ultimately they can choose what they want to sit on their finger forever. However a big part of the anticipation of an engagement is the ring itself.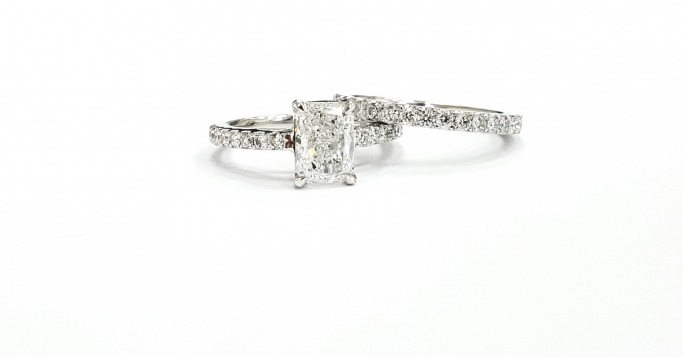 Ring available at Fergus James
Buying a ring in the digital age
Having noted the complicated process of picking a wedding ring, most men know nothing about diamonds, nowadays designing your own wedding ring can now be done online, this allows you to create the ring of your dreams with its own unique design so you don't have to settle. This can be an activity you can do with your partner, whether you settle on a design or merely hint at your taste in engagement rings it can be a worthwhile exercise. Not to mention you can choose the engagement ring of your dreams from the comfort of your couch.
If you are a risk taker, roll the dice and come up trumps but the best idea might well be to leave the designing down to your lady. After all, she has to wear it every day for the rest of her life; it may as well be the ring of HER dreams.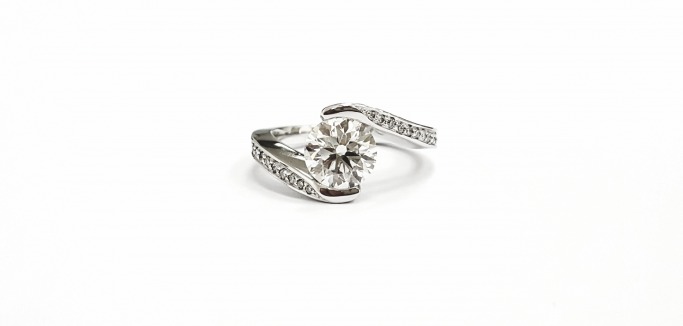 Ring available at Fergus James