Here's A Look At Meghan Markle's Second Wedding Dress
The Duchess of Sussex wore Stella McCartney to the royal reception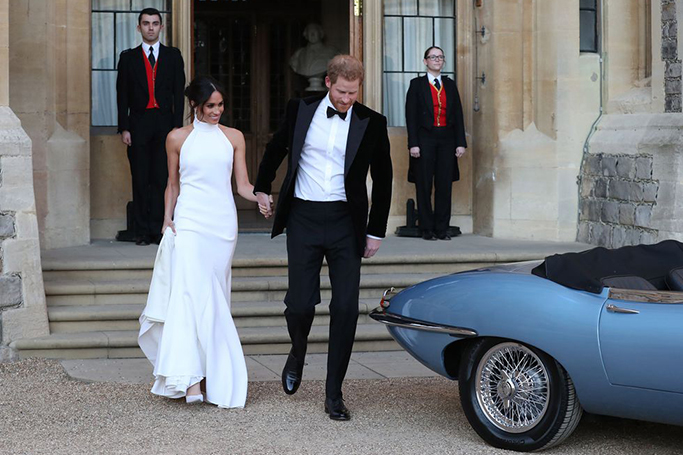 All Image Credits: Getty Images
For Meghan Markle's second bridal gown of the day, the bride wore…Stella McCartney!
The Duchess of Sussex stunned in a bespoke lily white high neck evening dress, which was made of silk crepe and showcased her slender silhouette with elegance. The new royal family member paired her dress with silky satin Aquazzura pumps, with nude mesh and soles painted in baby blue –for that traditional "something blue."
SEE ALSO: Meghan Markle's Givenchy Bridal Gown
Both dressed for their regal wedding reception, Prince Harry and his wife Meghan left for their reception with around 200 guests at Frogmore House, on the Windsor estate, in a 1968 silver blue Jaguar convertible. As, the just married couple couldn't be any more adorable!

Meghan Markle's shoes with painted blue soles were not her only "something blue" in her second bridal look, as the Duchess of Sussex also wore a breathtaking aquamarine cocktail ring which belonged to Princess Diana. It is thought that Prince Harry wanted to include his late mother in his wedding as much as possible, as he poignantly gifted the ring from his mother's collection to his new wife.