12 Luxury Payday Treats Less Than AED 500
Go on, treat yourself this payday with these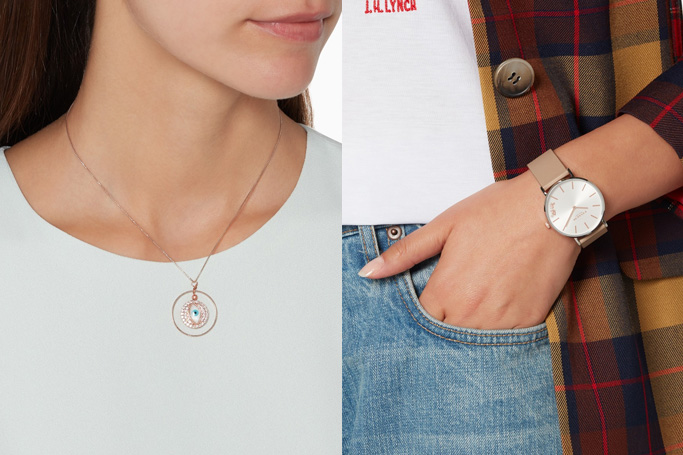 Payday has arrived, and your bank balance is looking healthy again.
Not for long though, obviously. As now you can actually hit the 'checkout' button instead of letting those summer new-ins linger in your wishlist. From this season's sunglasses to a fringed mini bucket bag, here are the few things we've had our eye on over the past few weeks.
The best part? They're all under 500 Dhs each.
1. Paco Rabanne Beauty Olympéa Legend Eau de Parfum
This brand new scent from Paco Rabanne is a luxurious fragrance swirled with desert-flower and amber sand. With the addition of salty-vanilla plum and tonka bean, the Olympéa Legend is an elegant treat you need.
Buy it now on Ounass, AED 435
2. Le Specs Outta Love Limited Edition Sunglasses
These 1990s style sunglasses fit perfectly in-line with this season's top sunglasses trends. WIth their limited edition leopard print finish and minimalist oval silhouette wraps, these UV-protective lenses are a winner, whether on the beach or in the city.
Buy them now on Ounass, AED 225

3. The Jewels Jar Evil-Eye Cubic Zirconia Necklace
Moulded on centuries of belief in its protection, this evil-eye amulent will be an eye-catching accessory this season. This one is surrounded by sparkling cubic zirconia crystals, framed in a slim geometric shape made from elegant rose gold-plated silver.
Buy it now on Ounass, AED 250

4. By Dariia Day Mulberry-Silk Eye Mask
By Dariia Day's opulent eye mask is designed with ultimate comfort and luxury in mind. Crafted from pure mulberry silk, the mask is filled with silk long-strand floss and features a silk-covered elastic band for a comfortable fit.
Buy it now on Ounass, AED 334

5. Mauzan Classic Turban
Mauzan's Classic Turban shows the brand's expertise in attention to detail and working with the best fabrics. Crafted from a luxurious rayon jersey-blend, this turban is comfortable for everyday wear, especially when paired with an abaya or to protect your locks when you're out in the sun.
Buy it now on Ounass, AED 300

6. Eugenia Kim Beige Floral Emmanuelle Hat
Part of the SS17 collection, this Floral Emmanuelle Hat will complement warm-weather looks instantly. Made from lightweight straw, the hat is designed with a wide, structured brim, and adorned with feathers in a floral pattern - sure to complement an array of vacation outfits.
Buy it now on Ounass, AED 370

7. VALÉRE Gold Sacred Heart Hair Comb
With a design focused on love and romance, the Valére Sacred Heart is handcrafted by skilled artisans and the textured matte finish gold hearts offer a beautiful way to accessorise a variety of hairstyles.
Buy it now on Ounass, AED 400

8. Coach Stone-Grey Perry Watch
Coach's Perry Watch is named after a quiet street in New York City's West Village and is perfect for everyday wear. The minimalistic design features a smooth leather strap and a round dial that's detailed with the brand's signature horse carriage logo.
Buy it now on Ounass, AED 485

9. SHONA JOY Beige Fabiana Balloon Sleeve Blouse
Shona Joy's Fabiana Bouse has a modern energy and an edgy beat. It's made from a light weight chiffon with a semi-sheer appearance, features a low V-neckline with tie and is decorated with a striking zebra print. Team with an equally elegant pair of tone-on-tone pants.
Buy it now on Ounass, AED 300

10. Kayu Black Fringed Mini Lolita Bucket Bag
Add a boho-chic element of vacation looks with Kayu's Lolita Bucket Bag. Its structured silhouette is made from woven seagrass and features contrasting fringed trims and a roomy drawstring compartment to stow essentials. Floral-print dresses and off-the-shoulder tops are perfect backdrops to its laidback aesthetic.
Buy it now on Ounass, AED 550

11. Aesop Mandarin Facial Hydrating Cream
This rapidly absorbed, lightly hydrating formulation helps to cool, tone, and balance the skin. It contains a blend of purifying citrus-derived botanical oils to leave normal and combination skin feeling smooth and refreshed.
Buy it now on Ounass, AED 265

12. Coach Colour-Block Card Case
Offering an easy solution to organise credit cards and cash, the Coach Colour-Block Card Case is a slim design adorned with a logo plaque and card slots detailing the front and back, while the centre compartment is ideal for cash or receipts. Perfect for when you need your Dirhams within easy reach!
Buy it now on Ounass, AED 275

:: All products featured in this story are independently selected by our editors. However, when you buy something through our links, we may earn an affiliate commission.