AMAs 2016: Worst Dressed List
What were they thinking?
Posted on
21 November 2016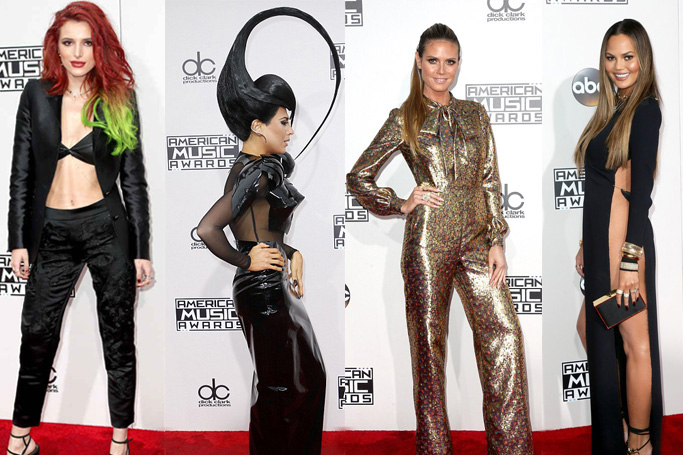 The AMA's 2016 red-carpet had more than the usual number of worst-dressed celebrities. How, with an army of stylists, designers, make-up artists and hairdressers, these celebrities managed to get it SO wrong, we'll never know.
Here's our list of the 10 worst dressed celebrities from the night:
1. Bella Thorne
No, that is not dandruff - it's chunks of glitter in her orange and green hair.
2. Lauren Giraldo
Lauren Giraldo's outfit is a swimsuit that wants to be a dress #IdentityCrisis.
3. Gigi Gorgeous
It's about time Gigi Gorgeous changed her name to Gigi Garish.
4. Heidi Klum
Heidi Klum or Tin Man? You tell us.
5. Zoe Saldana
Zoe Saldana shows her patriotism after the US election debacle.
6. Idina Menzel
Let it (this hideous dress) go...please, Idina.
7. Z Lala
We think it may be time for a haircut, Z Lala.
8. Bebe Rexha
A regular fixture on worst dressed lists, Bebe Rexha continues her streak looking like a poor man's Kylie Jenner.
9. Chrissy Teigen
As much as we love Chrissy and envy her post-baby bod, flashing your lady bits to the paps is never a good idea.
10. Olivia Munn
Our guess is Olivia Munn missed the memo when babydoll dresses went out of style in 2004.