Cruise 2019 Collections: Dior, Louis Vuitton And Chanel
Here's our pick of the latest resort looks on the runway…

All images credits: Getty Images
Throughout May, the spring/summer 2019 resort or cruise collections have been presented in various creative locations across the world –with new designs, prints and styles uncovered for the year ahead. Here we discuss looks from our favourite three fashion houses; Chanel, Louis Vuitton and Christian Dior…
From a downpour of rain to Mexican rodeo riders, a huge ocean liner and runway of contemporary art, the Cruise 2019 collections have been full of surprises and show-stopping scenes –and that's before we've even looked at the clothes!
Decoding some of the most memorable looks and the new season trends for resort 2019, here are the runway styles to watch from Dior, Chanel and Louis Vuitton…
Louis Vuitton: Cruise 2019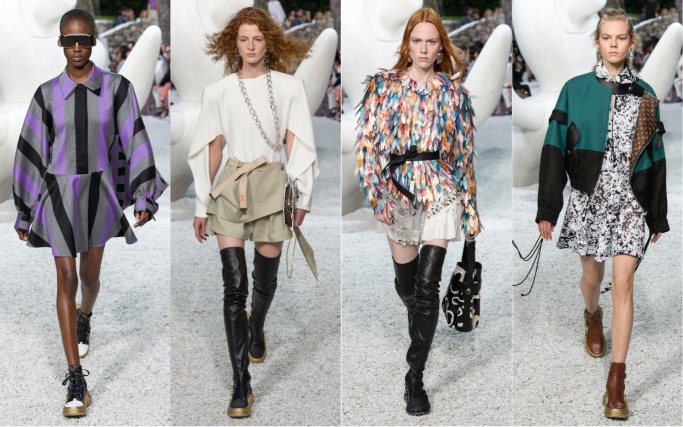 Louis Vuitton showcased a fusion of fashion and art for Resort 2019, as models weaved through museum gardens at the Marguerite and Aimé Maeght Foundation, in the French Riviera, alongside unique pieces of art. Creative Director Nicolas Ghesquière displayed an array of styles –in his own collection of art, from acid washed denims to feathered tops and intricate embroidery which should have been out of place, yet worked!
With influences from both the '70s and '80s, there was an electric vibe throughout the collection with zest y colour and unexpected pieces. There was an emphasis on accessories with Louis Vuitton bags we can't wait to invest in and a new twist on thigh-high boots and a mixture of trainers.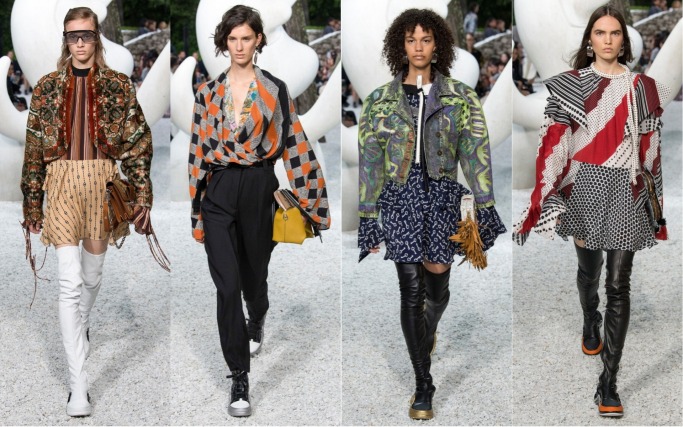 Christian Dior: Cruise 2019

Set in the open-air Great Stables of the Domaine de Chantilly, the rain came pouring down on Maria Grazia Chiuri's equestrian themed presentation –but it only enhanced the Cruise 2019 collection! As models walked atmospherically through the downpour in sombreros, colourful cotton dresses, fitted jackets and pristine white shirts paired with tiered ruffles skirts –the lines of masculine and feminine were blurred, in true Dior style.
However, Maria Grazia Chiuri's message was a demonstration of female history and power, with Mexican escaramuzas (female rodeo riders) galloping at the centre of the Crusie collection showcase. The eight-woman squad of escaramuzas wore looks designed by Dior –as the designer reinterpreted the traditional 'Adilita' dresses.
From floral embroidery to palettes of dusty mauve and delicately woven wooden beads, we were in awe of this revolutionary collection (and show), featuring female rodeo and even a rain storm!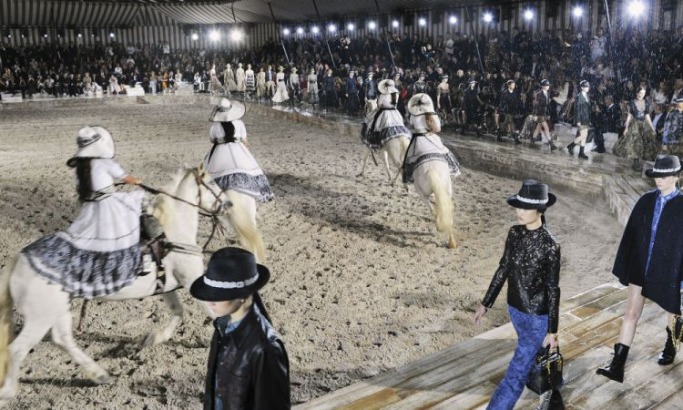 Chanel: Cruise 2019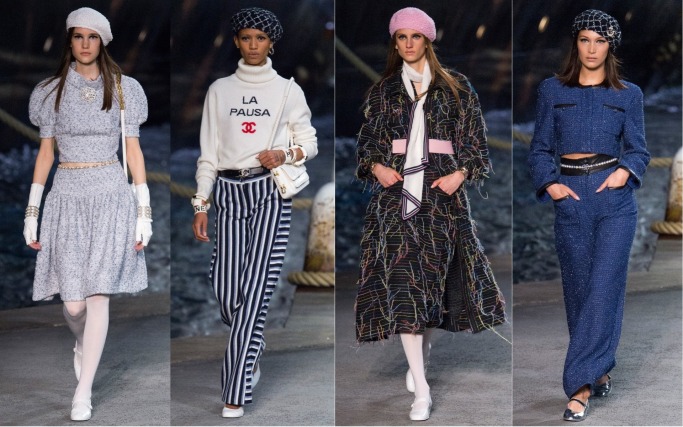 At the beginning of the month, Lagerfeld decided to build an ocean liner inside the Grand Palais for Chanel's Cruise 2019 collection –and we were not disappointed! Experimenting with '60s sophistication and '80s eccentric elements, Lagerfeld produced a line full of quilting, tweed, sailor pants, and pearls –perfect aboard any cruise liner!
From berets to mini dresses, prints and the occasional blazer worn as a dress, Lagerfeld experimented with the rounded shoulder, cropped jackets and put a flattering emphasis on the waist. As the bags were, of course, the ultimate accessory –with everything from white patent quilted styles to fisherman's totes made from rope.