Fashion Future at FFWD: An Insight Into Four Aspiring Fashion Designers
We met the future of fashion at Fashion Forward Dubai 2017
Posted on
29 October 2017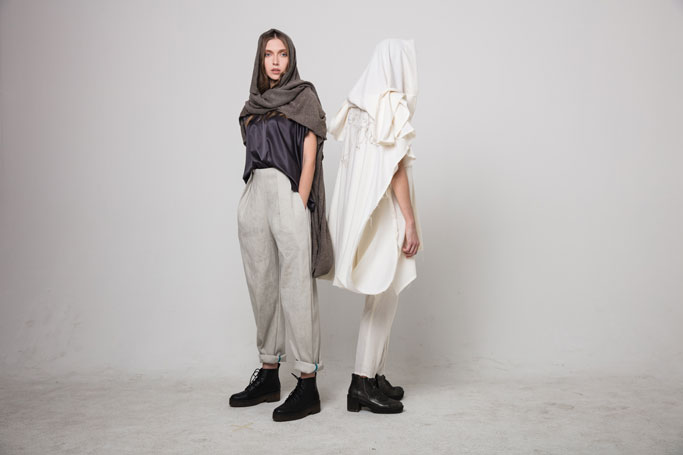 Fashion Forward Dubai returned again this year in its 10th season as the definitive fashion platform for the whole Middle East region.
This year's programme held three themes: Play, Rewind, and Forward. And we at ewmoda.com teamed up with the leading fashion event to experience the glamorous vibes.
FFWD10 also provided the opportunity of meeting the future of fashion in person, as it showcased collection by the world's top fashion schools' students, anchored by Graduate Fashion Week (GFW).
Students and graduates from leading fashion institutions - like: ESMOD Dubai, Creative Space Beirut, Domus Academy, FAD International and Lebanese American University, and more – met in Dubai to be part of this important milestone, and we got the chance to speak with some of tomorrow's talents.
Diana Aparo: "A Love" Story Collection
Aparo from Rome, Italy never stopped believing in her love for fashion, even when she was studying in a scientific high school. She pursued her dreams and brought to Dubai her LAIDE collection, which she won a fashion prize for. Aparo inspired her collection by a novel called "Un amore" (A Love) by the Italian journalist Dino Buzzati, specifically by a sentence in which he describes her beloved one as a flower grown in between the concrete surrounding the city of Milan.
Aparo said: "I decided to develop a big research on fabrics that could recall the concrete aspect of the city on a texture. I, therefore, collaborated with two industries in Como (silk district in Italy) called Alesilk and Ostinelli Seta, developing finishing processes as flocking and heat-bonding."
She continued: "to complete the outfits I developed boots and bags from the concept of the writers' agenda. The idea is to always change the components by opening the rings placed on top of the bag. The same is for the zip of the boots that can be changed and replaced with different textures and colours."


Claire Tagg: When Destruction Met Glamour
This 26-year old, British, aspiring designer gathered inspiration from all around Europe after working as an air hostess, and incorporated it into her textile work. Her graduate collection focuses on the story of her journey as an air hostess which has brought her to where she is today, and inspired particularly from seatbelt dresses.
Tagg said her designs: "combine both destruction with glamour. Primarily print based with rich textures and elaborate embellishment. My graduate collection was based on the concept of my journey as an air hostess. I created a series of illustrations to show how I once perceived myself as an air stewardess, looking elegant whilst wearing my airline uniform with pride."
She continued: "The illustrations are combined with destructive textures to represent how my dream got torn apart when I experienced the harsh reality of this difficult job. The cut of my collection explores the airline uniform that I once admired, inspired by structured airline jackets which are combined with softer fabrics. The garments are heavily embellished to show elements of glamour contrasted against rich destructed textures."


Aline Seukunian: Fashion Between Now and Then
This Creative Space Beirut graduate has brought to Dubai Fashion Forward her Lapse collection, and brought all of us back some memories. Seukunian began her journey as a fashion design student in Creative Space Beirut, and was hired by the same institution afterwards as a construction instructor in Creative Space Beirut's educational program, in addition to her role as studio manager and production manager for the CSB Ready-to-Wear line.
About inspiration, Seukunian said: "The collection confronts memory - its vastness and its limitation. A number of pieces are designed in sets of two - a present version and a flashback version. The flashback pieces are made from white linen with particular fabric treatment and raw finishing to introduce the idea of memories as unreliable and incomplete. The garments meant to represent the present undergo various changes or additions from their "past" counterparts, and are given colors, clean cuts and finishing, with added volume and structure to illustrate the clarity and vividness of the present."


Thamali Dharmawardena: Our Own Next Fashion Savior
Dharmawardena who is a graduate from the Academy of Design in colombo, Sri Lanka already have a collection premiered at Mercedes Benz Fashion Week, and more. She works as a Researcher and Designer for MAS Intimates; the largest garment manufacturer in South and East Asia.
Her collection "My Own Savior" is designed specifically to bring Sri Lankan heritage and culture to the western world through the merge of handcrafted handloom textiles and the high tech garment industry.
Dharmawardena describes the experience of creating the collection as "a humbling one of spirituality and awareness." And she said: "Working closely with artisans in rural villages, these garments are meant to evoke the same feelings in the wearer while providing a multitude of functions. As handloom is traditionally used for cotton based garments such as sarees and sarongs its clientele is limited to the south Asian markets."
She continued: "This collection successfully opens the door to take our Sri Lankan culture to the western hemisphere by transforming the handcrafted fabric in to a high tech one by collaborating with a leading sportswear manufacturing plant. The fabric has been woven using reflective threads and rayon threads in a tight weave, then bonded using a water-proof glue sheet on to spacer fabrics creating a seal which is perfect for weather resistance."