Gigi Hadid And Zayn Malik Celebrated Eid Al Adha Together
Here's what they wore for the special Islamic holiday…

Image credit: Instagram / @jananofficial
Gigi Hadid and Zayn Malik have officially rekindled their relationship, after the couple celebrated Eid Al Adha together with Zayn's family in the UK. Eid is traditionally a time spent with family and friends, as the couple (who both have Muslim roots) were captured by Zayn's sister Waliyha, happily enjoying the Islamic holiday.
Model Gigi Hadid wore a traditional kurta from luxury Pakistani fashion house, Janan, as the brand revealed on Instagram that Gigi's vibrant Eid outfit was personally picked out for her by Zayn's mum Trisha. The 23-year-old paired her printed orange kurta with white tasselled trousers from Stonez. Gigi's Eid look honoured Zayn's British-Pakistani heritage and added to the festivity of the occasion, whilst Zayn wore a sherwani.

Instagram / @waliyha.azad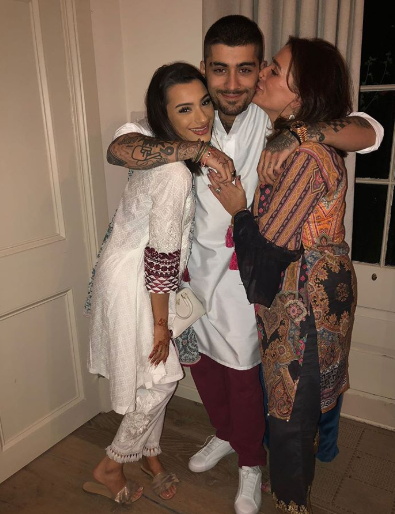 Instagram / @waliyha.azad
Zayn Malik comes from a Muslim background and Gigi Hadid is half- Palestinian, therefore the couple wanted to mark the Eid Al Adha holiday in a special way. Gigi wished her Twitter followers a happy Eid with the message "EID MUBARAK to everyone celebrating," as the pair were reportedly spent the occasion in Malik's home city of Bradford, surrounded by the singer's family.
See also: 10 Fashionable Gigi Hadid And Zayn Malik Moments We Won't Forget
The famous couple announced their split back in March, but now Gigi and Zayn look more loved up than ever as the couple appear to be back on track and revelling in Eid celebrations.

Instagram / @waliyha.azad