Madiyah Al Sharqi's Capsule Collection Celebrates Emirati Women's Day
A line of tees honouring empowered women of the UAE
Image credit: Instagram / @madiyahalsharqi
The fourth Emirati Women's Day will be celebrated on 28th August, as the occasion will honour Emirati women's achievements and their important role in the nation's development.
To celebrate, Emirati designer Madiyah Al Sharqi has collaborated with luxury e-tailer The Modist, to create a capsule line of slogan tee-shirts. The embroidered shirts are inscribed with positive statements such as 'Fearless Woman', 'Empowered Woman', and 'Incredible Woman' written in both English and Arabic.
Dubai-based designer Sheikha Madiyah Al Sharqi is the daughter of Fujairah's ruler; her designs are feminine and full of fashionable flair –as this limited edition line proves. The adorned tees cost AED 300 and are exclusively available on The Modist.
Emirati Women's Day was launched by HH Sheikha Fatima bint Mubarak, to celebrate Emirati female's contribution to the growth and advancement of the UAE. The Modist x Madiyah Al Sharqi collection demonstrates this achievement and embraces female triumph across the nation, including the talents of Madiyah Al Sharqi.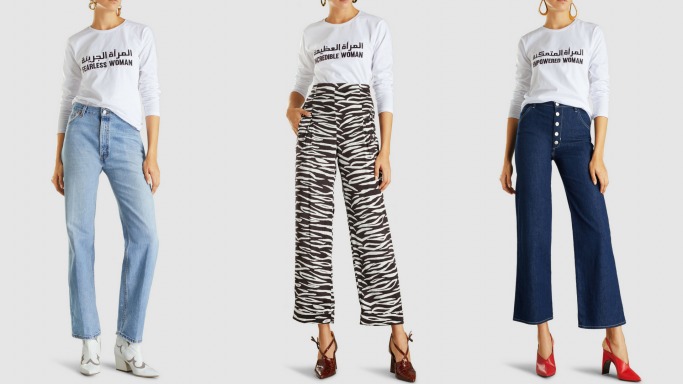 Madiyah Al Sharqi x The Modist
HH Sheikha Madiyah Al Sharqi was also in the spotlight this week when Vanessa Hudgens stepped out in a metallic '70s style two-piece from the label's spring/summer 2018 collection. Hudgens wore the striped design by Madiyah Al Sharqi for an episode of So You Think You Can Dance, where she's on the judging panel.
The strapless lamé Corset paired beautifully with pastel flared trousers, as the UAE-based fashion label shone with this shimmering outfit.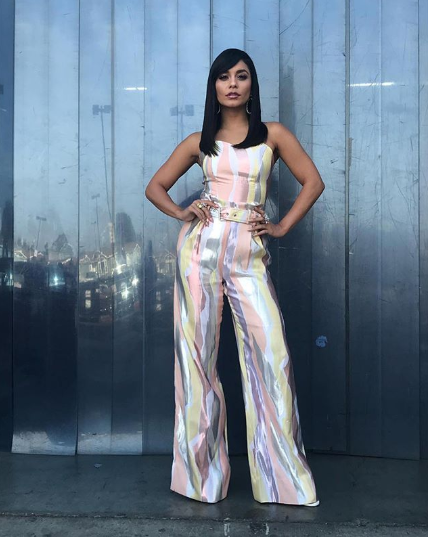 Instagram / @madiyahalsharqi