Meghan Markle's Fashion Hits From The Royal Tour
The Duchess of Sussex has worn 33 outfits in 16 days –here's some of our faves…
Posted on
31 October 2018

As The Duke and Duchess of Sussex's royal tour draws to a close, we wanted to look back on some of Meghan Markle's best outfits from the trip that has boosted her style icon status.
We're seriously envious of Meghan's maternity wardrobe, which has been style hit after hit –so far! From stunning in Oscar de la Renta, to glowing in olive green and owning the elegant tuxedo dress, the Duchess has given us plenty of fabulous fashion moments throughout the tour.
Stopping in Australia, Fiji, Tonga, and New Zealand, Meghan's first-ever royal tour has been a style success –as she even pulled off a pair of sustainable trainers!
So here are some of our favourite flawless looks from Meghan Markle's royal tour wardrobe…
Oscar de la Renta
Meghan stunned in this bird-embroidered gown from Oscar de la Renta at the Australian Geographic Society Awards in Sydney.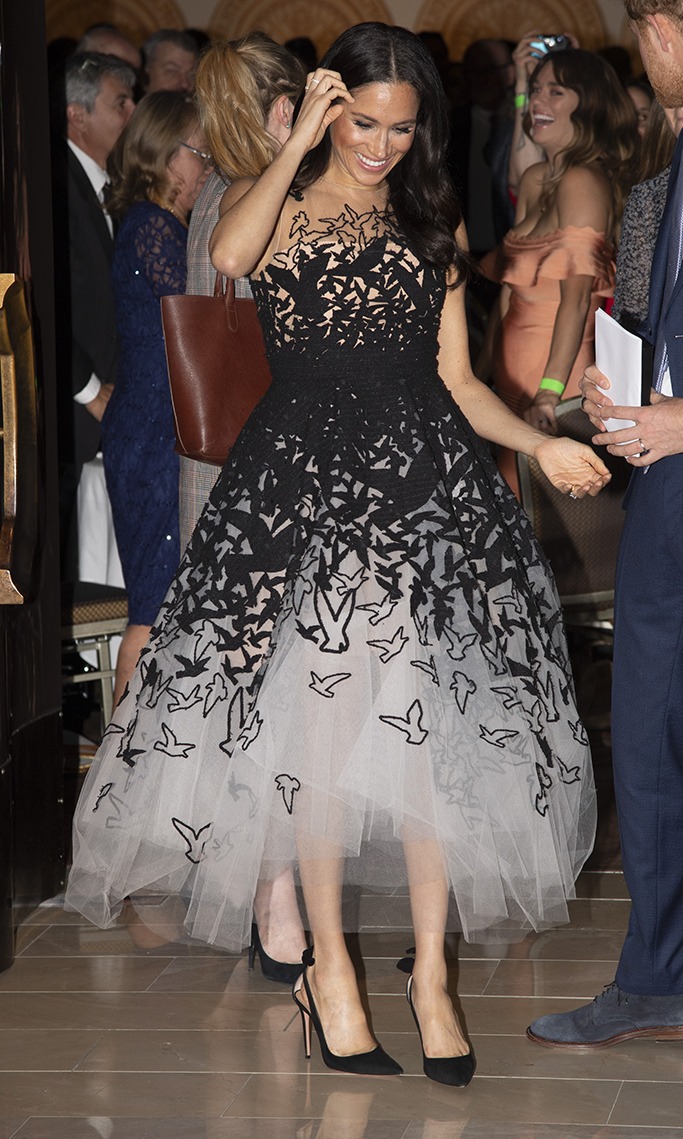 Getty images
The Red Wrap
The Duchess wore this smart-chic red Scanlan Theodore wrap jacket for the wheelchair basketball gold medal match at the Invictus Games.

Instagram @mrsmeghanmarkle
That White Gown
For a private royal affair with King Tupou VI and Queen NanasipauÕu at the Consular House, Meghan wore a white cap-sleeved custom gown by Theia with black heels and a matching Givenchy clutch.

Instagram @mrsmeghanmarkle
All-Black Everything
While opening a World War II memorial in Sydney, the Duchess opted for an Emilia Wickstead dress with an elegant black fascinator.

PA
High Street Maternity Dress
Meghan touched down in New Zealand wearing a plaid trench coast with a black maternity dress from ASOS, proving that the Duchess can do high-street chic like the rest of us!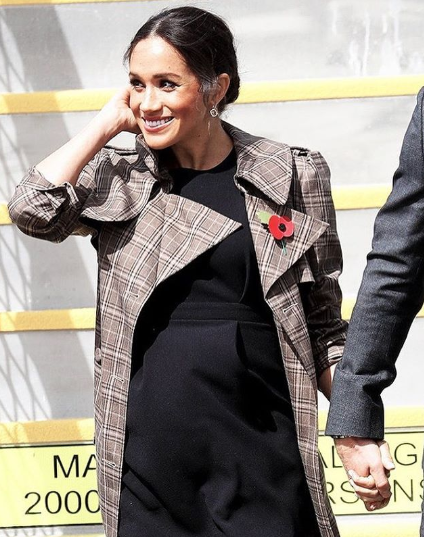 Instagram @meghan_marklestyle
Beach Chic
Meghan embraced Bondi beach vibes in this stripey olive maxi dress by Martin Grant, which she accessorised with black espadrilles.

Instagram @meghan_marklestyle
During a trip to Fraser Island, Meghan continued the beach-chic vibe with this linen slit dress from Reformation .

Instagram @mrsmeghanmarkle
Burgundy Babe
On route to New Zealand, Meghan beat all look other airport style with this burgundy mock turtle dress by Hugo Boss and her neutral buckle pumps by Aquazzura.

Instagram @mrsmeghanmarkle
The Tuxedo Dress
Meghan loves a blazer dress, as she wore this olive ensemble by Antonio Berardi for the closing ceremony of the Invictus Games.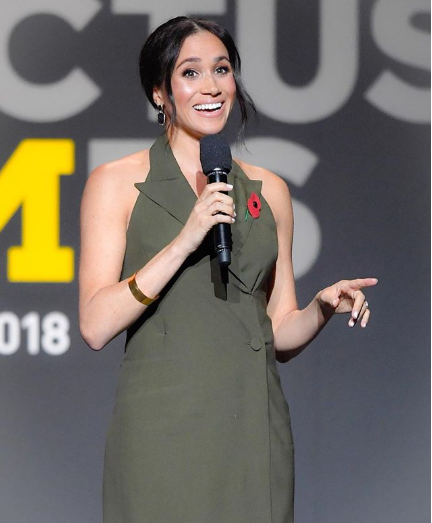 Instagram @mrsmeghanmarkle
The Duchess also wore this white sleeveless blazer dress by local designer Maggie Marilyn in New Zealand.

Instagram @meghan_markle
Bump Hugging Blue
This Fijian blue Safiyaa gown that Meghan wore to a state dinner accentuated her growing baby bump, and looked stunning.

Instagram @mrsmeghanmarkle
White Zimmermann Dress
At a welcome party in Fiji , The Duchess wore this elegant Zimmermann dress.

PA
Casual Chic
The internet went crazy when Meghan wore trainers! The stylish sneakers were by Veja and are made of sustainable leather.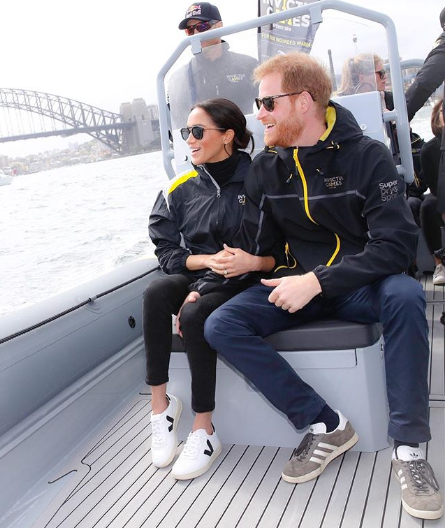 Instagram @mrsmeghanmarkle
Retrun of the Mac
Throughout the Royal Tour, the Duchess of Sussex has worn this timeless Burberry trench coat that is a perfect addition to any outfit.

PA
Monochrome Mood
Queen of the blazer look, Meghan looked stylish in this black and white ensemble. As we loved the bag!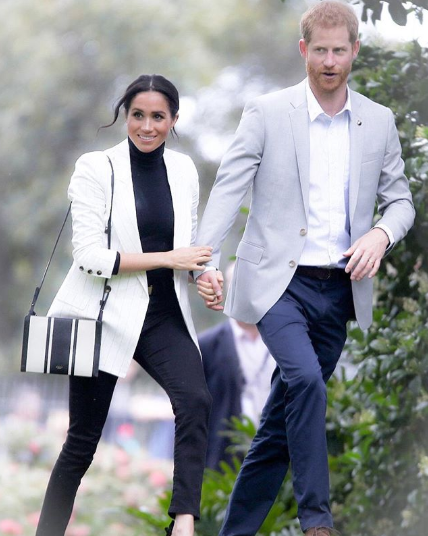 Instagram @mrsmeghanmarkle
Stripe Shirt Dress
Meghan wore this olive and cream Martin Grant button-down dress to an exhibition of Tongan handicrafts. Stripes and the olive hue have definitely been a go-to for Meghan throughout the royal tour.

Instagram @meghan_marklestyle
Boho Vibes
This floral wrap-dress by Figue with pom-pom details showcased a different look for the Duchess, but we loved her colourful approach. (And Prince Harry's Hawaiian shirt!)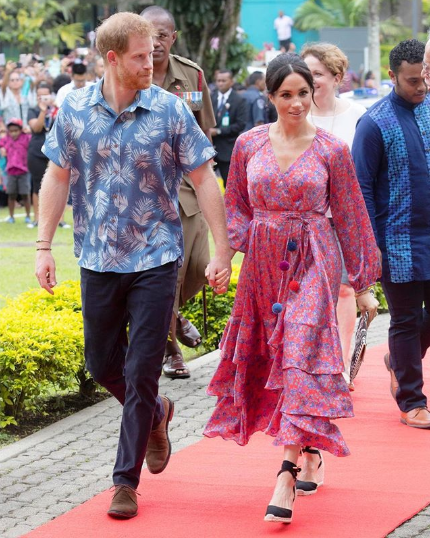 Instagram @mrsmeghanmarkle
Gorgeous in Gabriela Hearst
Attending a reception at Government House in New Zealand, Meghan wowed in an elegant black Gabriela Hearst gown.

Instagram @gabrielahearst