Miss Canada Wore A Dubai-based Designer To The Miss Universe Pageant
Anyone else jealous of this dress?
Posted on
18 December 2018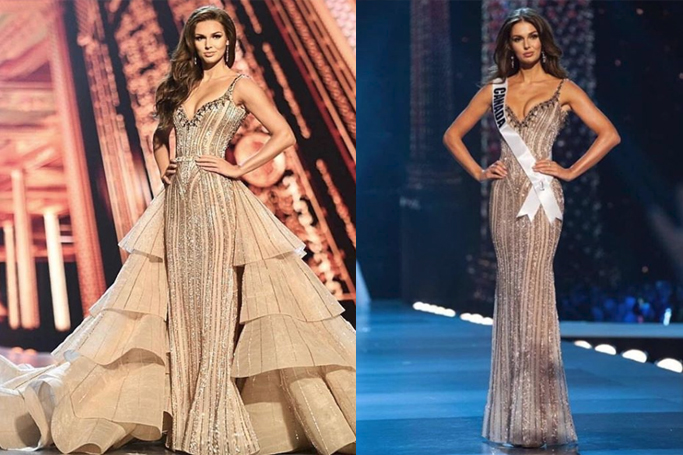 The dress was the epitome of glam and luxury
And it was only fit to be worn at the most anticipated event of the entire year when millions of viewers from around the world tune in to watch gorgeous women compete for the crown.
Literally for the amazing diamond encrusted crown.
Millions of viewers tuned in on Sunday to watch the Miss Universe pageant competition, which took place in Bangkok this year.
And as 93 women competed with one another in various categories for the ultimate title of Miss Universe 2018, we couldn't help but watch them strut the catwalk wearing jaw-dropping dresses.
But one, in particular, caught our eye the most…
The eye-gasmic gold sequin dress of Miss Canada completely took our breath away.
Marta Magdalena, a Polish and Canadian model, looked just divine in a Michael Cinco dress at the pageant competition.
And it's an honour to say that the dress comes from a Filipino Dubai-based designer – who just last month, had miss Magdalena close his collection at the Arab Fashion Week.
Both the model and designer have been very close but none of us saw possible hints to her dress at the Miss Universe competition.
In a completely crystallised nude-ish/gold skin tight dress, we can see why the model chose to dawn this amazing number at the popular event.
And amazingly enough, the dress came with an add-on puffy skirt that gave her the desired hour-glass figure.
Magdalena wore her hair in loose waves with minimal jewellery to avoid taking away from the beauty of the dress itself – because it was the real show-stopper.
However, fans will be sad to know that while Miss Canada looked absolutely stunning, she did not take the title back home.
It was announced on Sunday, that Miss Philippines is the official Miss Universe of 2018.
SEE ALSO: Gorgeous Miss Philippines Was Crowned Miss Universe 2018
And she looked absolutely stunning too, whilst wearing a sequin red dress while a high slit on the thigh.