These Celebrities Attended The Global Gift Charity Gala In Dubai Over The Weekend
Eva Longoria, Kattan sisters and more!
Posted on
16 December 2018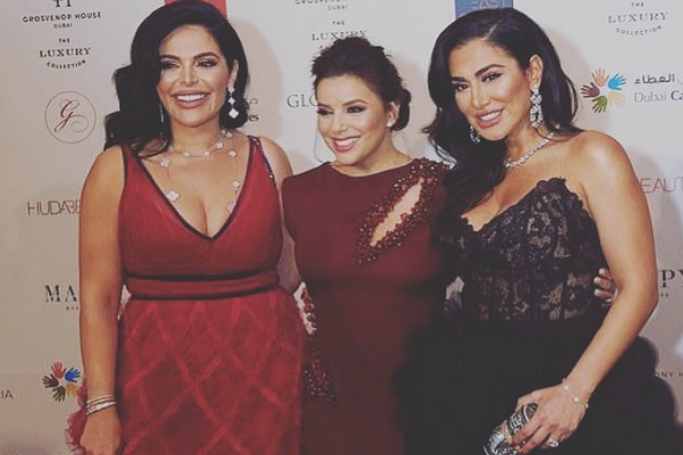 These three influential women attended a glamorous charity in Dubai
Eva Longoria is not an unfamiliar celebrity to the UAE…as she returns for her 6th appearance in Dubai, Eva attended the Global Gift Gala this year.
Known as the most glamorous charity event in all of Dubai, we're not surprised that big names are taking part in events that make a difference to people's lives.
And this year, Eva Longoria Boston was the Ambassador of the Global Gift Charity Foundation in Dubai as she honours guests and makes a heartfelt speech.
From red carpets to a fabulous dinner, fantastic speeches and generous donations – this annual event is a hit amongst everyone in the city.
Dressed in a skin-hugging maroon dress with crystal cut-out details, Eva Longoria rocked the red carpet and the stage at the Global Gift Gala and left a memorable impact on attendees.
The Global Gift Foundation has many ambassadors in support for their own charities as the foundation aims to raise funds for different supporting charities that share the same vision and aims.
Eva's charity, called the Eva Longoria Foundation with support from the Global Gift Foundation, aims to help Latinas around the world build better futures for themselves – through education and entrepreneurship.
Eva was also seen snapping pictures and hanging out with the Kattan sisters, Huda and Mona, over the weekend in Dubai.
The three have been close friends over the years and are in constant support with one another on and off camera.
The Kattan sisters also attended this glamorous charity event in Dubai- both opting for show-stopping dresses as well.
Huda Kattan, commonly known for her beauty brand HudaBeauty, is dressed in a gorgeous lace corset style dress that accentuates her waist, giving her a true hour-glass figure.
She is seen photographed with her hubby, who is dressed in a flattering black and white tuxedo.
On the other hand, Mona Kattan also opted for another shade of red for her dress – with a criss-cross detail at the top and simple accessories.
Shilpa Shetty also attended the Dubai-based charity event over the weekend and she posed in a semi-sheer white patterned dress at the red carpet.