These Luxury Outfits Are Perfect for Eid Al Adha
Dress up this Eid with otherworldly pieces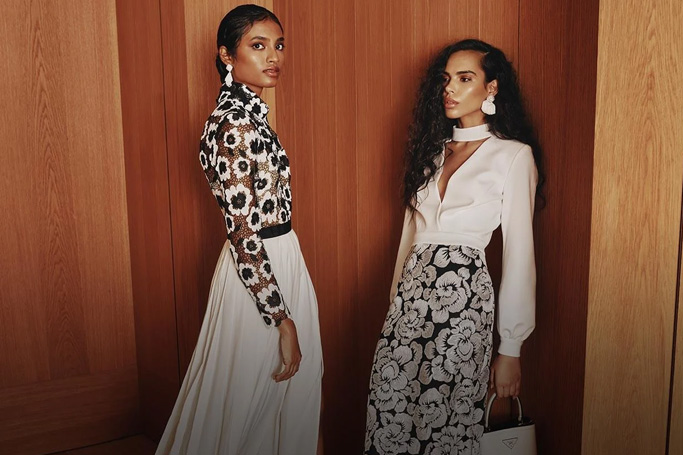 Eid Al Adha is here again, bringing with it all the blessings of the holiday.
All of you celebrating will be sharing the occasion with friends and family, which means tea parties, lunches, dinners, and social gatherings. As a result, there's probably one question popping in your mind right now - what should I wear for Eid?
Well, to help you find something suitable, we've hand-picked some of the best luxury Eid outfits currently available on Ounass. And the best part? Use code EID15 when checking out to enjoy 15% off your order before August 10.
#1 Self-Portrait Floral Print Maxi Dress
Loved by influential women across the globe, Self Portrait demonstrates a unique talent for creating feminine beauty. Styled with a V-neck, front button bodice and long sleeves with bell cuffs, the bold floral print is contrasted with soft lace trims.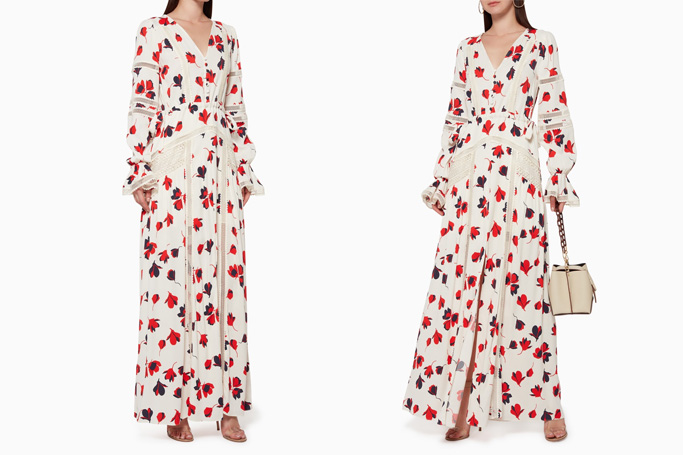 AED 1,050, Ounass
#2 Solace London Belle Peplum Maxi Dress
Solace London is reknowed for structural silhouettes and contemporary draping and this Belle Dress is an excellent example. The monochromatic design features a modest yet fitted bodice with an exggerated peplum waist and a pleated skirt. Comes in red or and black and white.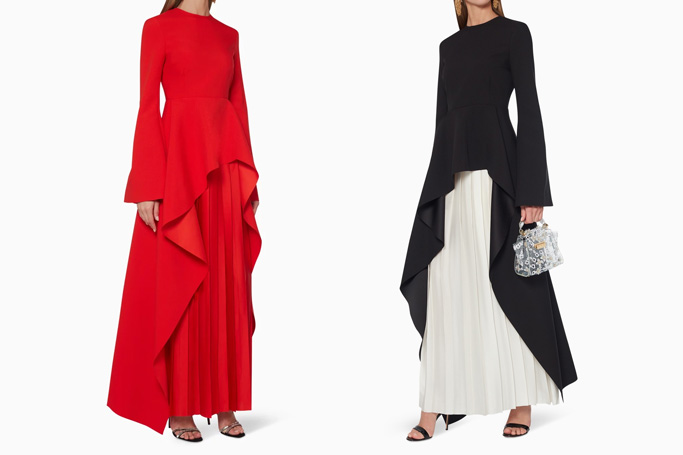 AED 2,250, Ounass
#3 Amal Al Raisi Sequinned Detail Tiered Dress
This maxi dress by Amal Al Raisi is a perfect expression of the designer's modest yet modern feminine aesthetic. Crafted from softly draping fabric with fluid tiers to the long skirt, it is gracefully adorned with sequinned floral embroidery on the bodice.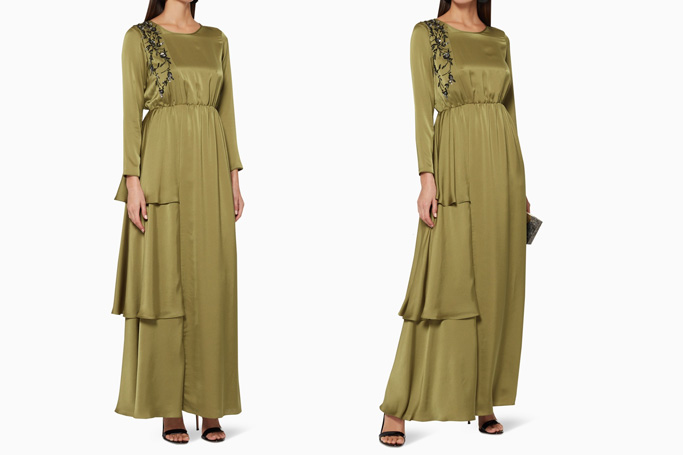 AED 2,950, Ounass
#4 Self-Portrait Front-Cross Chiffon Maxi Dress
Under the creative direction of Han Chong, Self Portrait dresses such as the Front-Cross Chiffon Maxi Dress became one of the most coveted ready-to-wear designs. Minimal with an undoubtedly feminine inspiration, the dress features a V-neckline accentuated by a front-cross draping, mesh sleeves and a slightly pleated maxi skirt.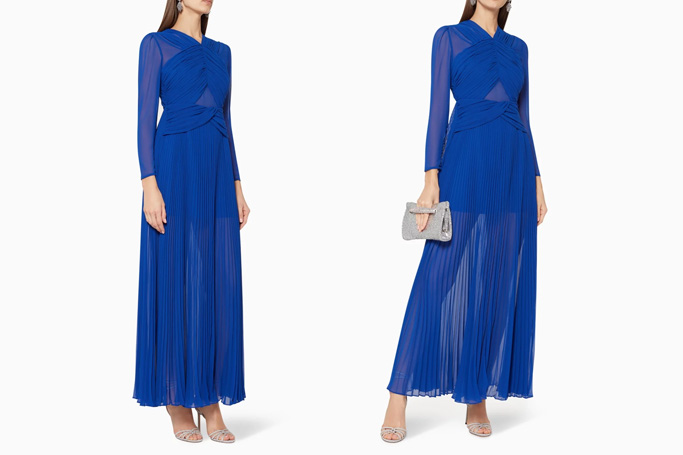 AED 2,250, Ounass
#5 Illustrella Flame-Bead Embroidered Abaya
The Flame-Bead Embroidered Abaya features Illsutrella's most outstanding expertise with its detailed, yet striking embroidery. The contrast between the duotone sleeves of the garment is emphasised even more by the lightly scattered metallic beads and sequins.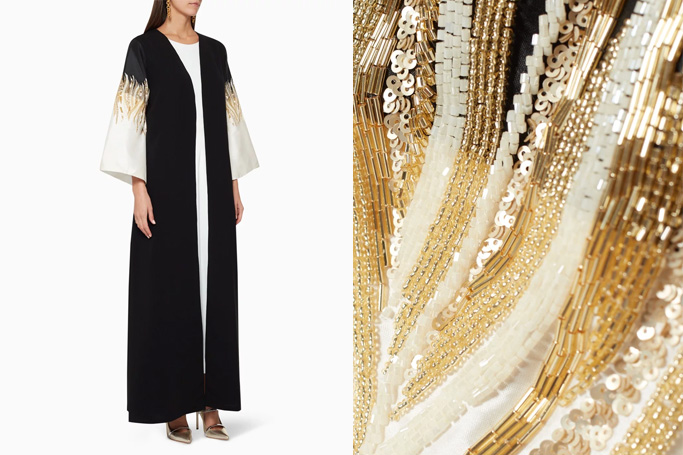 AED 2,100, Ounass
#6 SIR The Label Inez Asymmetric Ruffle Gown
Inspired by the flowing movement of dancers, the Inez Asymmetric Ruffle Gown by Sir. The Label features an effortlessly feminine silhouette enhanced with frills. While the top of the dress is kept simple with long sleeves and a tonal waistband, the cross-over ruffles on the maxi skirt's hem add the brand's well-known, free-spirited feel to the design. Comes in neutral white or black.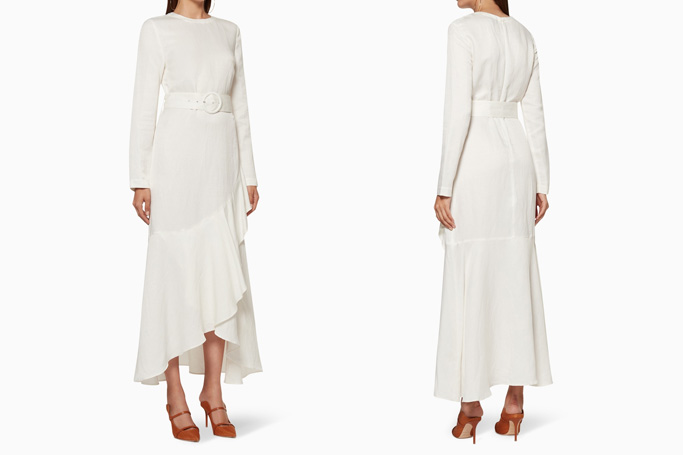 AED 1,750, Ounass
#7 Self-Portrait Leopard-Print Crepe Maxi Dress
Self-Portrait delves into the decadent, nostalgia-tinged animal print with this dress. It's cut from contrasting leopard printed jersey crepe, features a slim-fitting bodice designed with a flattering twisted neckline and cascades to a fluid maxi skirt. Choose pared-back accessories and minimalist shoes that complement the dramatic pattern.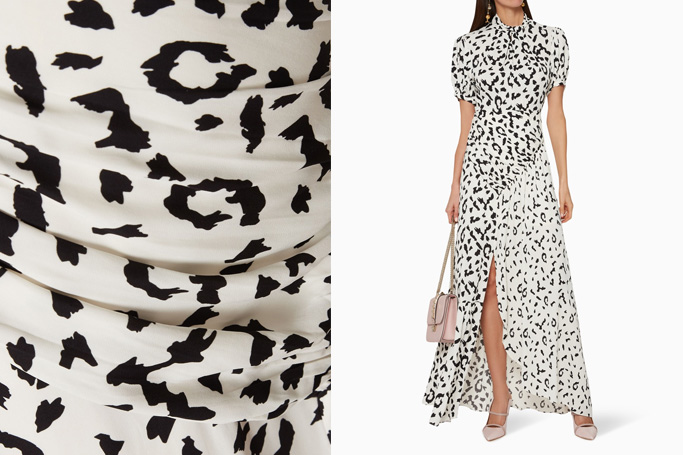 AED 2,150, Ounass
#8 Barza Embroidered Floral Jacquard Abaya
Make an elegant entrance at the next festive occasion with this beautiful Abaya by Barza. Its statement-making details include panels of floral jacquard lending a striking elegance, while a concealed front button fastening ensures maximum coverage.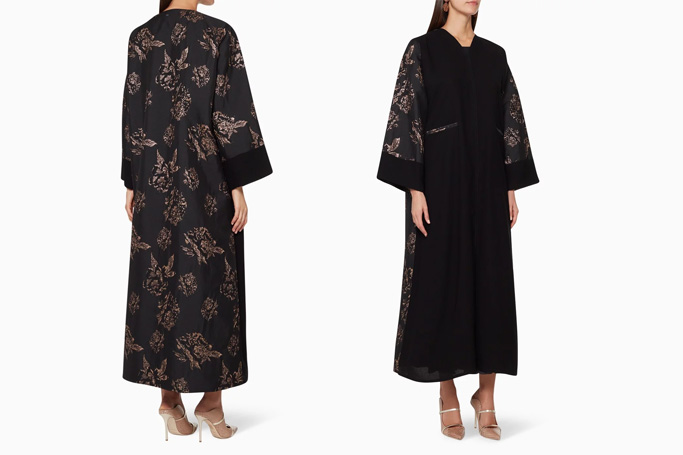 AED 750, Ounass
#9 Chi-ka Convertible Linen Abaya
Chi-ka's elegant range of Abayas refines the luxury collection and ensures an opulent staple for evening soirees. The versatile linen Abaya comes with a contrasting waist tie and oversized dropped shoulders which can be detached and be converted into a sleeveless abaya.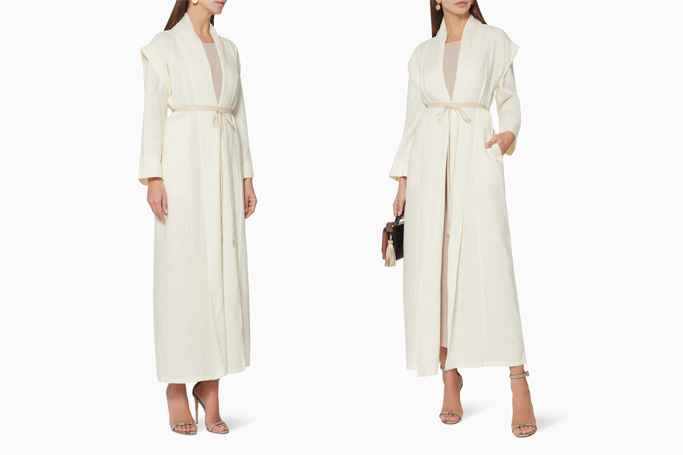 AED 750, Ounass
#10 Self-Portrait Pleated Abstract Floral Guipure Dress
Self Portrait's skill for producing effortlessly feminine pieces is expressed in this eye-catching dress. This lined style is cut from abstract floral guipure through the bodice and cascades to a pleated maxi skirt with side split. Wear it with fine jewellery and heels to complete a delicate event ensemble.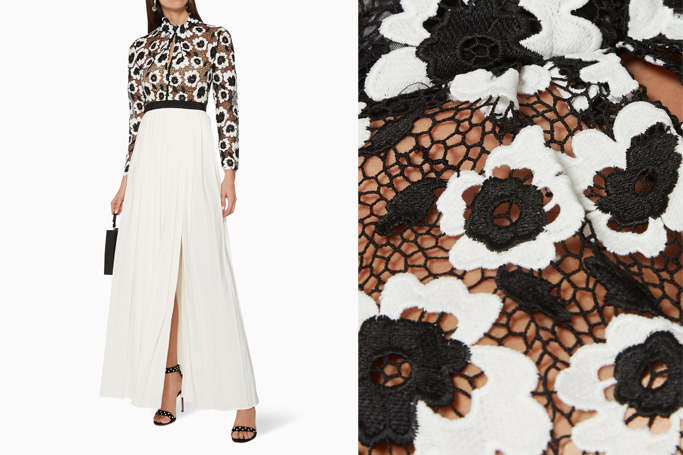 AED 2,150, Ounass
#11 Needle & Thread Magdalena Embroidered Gown
Needle & Thread's Magdalena gown showcases a floral aesthetic inspired by strolls in the English garden. Featuring a tulle overlay, the maxi-length style has a flattering fit-and-flare silhouette with sheer short sleeves and embroidered floral motifs throughout. The voluminous, layered skirt adds movement to the elegant design, making it a refined choice for special occasions and after-dark events.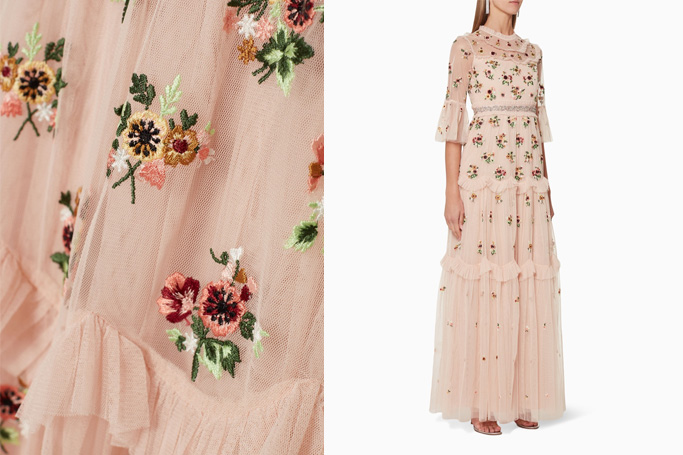 AED 1,980, Ounass
We do hope you love what we suggest. But just so you know, we collect a share of compensation from the links on this page. Prices are accurate and in stock at the time of publication.