This Is What Haute Couture Dior Can Teach Us About Fashion Today
Prudence Wade explores the new V&A exhibition dedicated to the groundbreaking fashion house
Posted on
3 February 2019
It's difficult not to be rendered just a little bit speechless walking through the Victoria and Albert Museum's latest exhibition.
Divided into 11 sections, Christian Dior: Designer Of Dreams is a masterclass in fashion. We're not talking high street – this is haute couture, painstakingly hand-crafted by some of the most skilled ateliers in the world.
The name of the exhibition might sound a little schmaltzy, but by the end of the display you will be well and truly captured by the aspirational and yes, dreamlike nature of the Dior world. Whether it's two-pieces from the 1940s or tulle gowns from 2018, the outfits are simply beautiful.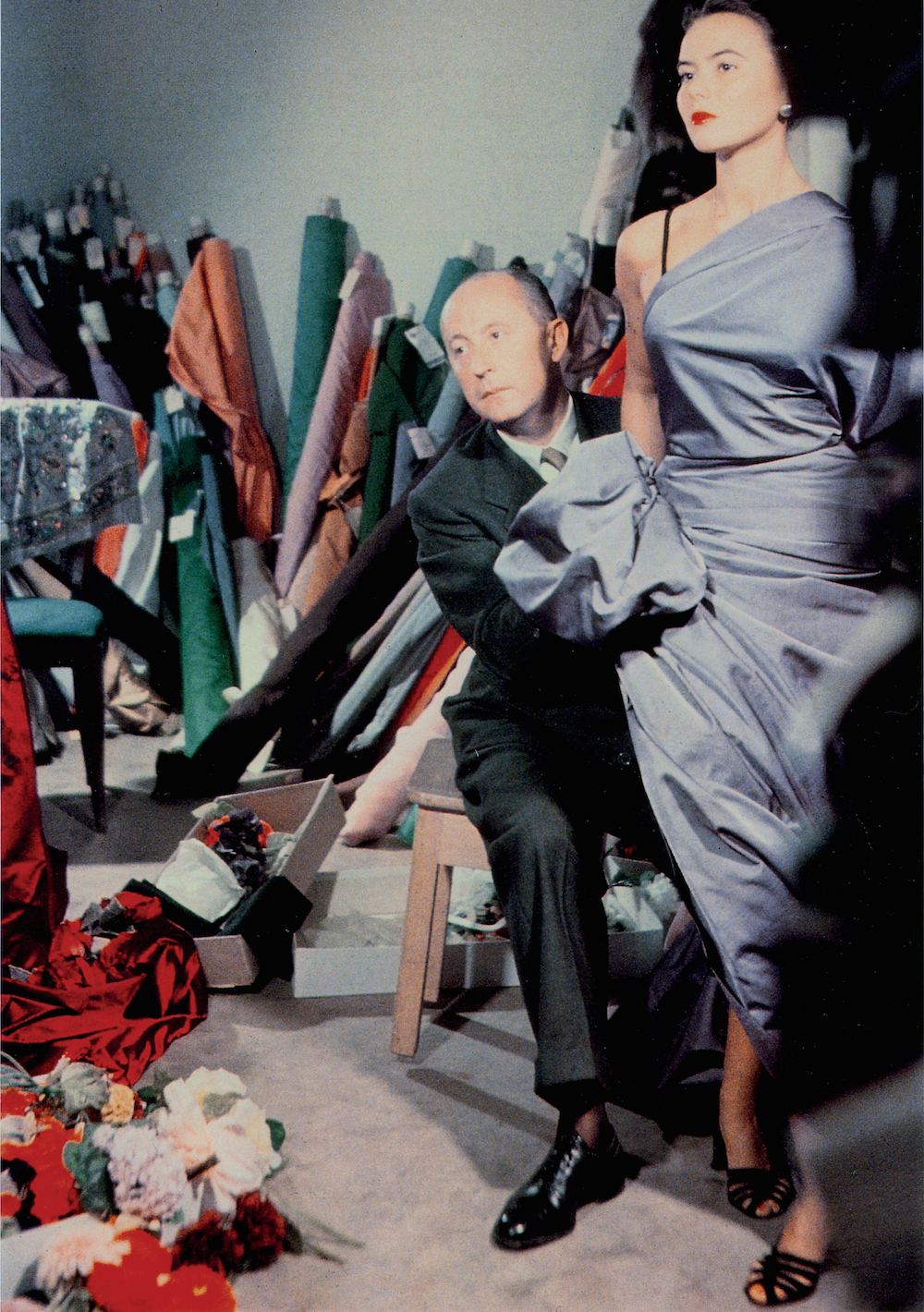 Christian Dior with model Sylvie, circa 1948 (Christian Dior/PA)
Haute couture can seem worlds away from everyday life, but there's no doubting the impact Dior has had on what we wear.
With this blockbuster exhibition set to capture the imagination of thousands, we've explored Dior's legacy to discover what it can tell us about how we dress in this era of fast fashion…
The Legacy Of Dior

Dior's famous Bar Suit from the 1947 collection (Laziz Hamani/PA)
"The influence of Dior in fashion really can't be understated," explains the exhibition's curator, Oriole Cullen.
In 1947 French fashion designer Christian Dior debuted his first collection, and it revolutionised the fashion industry. "At that moment, he really changed the route of fashion. He brought back this feminine silhouette, which lasted for over a decade," says Cullen.
The centrepiece of this collection was the so-called Bar Suit, exemplifying Dior's vision for a new shape in womenswear.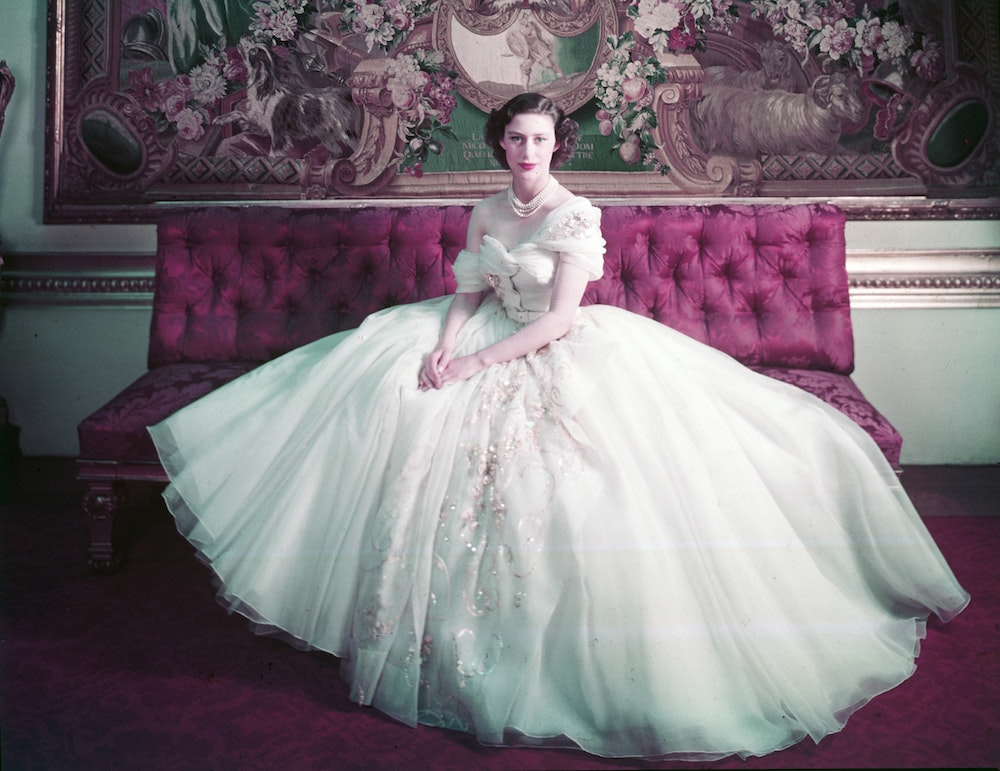 Princess Margaret in her 21st birthday dress by Dior (Cecil Beaton/V&A/PA)
One of the most striking pieces in the exhibition is the gown Dior made for Princess Margaret's 21st birthday. Dior was "a committed Anglophile", says Cullen, and Margaret remained a client of the house for many years.
The dress exemplifies Dior's signature style, known as the 'New Look', featuring an ultra-feminine silhouette with a nipped-in waist. It was a huge departure from the boxy, masculine fashions typical post-World War II.
How It Has Continued Today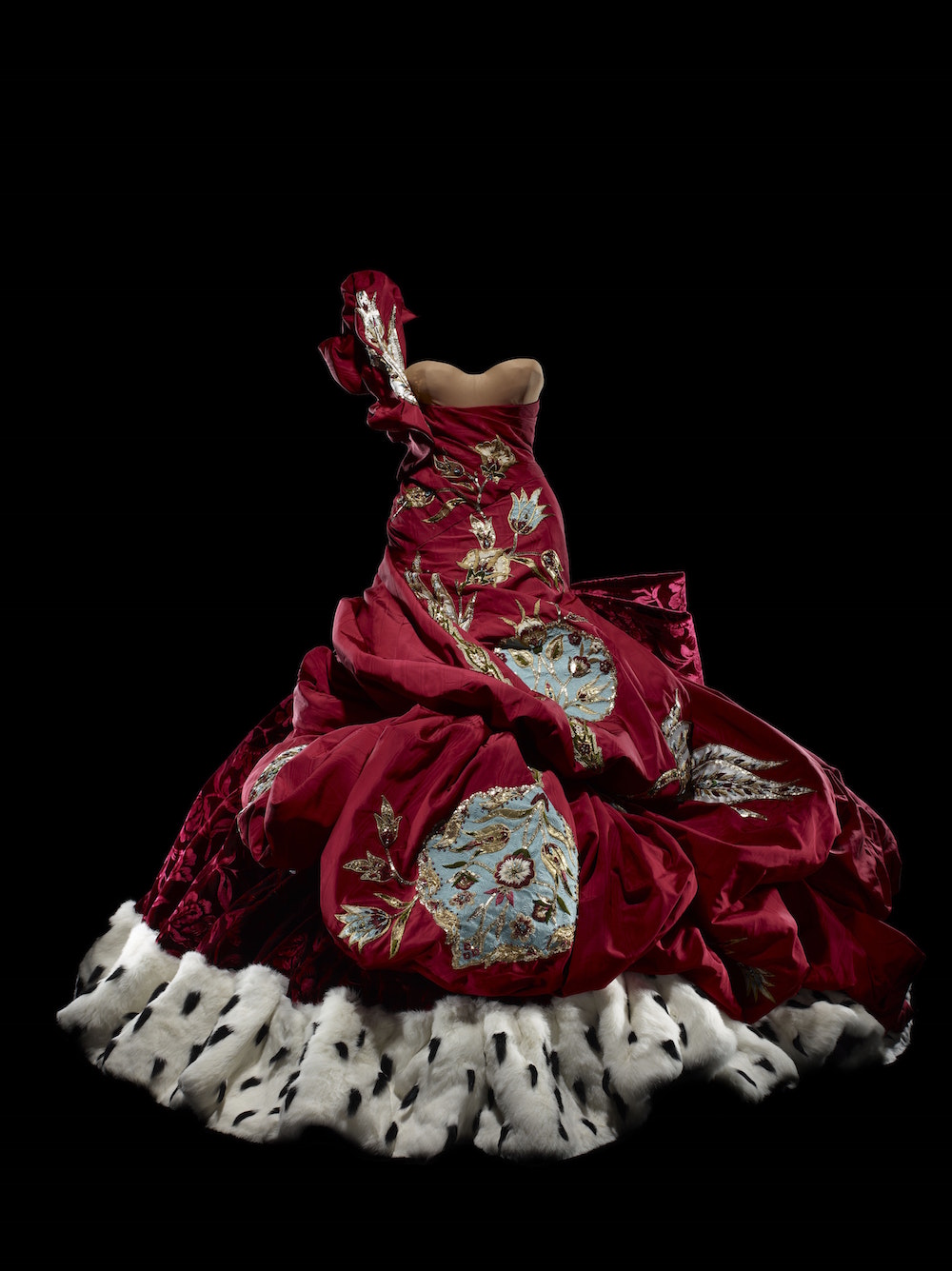 A classic Galliano design: opulent, structured and OTT (Laziz Hamani/PA)
Dior died in 1957, and has since been succeeded by six artistic directors: Yves Saint Laurent, Marc Bohan, Gianfranco Ferré, John Galliano, Raf Simons, and the current designer, Maria Grazia Chiuri.
The exhibition showcases pieces from all six, and you can see how they've been inspired by Dior, while also showing off their own personality. Take Galliano; he left the house amidst controversy, but his pieces are still some of the most eye-catching.
"Some of the Galliano pieces are incredible – the structure, the corsetry, the embellishment," says Cullen, wistfully. "The sheer size of some of them is phenomenal, and it's impressive to think of some of the models who wore them."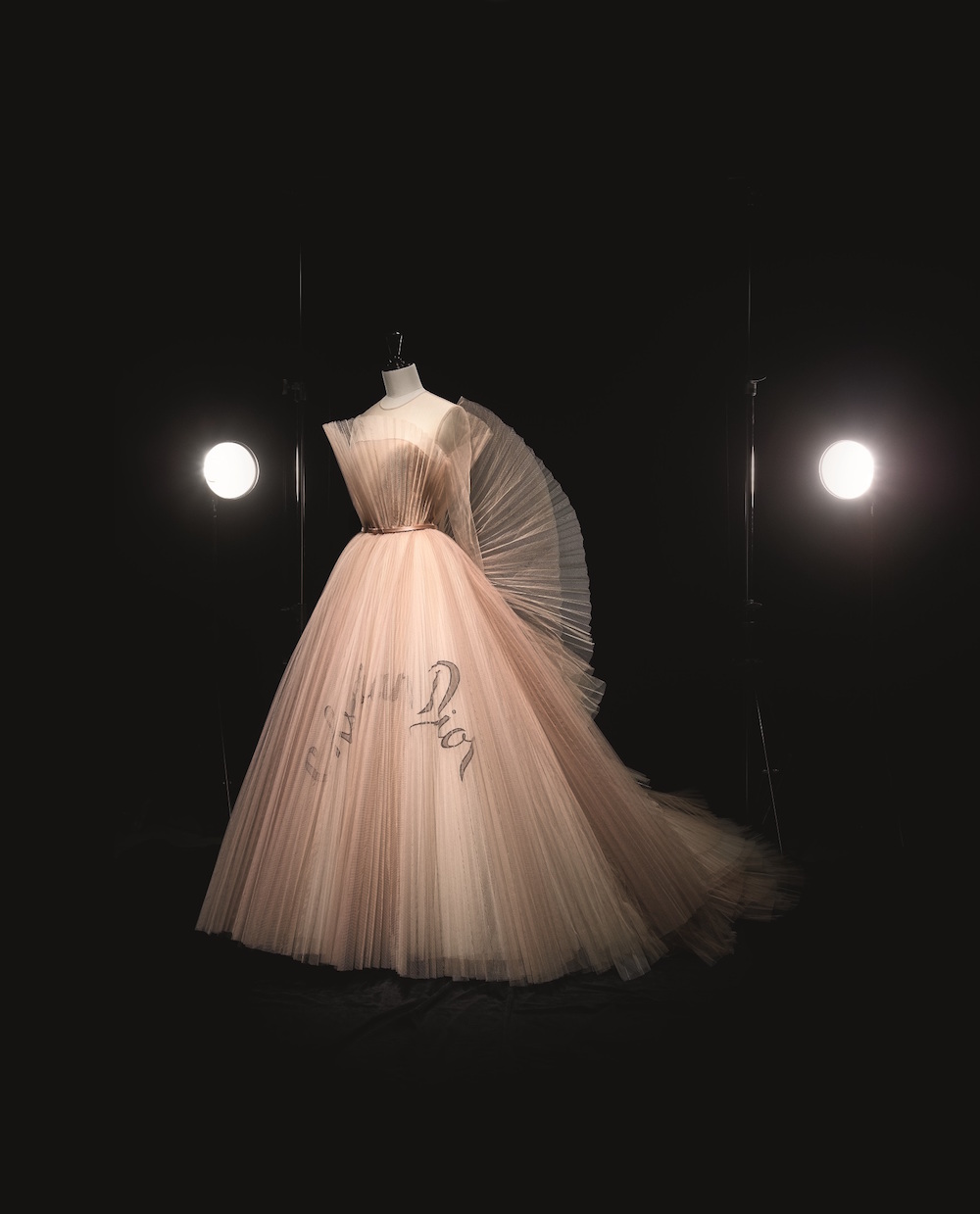 Compare this to Chiuri's style – a similar silhouette, but a lot softer and romantic (Laziz Hamani/PA)
The brazen sexiness of Galliano's Dior contrasts to the fashion house we see today. Under its first female artistic director, Dior has seen a new era of softness and femininity. "Chiuri is very conscious of the materials she uses," explains Cullen. "There's this idea of lightness – she uses tulle layers to create beautiful silhouettes, which are easy to wear."
As Christian Dior influenced the fashion world during in the 1940s, Chiuri is doing so today. We're in the midst of awards season, and a glance at the red carpet will show you how many other designers are inspired by her work – so many of the gowns of 2019 are proving floaty and romantic.
What It Can Teach Us About Fast Fashion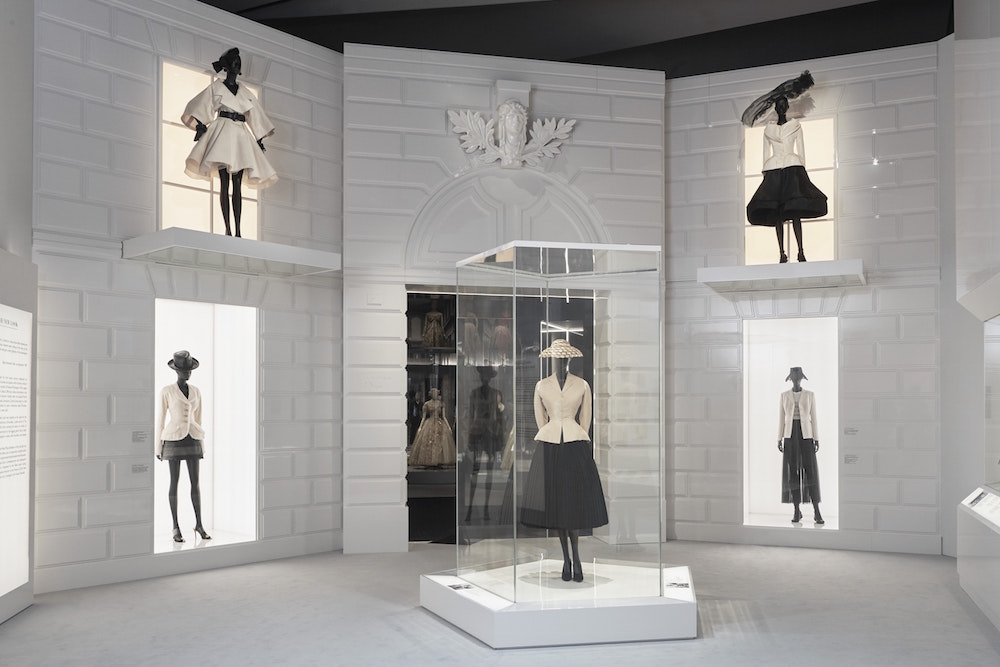 Many of the artistic directors following Dior have created their own interpretation of the Bar Suit (Adrien Dirand/PA)
This exhibition will likely reach far wider than the fashion crowd. After all, the Alexander McQueen: Savage Beauty exhibition of 2015 became the V&A's most visited in history.
And while it may profile a particular fashion house, it can teach us a lot about the state of the industry in general. "It's a beautiful expression of the height of what clothing can be," says Cullen. "I hope that maybe it makes people reflect on the value of garments in our throwaway society."
"Yes, not everyone can afford to buy a piece of haute couture," she admits, "but it can still show that a nice 1960s wool coat from the charity shop is something to be treasured."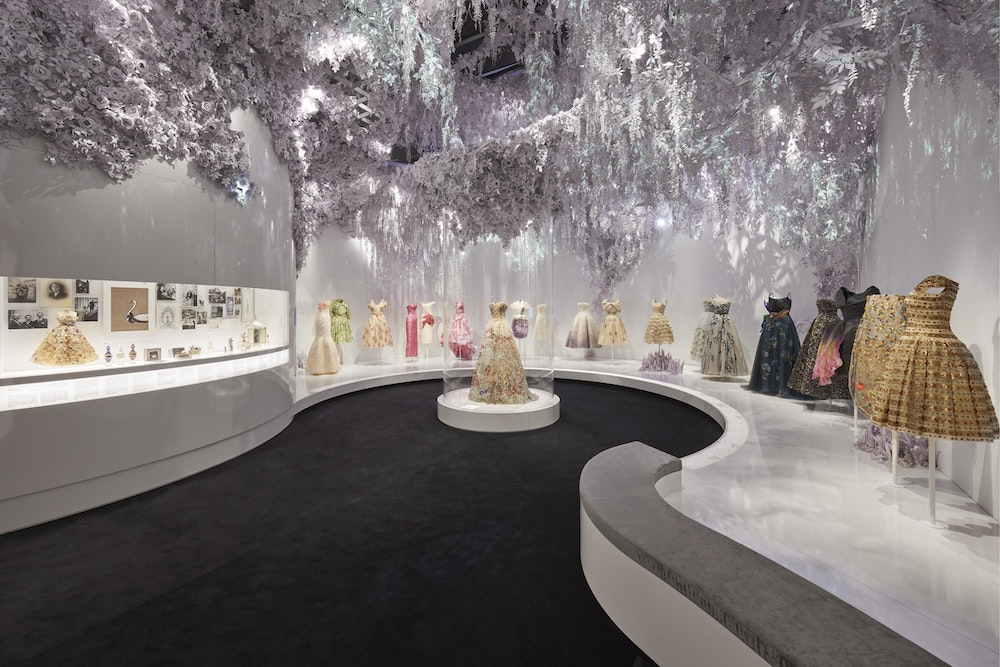 One of the rooms is dedicated to florals (Adrien Dirand/PA)
According to figures from WRAP (http://www.wrap.org.uk), 1,130,000 tonnes of clothing were purchased in the UK in 2016, while the total carbon footprint of clothing was 26.2 million tonnes of CO2. These numbers are mindbogglingly high, and the industry is increasingly realising it has to do something about it.
Looking at the luxury pieces produced by Dior suggests there is another way to dress. Yes, this is undoubtedly an aspirational look at fashion – only the very few will be able to stock their wardrobes like this – but it definitely makes you think about investing in well-made clothes that will last, even if they're not designer.
The Sheer Artistry Of The Pieces

The final room of the exhibition is in the backdrop of a ballroom (Adrien Dirand/PA)
Whether it's the beading of a skirt or the structure of a corset, the pieces in this exhibition are true works of art. The final room you walk into is a ballroom, showcasing some of the label's most resplendent gowns. The lighting shifts slowly from day to night and back again, perhaps symbolising how Dior will continue to influence how we see and wear fashion, for decades to come.
Christian Dior: Designer of Dreams is at the V&A from February 2 – July 14 2019. Visit vam.ac.uk.