5 Attractions Around the World You May Not Have Heard of
These five travel destinations may be famous for many things, but not these out-of-the-ordinary attractions.

They are some truly obscure sights to see!
Pick any destination in the world and you're likely to find a list of recommended tried-and-true attractions. Sights to see, food to tuck in, art and architecture to explore... there's always something for every tourist to see.
However, if you believe that not every Italian getaway needs to be in the Grand Canals, or Hollywood and Disneyland sights for every US road trip, then read on.
Here, we take a look at five interesting under the radar places around the world.
These fascinating and lesser-known locations are perfect for your future tip — and they're far from any tourist trap.
Where: Colletto Fava in Piedmont, Italy
What: The pink rabbit
Resting on the site of a 5,200 ft. mountain in North Italy's Piedmont region is a giant, pink stuffed bunny. This 200 ft. long and 20 ft. thick plush toy named "Hase" lies among the hills, posed as though it was dropped by a giant human being. It's waterproof and stuffed with straw.
The enormous plush toy rabbit appeared in 2005, created by Gelitin - a group of artists. It was knitted with the intention to offer more joy to hikers as they journey through the Italian countryside.
The outdoor installment was originally a bright pink colour but eventually nature and the elements has turned it into a dull pink-grey and is slowly disappearing back into the earth. It's expected to completely naturally erode into the ground by 2025.
People can climb on, explore, relax on, and play with this massive stuffed toy.
4. Grave site of one left arm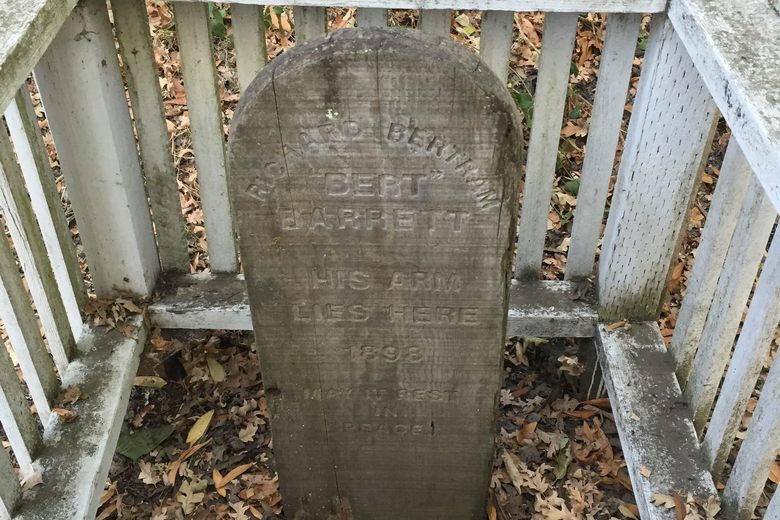 Where: Hacienda Cemetery in San Jose, California, USA
What: Bert Barrett's grave for his left arm
While graves are typically not a pleasant subject, this grave site is quite a notable one that it may be worth a visit on your next trip to San Jose, California.
The left arm of 13-year-old Bert Barrett was buried here, while the rest of his body lived for another 61 years and was buried somewhere else.
In 1898, teenager Bert Barrett lost half of his arm in a hunting accident. At the time, he had to bury his amputated arm in accordance to the local laws. The marker reads: "His arm lies here. May it rest in peace."
The story bore fruit to many local urban legends. The most notorious campfire tale says that on Halloween night, Barrett's severed arm will come alive to search for the rest of him.
3. A faerie-like landscape hidden in Scotland

Pictured: Fairy Glen in the Isle of Skye, Scotland
Where: Isle of Skye, Scotland
What: The Fairy Glen
When you visit Scotland, consider making a stop at this enchanting spot of nature.
The Fairy Glen is an off-the-beaten-path landscape that features cone-shaped hills, fresh ponds, waterfalls, and natural rock formations that looks straight out of magical faerie lore or an ancient site.
Nature-lovers can easily spend a whole day exploring these grassy hills.
2. Ancestor of apples in Kazakhstan

Where: Tian Shan mountains, Kazakhstan
What: The ancestor of wild apples
Although apples are widely available around the world, it wasn't always the case. That shiny red (or pink / green) fruit you pick up from the grocer came from its original roots - the Malus sieversii which grows wild and in abundance in the Tian Shan mountains of Almaty.
According to researchers, the Tian Shan mountain apple seeds migrated out of Kazakhstan through animals such as birds, long before human beings cultivated and traded them. Visit these lush sites in Almaty and you'll find wild apple trees that are entangled, unevenly spaced, and are dense in numbers.
Modern technology was able to link common apples to Malus sieversii, solidifying Almaty as the ancestral site of all your favourite Pink Lady's, Fujis, and Red Delicious.
1. The secret hideout of a solder who thought World War II ended in the 1970s
Pictured: Soldier Yokoi's secret hideout in Guam
Where: Inarajan, Guam
What: Yokoi's Cave
Although World War II lasted from 1930 to 1945, for one soldier the second great war continued until 1972. Japanese citizen Yokoi Shōichi was one among the 127 soldiers who was found hiding in the Pacific Area between 1947 and 1974.
At the time, Japan's strong principles on war led many soldiers to believe that it is better to die or get captured rather than surrender. For them, it was considered a great embarrassment to surrender. Some soldiers had no idea that the war officially ended and went into hiding, refusing to make contact with other people or believe in the announcements blared by the airplanes above.
Soldier Yokoi Shōichi was situated in Guam when American Forces conquered the island in 1944. He escaped deep into the island where he spent three months digging his hidden cave. He was eventually found by locals in 1972 and was brought back home to Japan where he was hailed a hero.
However, the soldier still believed in his country's war-time principles and felt that his return to Japan was shameful.