7 Meatlicious Lamb Recipes To Make This Eid
Let your eyes feast on some lamb-goodness.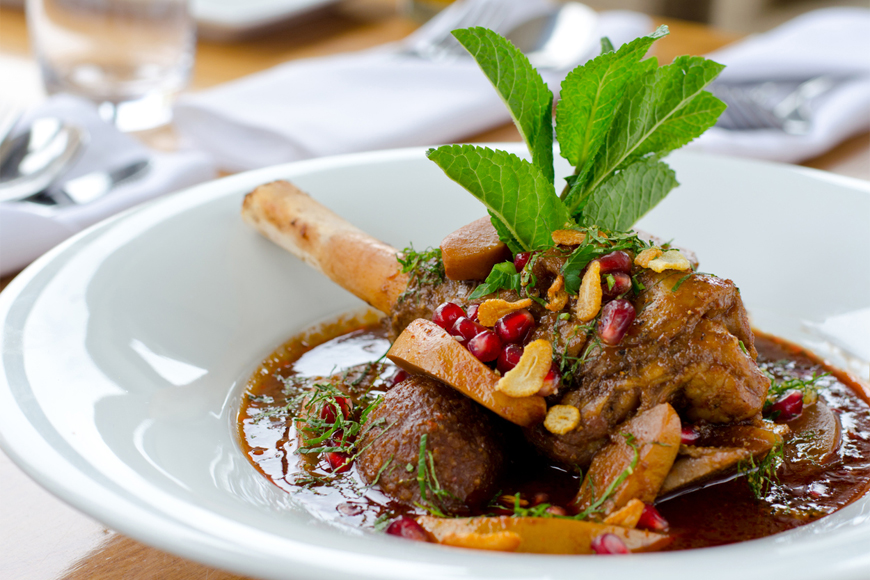 Nobody eats lamb better than Arabs. If you need proof, just visit an Arab family this Eid Al Adha and you'll find every meaty and juicy part of lamb chopped, cooked and garnished in hundred different mouth-watering ways.
From Lamb shanks dipped in sweet and tangy pomegranate sauce to slow-cooked juicy gravy with rice – you'll be amazed at how they can turn this exotic meat into dishes SO filling and heavy, you'll stay full for couple of next days.
Eid Al Adha is just a few days away and we thought this is the perfect time to fill your sense with some lamb goodness. Scroll down and let your eyes feast on some Arab-favourite lamb recipes.
1. Lamb Shanks With Pomegranate and Saffron
This savoury stew combines two staples of traditional Arabic cooking: rich lamb and tangy, sweet-sour pomegranate.
It makes a wholesome main course, with each meaty shank garnished with bright pomegranate seeds — perfect for a festive dinner this Eid.

image credit: Pinterest
2. Middle Eastern Shredded Lamb
As with any shredded meat recipe, a little goes a long way. This Middle Eastern treat may look like a lot of work but it actually needs minimal efforts.
The shoulder-cut lamb piece is cooked in everyday Arabic spices to give it a juicy inside and a brown crispy outside.

image credit: Pinterest
3. Turkish Gozleme with Minced Lamb
Gozleme is a traditional savoury Turkish flatbread or pastry filled with meat, spinach, feta and lots of herbs.
There are many variations of gozleme but this minced lamb recipe is by far the clear winner!
image credit: Pinterest
4. Gosht Darbabri (Slow-cooked Lamb Curry)
Gosht Durbari (Lamb Curry slow cooked with yoghurt, fried onions and spices) - a delicious slow cooked lamb curry with fried onions, yoghurt and spices. Serve it with hot naans and you're good done with your main course.

image credit: Pinterest
5. Lamb Tagine with Dates and Apricots
A slow-simmered meal that allows everything inside the pot to meld into a tender and succulent dinner. This melt-in-your-mouth lamb recipe delivers… big time!

image credit: Pinterest
6. Roasted Rack of Lamb with Basil Honey Goat Cheese Sauce
Seasoned simply & topped with a most amazing basil honey goat cheese sauce, this recipe can be a perfect highlight to your Eid dinner table.

image credit: Pinterest
7. Zaatar Lamb Chops
These lamb chops would be delicious with crisp roasted potatoes or flatbreads, or serve it with cooked spelt that has extra herbs mixed through it.

image credit: Pinterest