This Is What Happened When A Carnivore, A Vegetarian And A Flexitarian Tried Joe Wicks' Veg Cookbook
Joe Wicks' Veggie Lean In 15 has arrived. We put three recipes to the test…
Posted on
28 January 2019

Fitness coach Joe Wicks and his Lean In 15 cookery books are, undoubtedly, a phenomenon.
Creator of the 90 Day Plan, Wicks, aka The Body Coach, is known for his curly locks, popular HIIT Instagram videos, and generally encouraging people to change their bodies and lifestyles without going hungry.
Normally a protein-charged, chicken breast fiend, the 32-year-old – who hails from Epsom, Surrey, and also became a dad last summer when he and his partner, Rosie Jones, welcomed their baby daughter Indie – has now ventured into the world of vegetarianism.
Veggie Lean In 15 is the latest instalment in Wicks' hit series – and we thought we'd put it to the test, to see how his plant-based recipes would suit the taste buds of a committed vegetarian, a self-confessed carnivore, and a veggie-curious, low-consumption meat-eating flexitarian.
Here's what happened…
The Vegetarian
Claire Spreadbury tested: Avo and berry breakfast pot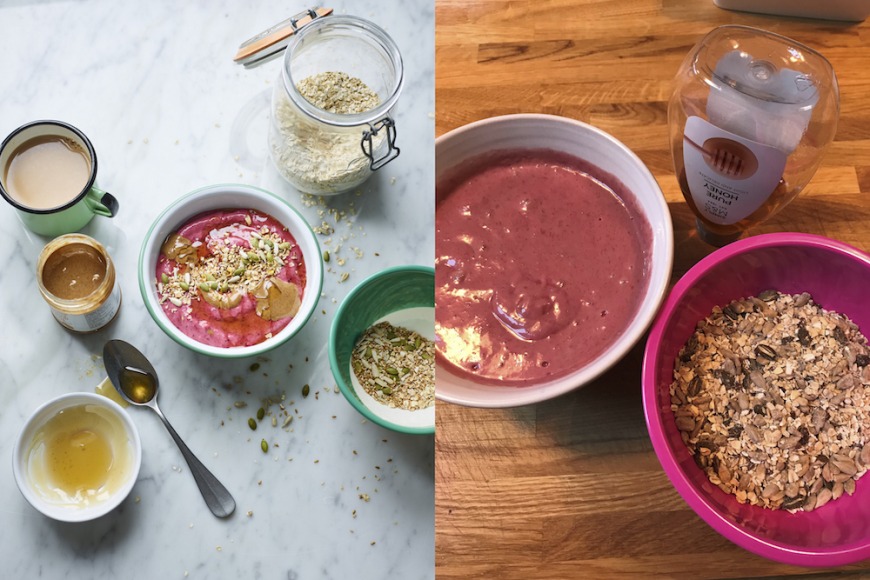 Left, Joe Wicks' avo and berry breakfast pot; right, Claire's version (Maja Smend/Bluebird/Claire Spreadbury/PA)
"I've been a vegetarian for over a decade and am a fan of Joe Wicks' meal and fitness plans, so was pleased to see him release a veggie cookbook. Having flicked through some of his previous books, there wasn't much in them if you're not a meat or fish-eater.
"His avo and berry breakfast pot looked nice and straightforward, perfect for prepping and taking into the office, and I've always been intrigued by using avocado in dishes that aren't savoury. I recently tried a vegan chocolate mousse with avocado, which didn't exactly go down a storm after the family's Sunday roast, so I didn't hold very high hopes for this breakfast.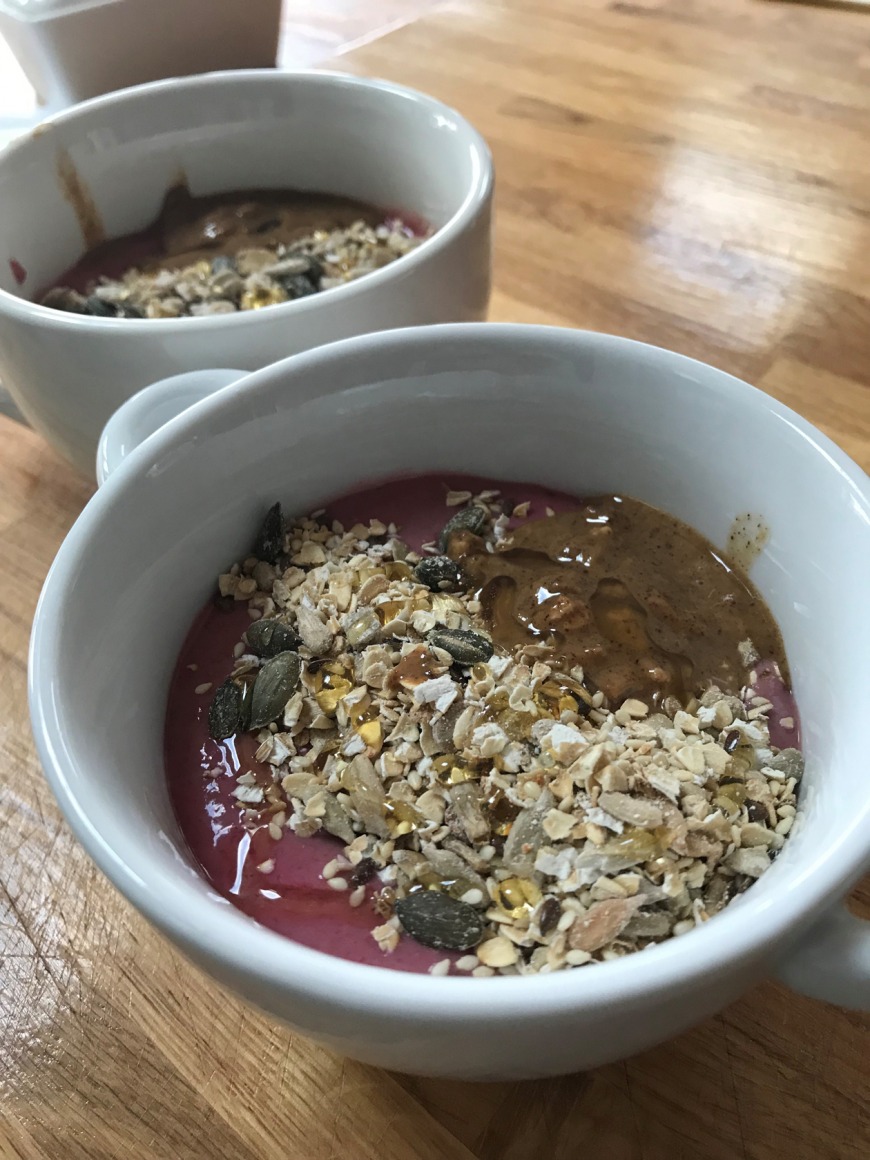 "On the plus side, though, it looked super-simple. Bunging half an avocado in a blender with some frozen berries, a banana and two dollops of natural yogurt is my kind of easy cooking – if you can even call it that. I blitzed it up the night before and toasted some oats and seeds ready for the morning, when you bung it altogether with a drizzle of honey and a spoonful of almond butter.
The results, I'm delighted to say, are delicious.
"Maybe it's because there's only half an avo in the recipe, but it's totally undetectable. It tastes like a fruity smoothie, bulked out with oats to fill you up, and the almond butter – which I almost didn't bother with – is really lovely, and gives you an extra protein boost.
"The portion is absolutely massive – easily shareable, or you could put it in a massive bottle, sup on it all morning and only need a tiny lunch, so it's great for anyone looking for a healthy, grab-and-go brekkie. And even better, it takes about 10 minutes tops to make. Think I'll be making this more often."
The Flexitarian
Ella Walker tested: Peri-peri halloumi burgers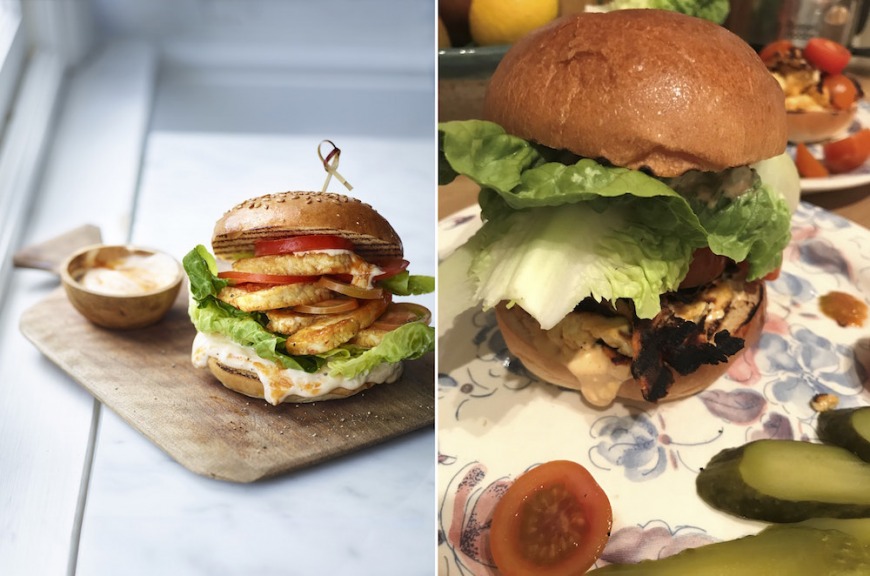 Left: Joe Wicks' peri-peri halloumi burger; right: Ella's version (Maja Smend/Ella Walker/PA)
"As a flexitarian, I do eat meat, but not very often, and usually only when eating out, plus, as a general rule, I don't buy beef to cook with. So, if I'm going to eat a beef pattie, I'd rather go to an actually burger joint (Honest Burger, Five Guys, McDonald's, etc) and order a proper one.
"Wicks' halloumi version sounded so swift, I relented on my 'no at-home burgers' rule. And swift they were; once you've toasted your bun (I went for fancy brioche ones), sliced up a tomato and snapped the leaves off a cos lettuce, you're practically done. The added gherkins in mine were my idea.
"After that, all that's left to do is dunk a block of halloumi (carved into 1cm thick slices) in a few tablespoons of shop-bought peri-peri sauce.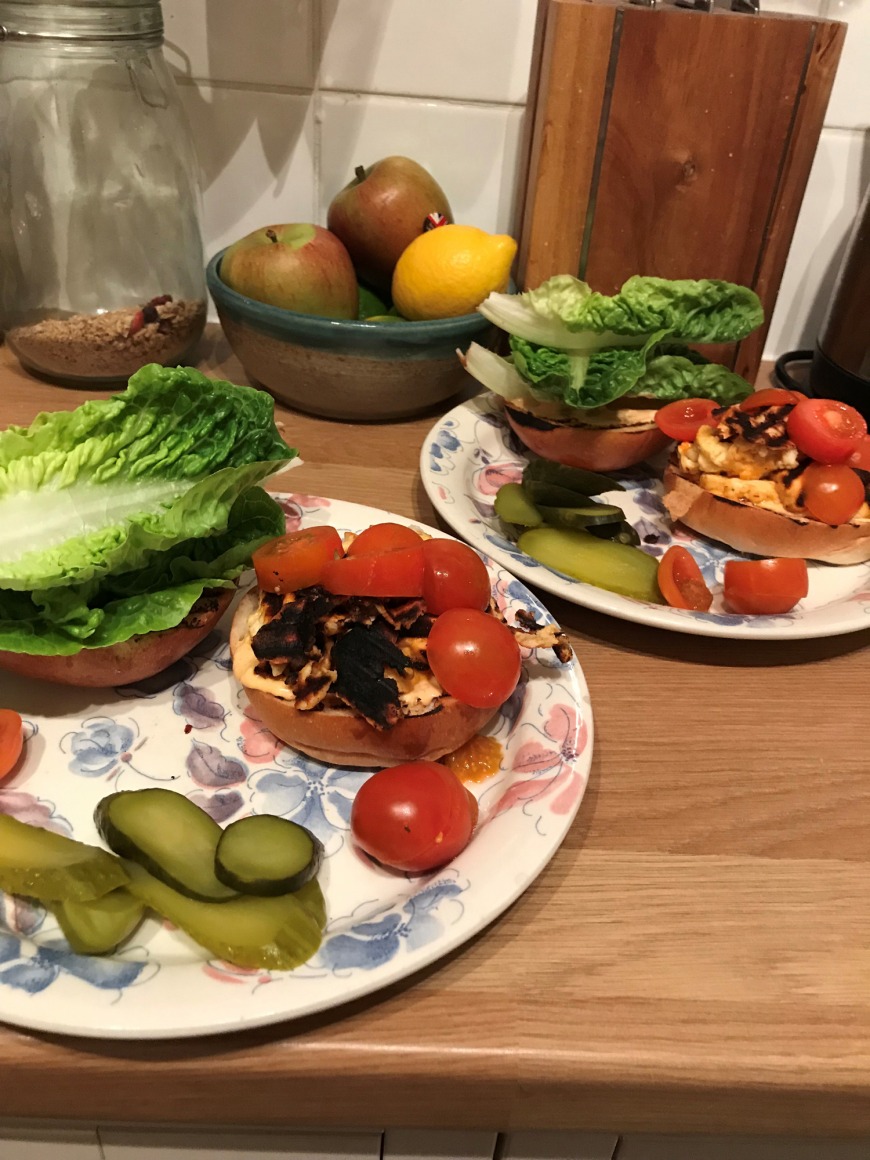 Slightly singed… (Ella Walker/PA)
"I then made the error of throwing my marinated halloumi slices on a hot griddle rather than in a non-stick pan as specified, so they ended up a little crispier than anticipated. Don't make my mistake – a good portion of my 15-minute total cooking time was spent trying to free oozy bits of cheese from the pan's grooves. Wicks knows best. Once extricated though, it was pretty delicious.
"We drenched the buns in a peri-peri/mayo mix, so if you're not into spiciness, you may struggle, but for a quick mid-week meal, it was spectacularly speedy, cheap and filling. And all that salad made it fresh and crunchy too."
The Carnivore
Jenny Stallard tested: My Lovely Lasagne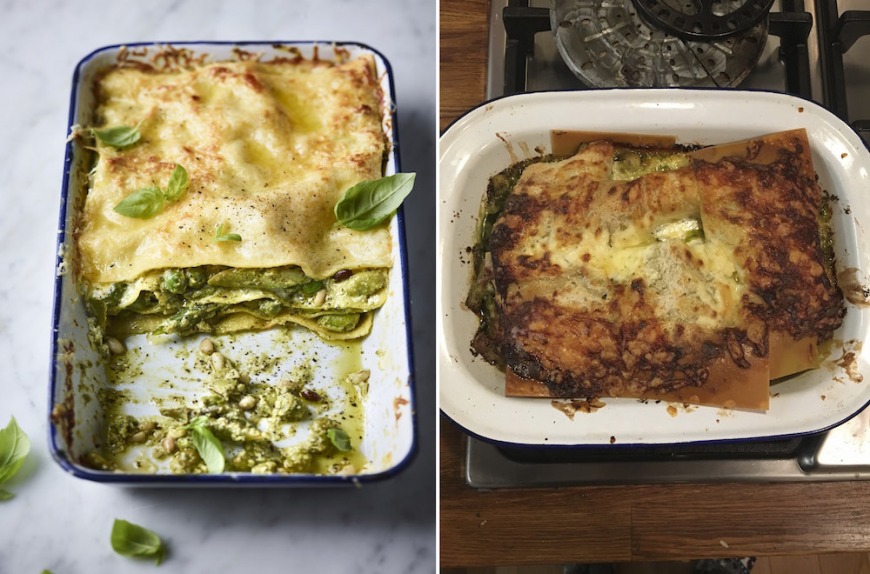 Left: Joe Wicks' 'My Lovely Lasagne', right: Jenny's version (Left: Joe Wicks' peri-peri halloumi burger; right: Ella's version (Maja Smend/Ella Walker/PA)
"I've never cooked a Joe Wicks recipe in my life, but I love pasta, so this seemed right up my street. My usual lasagne would heavily feature mince and tomatoes, so this pesto version seemed unusual at first.
"As a veggie dish, I was a little confused as to why it required vegetarian hard cheese but used milk – isn't cheese made from milk? – but then realised it was to avoid rennet, an enzyme used in the cheese-making process, and often taken from calves' stomachs. Luckily, there are veggie options available.
"We doubled the ingredients so it'd serve two, and there was plenty to go around. Dairy debates aside, this was fun to make: First of all, you fry off asparagus, garlic and frozen beans, nice and easy. Then mix pesto and mascarpone, and layer with the lasagne, then top with grated cheese and a milk/mascarpone mix, and bake.
"The verdict? It was very creamy and satisfying – I didn't miss mince at all – and felt way more indulgent than the calorie count implies. It really worked well for a post-workout Monday night supper. I'd definitely make it again, but probably using regular pasta – I found the lasagne a bit 'faffy' to layer, but if you made this as a fusilli pasta bake, it'd be quicker and you'd still get basically the same taste."
Veggie Lean In 15: 15-minute Veggie Meals With Workouts by Joe Wicks is published by Bluebird. Available online now.