Dubai Restaurants Open During The Day This Ramadan
Here are all the restaurants, bars and cafes in Dubai, open for non-Muslims during Ramadan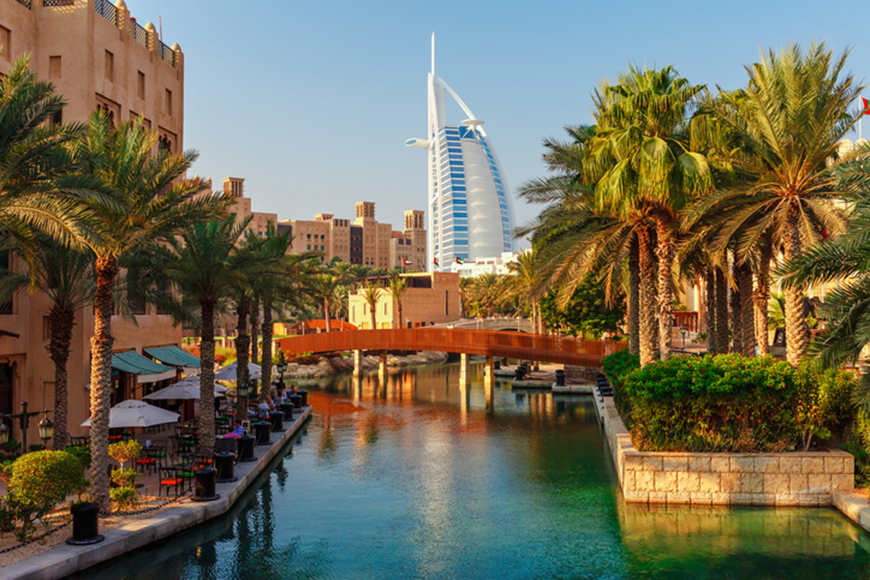 During the Holy Month of Ramadan many restaurants in Dubai will close during daylight hours in respect for Muslims who are fasting. However, for non-Muslims in Dubai and those of you not fasting, there are still plenty of Dubai restaurants open during Ramadan 2019.
For some restaurants, bars and cafes in Dubai its business as usual, as the eateries will remain open for tourists and the expat community during the Holy Month. From breakfasts to business lunches, we've listed our top pick of restaurants serving food throughout the day during Ramadan 2019 in Dubai.
So, whether you're visiting restaurants on Sheikh Zayed Road or dining on the Palm Jumeirah, here's our guide to where to eat in Dubai during Ramadan, with a full list of restaurants that will be open this Ramadan 2019...
Arabian Ranches and Dubai Studio City
Springs, Meadows and Lakes
Starbucks - Open daily 7am - 11pm, Springs Town Centre, Springs, 04 419 0023, directions
Shakespeare & Co - Open daily 9am - 1am, Springs Town Centre, Springs, 04 360 8886, directions
Reform Social & Grill - Open daily 8am - 12am, The Lakes Club, The Lakes, 04 454 2638, directions
Dubai Festival City and Garhoud
City Walk
Clinton St. Baking Company - Open daily 8am-midnight, City Walk, Jumeirah, 04 3440705
eggspectation - Open daily 9am-11pm. City Walk, Al Safa Street, 04 240 6877
IZU Brasserie & Bakery - Open daily 7am-midnight, Le BHV Marais, City Walk, 04 4033030
Toro+Ko - Open Sat-Wed noon-1am, Thurs 1pm-2am, Fri noon-2am, The Square, City Walk, 04 590 5433
Dubai Media City
Café Bateel - Open Sun-Thu 7.30am-9pm, Fri-Sat 9am-9pm, Business Central Towers, Dubai Media City, 04 449 4010
Café M - Open Sun-Thu 7am-11pm, Fri-Sat 9am-11pm, Media One Hotel, Media City, 04 427 1000
Certo - Open daily noon-3.15pm, 6pm-11pm. Radisson Blu, Dubai Media City, 04 366 9111.
Coco Lounge - Open Sun-Wed noon-midnight, Thu-Sat noon-2am. Media One Hotel, Dubai Media City, 04 427 1000
garden on 8 - Open Sun-Wed noon-midnight, Thu-Sat noon-2am. Media One Hotel, Dubai Media City, 04 427 1000
Noodle House - Open daily noon-11.30pm, Dubai Media City, 800666353
Oregano - Open daily 11am-midnight, Office Park, Dubai Internet City, 04 434 3010
Pascal Tepper -Open daily 7am-8.30pm, Next-Radisson Blu, Dubai Media City, 04 454 2408
Qwerty - Open daily 6.30am-midnight, noon-midnight, Media One Hotel, Media City, 04 427 1000
Taqado Mexican Kitchen - Open daily, 8am-12am. Building 7, Dubai Media City, 04 277 8697
Mall of the Emirates, Al Barsha and Al Quoz
365 All Day Dining - Open daily noon-3pm, 7pm-11pm, Hotel Novotel Dubai Al Barsha, 04 304 9000
Aspen -Open daily 24 hours, Kempinski Hotel Mall Of The Emirates, Al Barsha, 04 3410000
Brunswick Eatery, Bar & Terrace - Open daily 5pm-2am, Mall of the Emirates, Al Barsha, 056 404 0685
Din Tai Fung - Open Sat-Wed 11am-10pm, Thu-Fri 11am-midnight, Mall of the Emirates, Al Barsha, 04 265 1288
Emarati N More Restaurant - Open daily 6am-10.30am, 12.30pm-6pm, 6.30pm-11pm, Cassells Al Barsha Hotel, Al Barsha, 04 408 4777
Karam Beirut - Open daily noon-midnight, Mall of the Emirates, 04 341 2202
Lime Tree Café - Open daily 7.30am-6pm, Next-The Courtyard, 04 325 6325
Link Café - Open 24 hours, Sheraton Mall of the Emirates Hotel, Sheikh Zayed Road, Al Barsha 04 377 2000
Olea - Open daily 6am-11am, 7pm-9pm, 10pm-3am, Kempinski Hotel Mall Of The Emirates, Al Barsha, 04 409 5111
Salero Tapas & Bodega - Open Sat-Thu 12pm-1am, Fri 4pm-1am Kempinski Hotel Mall Of The Emirates, Al Barsha, 04 4095888
Salmontini - Open daily noon-11.30pm, Mall of the Emirates, 04 341 0222
Soho Café - Open Sat-Thu 8am-10pm, Sun noon-10pm, Gold & Diamond Park, 04 341 5335
St. Tropez - Open daily 10am-midnight, Mall of the Emirates, 04 341 3415
Tom & Serg - Open Sun-Thu, 8am-4pm, Fri & Sat, 8am-6pm, Al Joud Center near Ace Hardware, Al Quoz, 056 474 6812
Vantage - Open daily 11am-2am Sheraton Mall of the Emirates Hotel, Al Barsha, 04 377 2356
Barsha Heights, The Lakes, The Greens
Arrows and Sparrows - Open daily from 8am-10pm, Building 4, Emaar Business Park, The Greens, 04 558 8141
Ostro - Open daily 6am-11am, Dusit D2 Kenz Hotel, Barsha Heights, 04 567 2246
Prego's - Open daily noon-3.30pm, 6pm-11.30pm, Media Rotana, Barsha Heights, 04 435 0201
Pure South - Open daily 8am-10pm The Greens, 04 886 8588
Reform Social & Grill - Open daily 8am-midnight, The Lakes, Emirates Living, 04 454 2638
Jumeirah Lakes Towers
Baldwin Café - Open daily 9am-1am, Gold Crest Views, Cluster V, JLT, 04 447 7024
Café Isan - Open Sun-Wed noon-10pm, Thu-Sat noon-11pm, Cluster M, JLT, 054 796 5021
Couqley - Open Sat-Wed noon-1am, Fri-Sat noon-2am, Cluster A, JLT, 04 514 9339
Golositalia - Open daily 7am-11pm, Cluster C, JLT, 04 443 4955
Hako Sushi - Open daily 11am-midnight, Cluster I, JLT, 800 4256

[email protected]

- Open Sat-Wed noon-1am, Thu-Fri noon-2am, Cluster A, JLT, 04 441 6342
Just Salad - Open daily 11am-11.30pm, Indigo Tower, Cluster D, 04 365 2222
La Terrazza - Open daily 8am-3am, Almas Tower, JLT, 04 457 7033
Le Petit Belge - Open Sun-Thu noon-2am, Fri-Sat 10am-2am, Pullman Dubai Jumeirah Lakes Towers, 04 242 7794
Mantoushe - Open daily 9am-11.30pm, Cluster E, JLT, 04 277 8170
Mezza Lebanese Kitchen - Open daily 10am-11pm, Lake Shore Tower, Cluster Y, 04 554 5872
McGettigan's JLT - Open daily noon-3am, Cluster J, 04 376 0800
Mythos Kouzina & Grill - Open daily 12.30pm-5pm, 7pm-12.30am, Armada BlueBay, Cluster P, JLT, 04 399 8166
Nola Eatery & Social House - Open daily noon-3am, Armada BlueBay, Cluster P, JLT, 04 399 8155
Nosh - Open daily 6.30am-10.30am, Mövenpick Hotel Jumeirah Lakes Towers, Cluster A, 04 438 0000
Public - Open Sat-Thu 8am-10pm, Lake Plaza Tower, Cluster T, 04 451 9670
Sheikh & Shake - Open Sat-We 11am-1am, Thu-Fri 11am-4am, Mag Tower, Cluster R, 800 123456
Spice Kraft - Open daily 9am-11.30pm, Platinum Tower, Cluster I, 04 363 5329
Vietnamese Foodies - Open Sun-Wed 11am-11pm, Thu-Sat 11am-11.30pm, Cluster D, JLT, 04 565 6088
Dubai Marina, The Beach and JBR
Andreea's - Open daily 9am-12.30am, Habtoor Grand, Dubai Marina, 04 408 4400
Accents - Open daily 6.30-11pm, InterContinental Dubai Marina, King Salman Bin Abdul Aziz Al Saud St, 04 4466654
Baker & Spice - Open daily 8am-11pm, Marina Promenade, Dubai Marina, 04 362 4686
BiCE Ristorante - Open daily 12.30pm-3.30pm, 7pm-11.30pm, Hilton Dubai Jumeirah, 04 318 2520
Bistro des Arts - Open daily 7.30am-11.30pm, Dubai Marina, 04 5511576
Blue Orange - Open Mon-Thu 7am-10.30am, The Westin Mina Seyahi Beach Resort and Marina, Al Sufouh, 04 511 7373
Bussola - Open Sun-Thu noon-3pm, 7pm-11pm, Fri & Sat noon-midnight, The Westin Dubai Mina Seyahi, Al Sufouh 04 399 4141
Eggspectation -Open daily 7am-midnight, The Beach opposite JBR, 04 430 7252
Latest Recipe - Open daily 6.30am-11.45am, noon-3pm, 6pm-11pm, Le Méridien Mina Seyahi Beach Resort and Marina, Al Sufouh, 04 511 7373
Nell Gwynn - Open daily 11am-3am, Byblos Hotel, Dubai Marina, 04 448 8222
Shores - Open daily 6.30am-10.30pm, Ramada Plaza, Jumeirah Beach Residence, 04 439 8883
Sushi Art - Open daily 11am-midnight, The Beach opposite JBR, 800 220
The Maine Oyster Bar & Grill - Open daily noon-12.30pm, DoubleTree By Hilton Hotel, JBR, 04 4576719
The Scene by Simon Rimmer - Open daily 12pm-1am, Pier 7, Dubai Marina, 04 4222 328
Tribeca Kitchen & Bar - Open Sun-Mon noon-2am, Tue-Thu noon-3am, Fri 1pm-3am, Sat noon-2am, JA Ocean View Hotel, The Walk, JBR, 050 345 6067
Palm Jumeirah
Aji - Open daily noon-1am, Club Vista Mare, Palm Jumeirah, 04 552 0244
Flow Kitchen - Open daily 6.30am-11am, 12.30pm-3.30pm, 6pm-10.30pm Fairmont The Palm, Palm Jumeirah, 04 457 3357
Il Faro Trattoria & Lounge - Open daily noon-midnight, Azure Residences, Palm Jumeirah, 04 568 3137
Lotus Lounge - Open daily 11am-midnight, Anantara The Palm Dubai, Palm Jumeirah, 04 567 8304
Seagrill Restaurant and Lounge - Open daily noon-11.30pm, Fairmont The Palm, Palm Jumeirah, 04 457 3357
Sun& - Open daily noon-midnight, Palm Views West, Palm Jumeirah, 04 375 9333
Bread Street Kitchen - Open daily noon-3.30pm and 6pm-10.30pm, Atlantis The Palm, Palm Jumeirah, 04 4262626
Jumeirah
21 Grams -Open daily 7am-11.30pm, Jumeirah road/Al Thanya road, 04 349 0744
Bagel Yard - Sun-Wed 9am-3pm, Thu-Sat 9am-3pm, 6pm-1am, Al Wasl Road, Al Safa, 04 349 5404.
COYA - Open Mon-Wed 12.30pm-1.30am,Thu-Sat 12.30pm-2am, Sun noon-1.30pm, Four Seasons Resort Dubai at Jumeirah Beach, 04 316 9600.
Flooka -Open daily noon-midnight, Dubai Marine Beach Resort & Spa, Jumeirah Beach Road, Dubai, 04 3461111
Folly by Nick & Scott - Open daily noon-11pm, Souk Madinat Jumeirah, 04 430 8535
Höseki - Open daily 12.30pm-3.30pm, 6.30pm-midnight, Bvlgari Hotel & Resorts, Jumeirah, 04 777 5555
II Borro - Open daily noon-3.30pm, 7pm-1am, Jumeirah Al Naseem, Madinat Jumeirah, 04 2752555
II Ristorante – Niko Romito - Open daily 12.30pm-3pm, 7pm-11pm, Bvlgari Hotel & Resort, Jumeirah, 04 777 5433.
Katsuya by Starck - Open daily noon-1am, Jumeirah Al Naseem, Madinat Jumeirah, 04 419 0676
Lime Tree Café - Open daily 7.30am-8pm, Jumeirah Beach Road, Jumeirah 1, 04 349 8498
Loca - Open daily noon-2am, Dubai Marine Beach Resort & Spa, Jumeirah 1, 04 346 1111
McGettigan's Souk Madinat - Open Sun-Tue noon-2am, Wed & Thu noon-3am, Fri & Sat 9am-2am, Madinat Jumeirah, Umm Suqeim 04 447 0219
Park House - Open daily 9am-9pm, Kite Beach, 04 254 1565
Perry & Blackwelder's Original Smokehouse - Open daily noon-2am, Souk Madinat Jumeirah, Al Sufouh, 04 3665866
Publique - Open daily noon-2am, Souk Madinat Jumeirah, Umm Suqueim, 04 430 8550
Tania's Teahouse - Open Sun-Wed 8am-10pm, Thu 8am-midnight, Fri-Sat 9am-midnight, Jumeirah Beach Road, 04 324 0021
Trattoria Toscana - Open daily noon-midnight, Souk Madinat Jumeirah, 04 366 6318