11 Halloween Makeup Tutorials To Watch And Repeat
From super-glam skeletons to sinister nuns...
Posted on
22 October 2018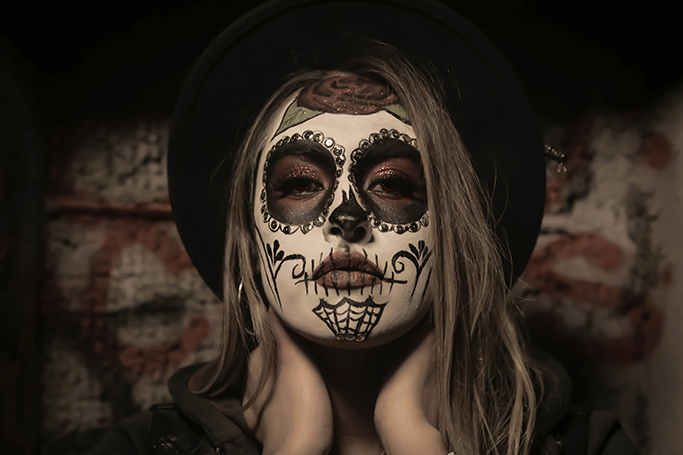 You don't need a costume to transform into a creepy character this Halloween –as we've rounded up the best beauty YouTubers and found our favourite creepy, but cool, makeup tutorials to try this October.
Whether you're looking for a last-minute monster makeover or you're planning a spooktacular showstopper, these Halloween makeup tutorials are easy to follow, yet seriously effective.
From super glam skeletons, to sinister nuns you'll be able to recreate at least one of the looks for spooky parties and plenty of trick or treating.
So if you're wondering how to create the creepiest makeup for Halloween, whilst still looking chic? Watch one of these! Here are the best makeup looks to create this Halloween...
#1 Super Glam Skeleton
Beauty experts James Charles and Kylie Jenner collaborated to create this twist on the skeleton look, as the duo has inspired us to invest in purple shades for 31st October.
#2 Mermaid Vibes
It's not the most menacing look on the list, but we can't help but love an under-the-sea touch. For a sinister twist to mermaid makeup, recreate Disney villain Ursula.
#3 Simple, Yet Chic Clown
Sometimes subtle looks, that are super easy to achieve, can prove the most effective. As this simple clown look lifts any creepy costume!
#4 Rainbow Skull
You don't have to stick to a dark palette for the festivities, as this skull look as multi-coloured twist. You can even make it glow in the dark!
#5 Wakanda Warrior
Want to recreate a 2018 hit movie? With this simple, yet cool look you can become a 'Black Panther' hero for Halloween.
#6 The Nun
Another film inspired look for those who like to scare at Halloween. This look definitely has the fear factor!
#7 Stylish Spider
You don't have to go OTT, as this spider is still stylish AND sinister, It adds a spooky touch to any outfit.
#8 Day Of The Dead
A classic Halloween look with a golden twist. Sugar skulls and Day of the Dead inspired looks give you a chance to glam up with jewels, sparkle and embellishments, whilst still being scary of course!
#9 Queen Of Demons
For ghostly eyes that draw people in, this costume is creepy but effortlessly cool at the same time.
#10 Pumpkin Spice
It wouldn't be October without an orange palette! If you want to be a pumpkin spice this Halloween, with an added pulled skin affect, then follow these steps...
#11 Medusa
A mythical monster with a sultry, glam touch sounds perfect for Halloween! We love this Medusa-inspired look…