4 Best Natural Homemade Hair Masks for Dry Hair
Battling dry locks? Here are some natural, DIY masks you can try at home
Posted on
17 October 2019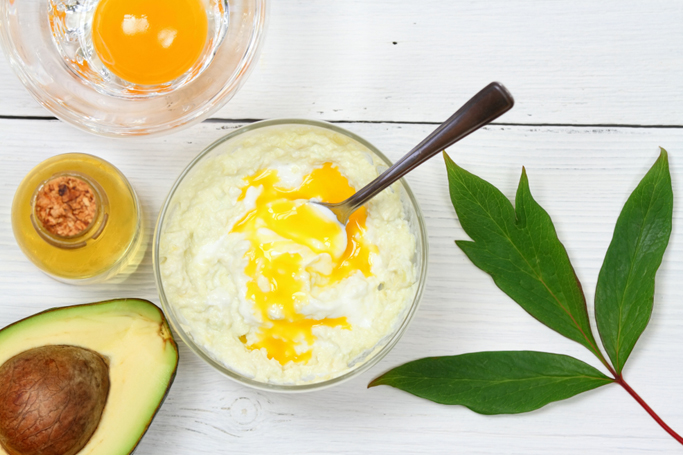 Dry hair - everybody hates it.
The sheer level of irritation that it causes and the way it ruins our look is enough to push us over the edge. So much so, that we girls have spent years trying to find a way to cure and prevent our strands from drying out.
From medicines to natural hacks, expensive shampoos and conditions, and curling tools, we've tried everything to make dry hair - the thorn in our scalp - go away.
But it needn't be painful, or irritating. In fact, there's a better way of doing things instead of battling with your hair.
As a matter of fact, you can repair those dry hairs if you just used the right tools properly, or picked the right shampoo, or applied a hair mask...Which is the topic of today's feature!
Here are 4 of the best natural homemade hair masks for dry hair, and without further ado - let's get started.
1. Avocado and Honey Hair Mask
You'll need:
1 ripe avocado, which should be peeled and pitted
2 tablespoons of olive oil
2 tablespoons of honey
2-3 drops of essential oil like lavender (optional)
Time: Apply and cover your head with a shower cap, then either blow-dry for 15 minutes or sit in the sun for 35 - 45 minutes. Then wash with cold water and shampoo, followed by conditioner.
Aftercare: Irrespective of what hair mask you use, always wash your hair with shampoo and condition it. OIl-based masks will leave your hair greasy if you dont' shampoo it.
Why we love it:
This one is a very popular hair mask for dry hair. Perhaps it's because there's very little effort required, meaning it's popular with ladies seeking a minimal, yet effective, approach.
That's not all - there are several other benefits that you can enjoy from using this DIY hair mask at home. Not only does it rid your hair of dryness, but it also helps you to achieve soft, moisturised locks. All in all, your hair is rejuvenated thanks to the vitamins and essential ingredients of both parts of this mask.

2. Coconut Milk Hair Mask
You'll need:
1 can of unsweetened coconut milk
Few drops of essential oil (if needed)
Time: After application, leave this mask on for around 20 minutes while keeping your head covered with a shower cap.
Aftercare: Proceed to rinse your hair with cold water, and lock-in moisture with shampoo and condition. Comb your hair to separate each hair strand easily.
Why we love it:
Coconut milk can be a lifesaver for your hair - especially if your hair is brittle and really dry. Chemically speaking, coconut milk is an inherent moisturiser that makes it an amazing option for curing dryness. That's not all - there are many benefits of applying coconut milk. It can help secure curls when you want to curl your short hair or style your long hair, and if you add lavender oil, it will boost this mask's healing properties.
Note - if your scalp is oily and your ends are dry, your focus should be on your dry ends with this mask. Avoid the scalp completely and apply the mask towards the ends of your hair.

3. Avocado and Egg Hair Mask
You'll need:
1/2 avocado
2 eggs
2 spoonfuls of olive oil
Time: Apply the mixture on wet hair from your scalp, till the ends. Don't forget to massage your head while applying this, as this will help increase blood flow. Leave on for 15-20 minutes then wash your hair, and make sure no residue is left.
Aftercare: Use organic shampoos for a better result, and don't forget to condition!
Why we love it:
To prepare this hair mask, you will need half an avocado, 2 eggs and 2 spoonfuls of olive oil to add the cooling quotient to this hair mask. Once mixed, apply the hair mask to turn those dry strands into silky locks, thanks to the deeply nourishing and conditioning magic that the avocado and eggs both have to offer.
As the avocado is filled with Vitamins and healthy fats, this hair mask provides just the right amount of nourishment to make your hair look flawless and exquisite.
There is no time limit as to how long you should keep it on your hair, however, make sure you wash it off with cold water before shampoo and conditioning.

4. Strawberry Hair Mask
You'll need:
2 ripe strawberries
1 tablespoon of honey
1 tablespoon of coconut oil
Time: Prepare the mixture by using smashed strawberries, and apply the same on your scalp. Leave it on for 20 - 25 minutes.
Aftercare: Proceed to rinse your hair thoroughly with cold water and use shampoo and conditioner.
This is quite possibly our favourite DIY hair mask to try at home. The potent antioxidants in the strawberries help to protect your hair, right down to the scalp and all the way to the tip of your hair strands. The added power of the mayonnaise makes it even better, making this hair mask very effective - and preparation is super easy.