Things To Put On Your Beauty Wish List This February
Where to find our beauty must-haves online in Dubai and UAE
Posted on
1 February 2018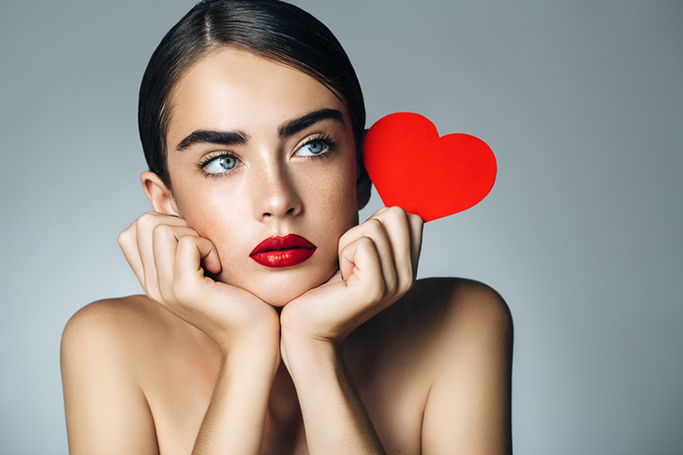 This Valentine's Day we'd rather be gifted with the latest beauty must-haves than receive chocolates or a scented candle! As we're also on the lookout for the perfect pout, a romantic glow and a dreamy fragrance, to help us create the best Valentine's Day beauty looks for our date night plans in Dubai.
If you're still searching for a Valentine's gift or the right beauty product to complete your Valnetine's Day makeup, then we've highlighted the beauty finds for you. From a classic Dior red lipstick to a Lime Crime trio and a Too-Faced love light highlighter, we've listed the beauty essentials that we'll probably purchase for ourselves come 14th February.
And best of all, each beauty wish-list item is available to shop online in Dubai and ship to the UAE, so flawless beauty buys will be effortlessly delivered to your door just in time for Valentine's Day.
So partners take note, these are the top 10 beauty buys we want (need) this Valentine's Day…
#1 The Perfect Matte Lipstick
ASOS Makeup Matte Lipstick – Chancer
Price: 40 AED
Where to shop: ASOS
We're still lusting after ASOS' makeup line which is affordable and still creates fabulous makeup looks. The Chancer matte lipstick is the perfect shade for a Valentine's date or ladies night in Dubai and it's a steal at 40 AED.

#2 A Lime Crime Trio
Lime Crime Dreamgirl Trio Lipstick Kit
Price: 274 AED
Where to shop: Namshi
Our online beauty baskets are usually full of Lime Crime essentials, as the vegan and cruelty free makeup line is also on Namshi which means we can ship guilt-free beauty to the UAE.

#3 Huda Beauty Lips
Huda Beauty Contour & Strobe Lip Set
Price: 142 AED
Where to shop: Sephora
It's all about the pout this Valentine's Day, as we continue to emulate Huda Kattan's lip looks with the Huda Beauty Contour & Strobe Lip Set. What could be more Valentine's beauty-themed than the huge Huda Beauty lip tins?!

#4 The Spectrum Valentine's Bag
Spectrum Valentines Bag and Brush Set
Price: 260 AED
Where to shop: ASOS
Our makeup brushes deserve some love as well, as this heart-shaped Spectrum collection of brushes come in a Valentine's Day makeup accessories bag, all in a hot pink shade.

#5 A Love Story In A Bottle
Chloé Love Story Perfume
Price: 378 AED
Where to shop: Sephora
If you're looking for a romantic scent this Valentine's Day, then we adore Chloé's Love Story perfume which makes the perfect gift for your girl on 14th February.

#6 Love Light Highlighter
Too Faced- Love Light Prismatic Highlighter
Price: 174 AED
Where to shop: Sephora
If you've got plans to go out this Valentine's Day then you'll need a loving glow to finish any romantic makeup look. Too Faced have got just the highlighter for you, with a gorgeous rose gold tint, this highlighter is also compact so can take it with you and keep adding to your shine.

#7 Effortless Enhancing
Cover FX- Custom Enhancer Drops Set
Price: 227 AED
Where to shop: Sephora
If you need a little bronze effect to lift your beauty look for any Valentine's occasion, this limited edition collection of mini liquid highlighter has to be on your wish list.

#8 Hot Makeup Looks
Skinnydip Flame Heart Make Up Bag
Price: 80 AED
Where to shop: ASOS
This Skinnydip cosmetics bag is literally setting hearts on fire, as we definitely need this makeup accessory to hold all of our Valentine's Day beauty essentials.
#9 BECCA X Chrissy Teigen Glow
BECCA X Chrissy Teigen Glow Face Palette
Price: 221 AED
Where to shop: Sephora
This palette collaboration creates an endless summer glow which is perfect for Valentine's Day in Dubai. For shimmering skin, sunlit bronzing and the ultimate charming glow, you need to own this palette.

#10 A Classic Rouge
Rouge Dior Lipstick #520
Price: 185 AED
Where to shop: Namshi
It wouldn't be Valentine's Day beauty without a bold red lip look, as we're relying on to Dior to bring us classic romance.