8 Incredible Celebrity Engagement Rings
From vintage emeralds to mixed diamond shapes, these ladies know how to rock a rock!
Posted on
22 October 2018

Last week Lady Gaga finally confirmed that she's engaged to her partner Christian Carino –as we can't stop staring at the huge rock on her finger!
The rumours had been swirling as Gaga –the proud wearer of both meat and bubble dresses –has been spotted out and about with a particularly unusual rock in the last few months; a pink sapphire surrounded by diamonds.
It is believed that the rock cost between $300k and $400k. But, Gaga's by no means the only celeb who's opted for a powerhouse of a ring. Here are some of our favourite celebrity engagement rings…
#1 Lady Gaga
Lady Gaga's engagement ring features a minimalist band with a huge pink centre sapphire stone that is decorated by diamonds. For more details on Gaga's engagement, click here.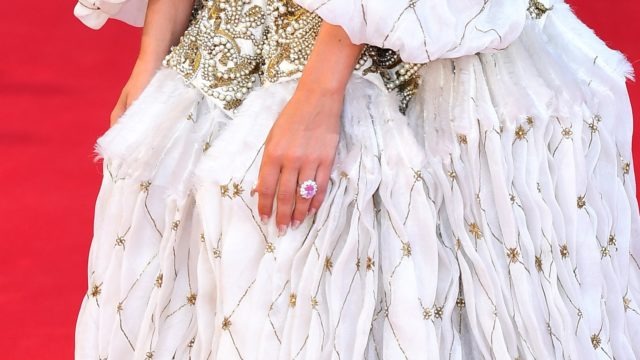 (Ian West/PA)
#2 Emily Ratajkowski
Model Emily Ratajkowski's wedding was far from traditional – in February she married producer Sebastian Bear-McClard after dating for just a few weeks, and she did so in an incredible mustard trouser suit. So, it comes as no surprise her engagement ring (which she actually got a few months after her wedding) isn't your classic affair.
Instead, it's almost like two rings in one, with one pear and one square-shaped diamond sitting side by side.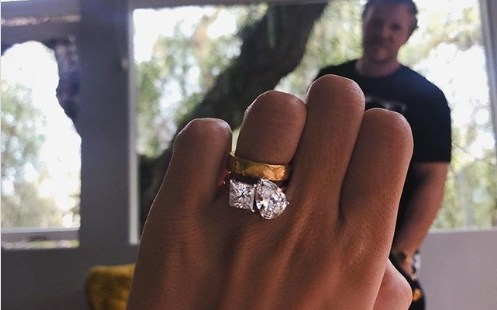 Instagram @emrata
#3 Priyanka Chopra
Priyanka Chopra announced her engagement to Nick Jonas earlier this year. Her Tiffany ring might not be the most unusual – although it is a gorgeous diamond situation – the way she got it is.
If you're a fan of early Noughties rom coms you'll remember the scene in Sweet Home Alabama where the main character's boyfriend shuts down the Tiffany store to propose to her. Jonas didn't pop the question to Chopra in-store, but he still closed down the shop so he and two of his brothers could choose a suitable rock for her.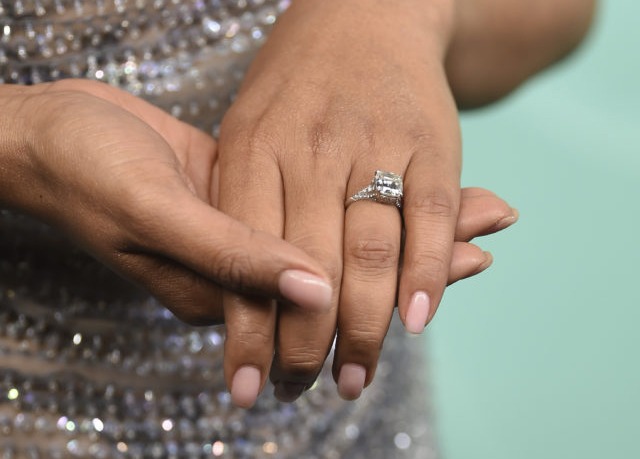 (Evan Agostini/AP)
#4 Eva Longoria
Eschewing the classic all-diamond ring (just like Gaga), Eva Longoria's rock from now-husband José Pepe Bastón is a bright ruby surrounded by diamonds. Even though it's undoubtedly eye-catching, Longoria doesn't actually wear it any more.
After her wedding, she told the Mirror: "I'm a simple girl. My engagement ring was a bit too much for me so I couldn't wait to wear just the band."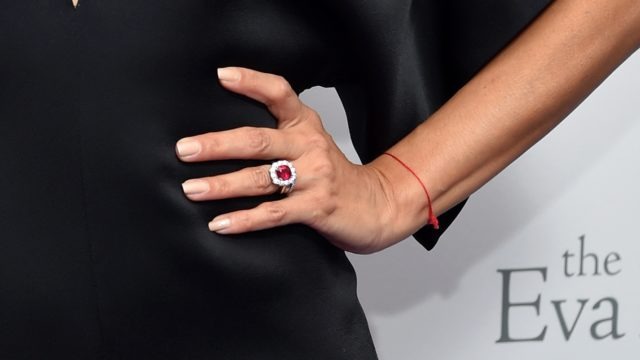 (Matt Crossick/PA)
#5 Olivia Wilde
It's more common for celebs to wear huge icebergs as engagement rings, which is why Olivia Wilde's, from fellow actor Jason Sudeikis is quite refreshing. It's a delicate vintage find of a circular diamond surrounded by an emerald halo.
Apparently Sudeikis went down the emerald path because it reminded him of Wilde's green eyes.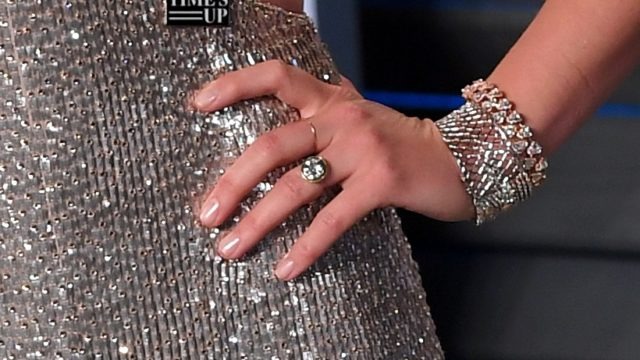 (PA)
#6 Cardi B
Delicate is definitely not how you'd describe Cardi B's engagement ring – instead, it's just as bold and big as the rapper's personality. Like Gaga, Cardi's rock features a mix of diamonds and pink stones – although hers is set around a huge pear-shaped stone.
Obviously, this kind of jewellery doesn't come cheap – Cardi has said it cost her now-husband Offset $500k.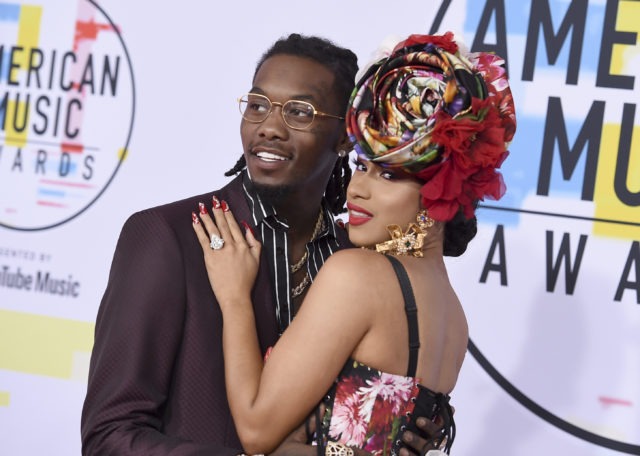 #7 Emma Roberts
While it's no longer super unusual to see coloured stones in engagement rings (after all, the royals are doing it, so it can't be a huge faux pas), actor Emma Roberts' jewellery takes things a step further by including onyx.
Her ring (which the tabloids assume is from partner Evan Peters, although it's not formally been confirmed) features diamonds and the black stone, giving an edgy and art deco feel.

Instagram @emmaroberts
#8 Scarlett Johansson
Scarlett Johansson's ring from journalist Romain Dauriac is also firmly inspired by the Art Deco style. Rather than one big stone surrounded by a few others, it instead features three circular diamonds set flush into the ring, with a rectangular setting holding the other stones.

(Yui Mok/PA)