Getting Married in Dubai: A Guide for Expats
Here's all you need to know about marriage, the legalities, churches and blessing ceremonies in Dubai
Posted on
21 January 2020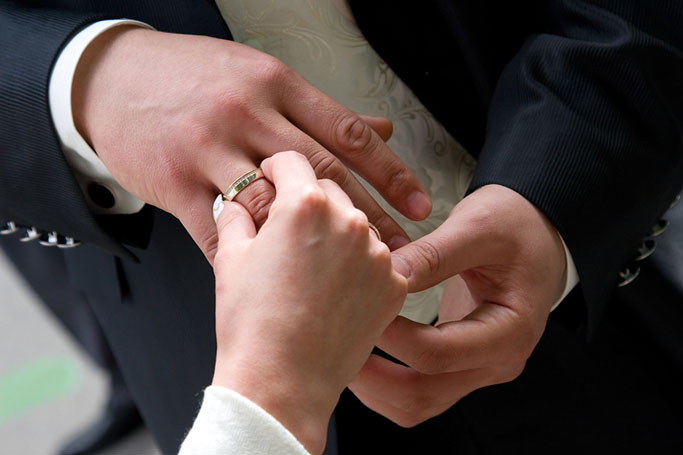 Dubai is a fabulous place to get married with its golden sandy beaches, blue skies, luxurious hotels and almost 365 days of sunshine.
The wedding season runs from October to March as it can get a bit too hot during the summer for an outdoor wedding- although people do still get married during this time.
You can get absolutely get everything you need for the perfect wedding in Dubai- there are many florists, cake makers, tailors, jewellers, stationers etc.
There are around 10 traditional wedding dress shops available in Dubai with varying levels of stock and a wide price range from reasonable to very expensive. Another option if you can't find what you are looking for is to order one online- especially if you are not a perfect size 10! Having the wedding dress altered in Dubai would not be an issue as tailors are plentiful.
Here's some more advice on the procedures that you will need to know…
#1
Contact your embassy/ consulate to find out the rules and regulations regarding your wedding.
#2
Some embassies can perform the ceremony for you- the British Embassy has recently stopped this practice and will only perform under extraordinary circumstances.
#3
Choose a venue for the wedding- weddings in Dubai have to be religious and either take place in a church or a venue with a wedding license- there are no civil ceremonies.
#4
At least one of the couple has to have been baptised in order to marry inside the church. You have the choice of either having a church wedding with a congregation or of having a small service at the church before having your wedding blessed before your guests at the hotel where your reception is being held.
#5
Anglican wedding ceremonies can take place at the Holy Trinity Church, at the Christ Church in Jebel Ali or St Martin's Church in Sharjah. These are recognised by the UAE government. Ministers from the Anglican Church will also marry people at other locations.
#6
To marry at an Anglican church, neither the bride or groom can be Muslim, both must be over 18 and both of the partners must be resident in Dubai.
#7
The Dubai authorities recognise weddings conducted by certain named Christian ministers. These include Rev. Stephen Wright, the Chaplain at Christ Church, and also Rev. John Weir at Holy Trinity, Bur Dubai.
#8
Roman Catholic marriages can take place at St Mary's Church. The future bride and groom are advised to inform their embassy of their decision to marry. In some cases, a Notice of Marriage will be displayed in the embassy. To marry in a Roman Catholic church, at least one of the partners must be Roman Catholic, and both of them must be resident in Dubai. Women must be at least 18, men must be over 21.
#9
Depending on your faith and denomination, if you want a full ceremony in a church, you may have to go for several counselling sessions and regular services beforehand, and also, in case of the Catholic church, you will need to register certain documentation such as birth and christening certificates before you can go ahead.
#10
A Banns certificate or certificate of no impediment is required to marry in church and for most embassies. The certificate takes up to three weeks to process and needs to be applied for in-person at the respective embassy. The British embassy will also display a notice of marriage, the equivalent of marriage banns, for 21 days showing that you intend to wed and assuming no one objects, you are then free to proceed. By visiting your embassy you can also ensure that the marriage in Dubai will be legally recognised in your home nation.
#11
The marriage must take place within three months of the certificate being issued, otherwise, the certificate becomes invalid and the process has to be repeated in order to obtain a new one.
#12
Weddings can only be conducted in a church. A wedding blessing/ thanksgiving can be conducted at another location, after a service in the church.
#13
Some nationalities, dependent on their church or embassy of the partner (if different), may require documents to be translated (into English or into Arabic for English documents prepared outside of the UAE for Islamic marriages), which can sometimes be a lengthy process. Not all embassies are in Dubai- some are in Abu Dhabi- so check this out carefully as you will have to go there in person to submit and collect documents.
#14
In order to register the marriage, marriage certificates have to be translated into Arabic before being submitted to the Dubai Courts, Ministry of Justice and the Ministry of Foreign Affairs for attestation and finally taken to the individual embassy to record and legalise the marriage in the home country.
#15
It may well end up being easier for you to get married in your home country or in Cyprus, for example, which is a popular destination for weddings from Dubai and then have a blessing ceremony in a Dubai hotel followed by your big wedding reception party.
Most of the best hotels in the Dubai offer great wedding packages. You can use their in-house wedding co-ordinators and planners- who can help you organise everything- from venues to flowers, from dresses to transportation. If you live in Dubai you'll already be well aware which are the best hotels or beach clubs for a reception- but if you've yet to explore the then check out the likes of Burj Al Arab or any of the Jumeirah Group of Hotels, Atlantis the Palm, The Royal Mirage, Ritz-Carlton or Park Hyatt.
Churches in Dubai
Holy Trinity (Christ Church), Anglican Church: 04-8845436
Saint Mary's, Roman Catholic Church: 04-3370087
United Christian Church: 04-3442509
Dubai
Ministry of Justice: 04 2950004
Ministry of Foreign Affairs: 04 2950004
Dubai Courts, Marriage Section: 04 3347777
Sharia'ah Court: 04 303 0406
Abu Dhabi
Ministry of Justice: 02 6814000
Ministry of Foreign Affairs: 02 6652200