Getting Married to an Emirati Man: A Guide for Expats
An outline of the requirements and procedures for an expat marriage with an Emirati national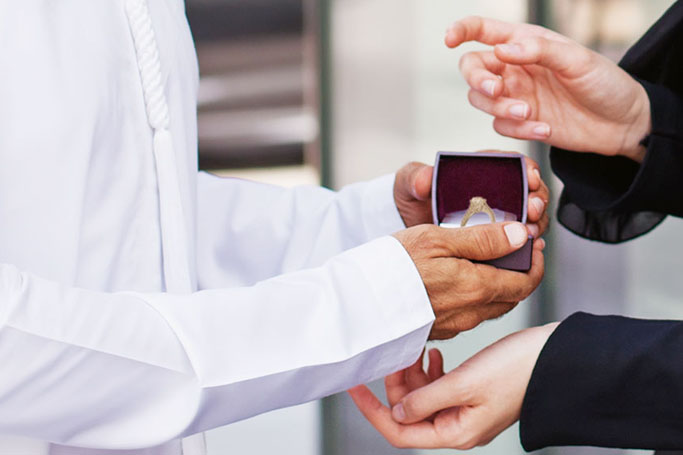 You've said your "I love you"s, "uHibbuki"s, and "Yes, I will!" – now what? Here's everything you need to know if your fiance is Emirati.
The rules and procedures of getting married in the UAE, particularly to an Emirati, vary depending on your religion and your nationality.
Read on to find out how to get the legal paperwork sorted out so you can get on to planning for the big day.
1. Eligibility
Under UAE law, you must meet the following minimum requirements to get married:
The marriage can only be between a male and a female.
Both parties must at least be 18 years old.
Both of you must take the Pre-marital Medical Test, which can be done at the Ministry of Health and Prevention, Department of Health - Abu Dhabi, or the Dubai Health Authority.
Neither of you should have any communicable diseases such as AIDs or genetically inherited blood diseases.
You must be a UAE resident.
You must be single.
Your application for marriage may be denied if one of the parties don't meet one or more of the above.
2. Requirements
Bride's side
An affidavit stating that you are free to marry and consent to the marriage. Your embassy will have to notarize it.
Birth certificate - original and copy.
Passport with UAE visa page - original and copy.
Emirates ID - original and copy.
Divorce papers (for divorcees).
Death certificate of the previous spouse (for widows).
Letter of consent from the bride's father.

Death certificate of father, if deceased. If so, the letter of consent should come from the closest male relative, such as an adult son, brother, uncle, nephew.

If the bride's father is alive but is unable to come in person, he can delegate a proxy guardian who must be of the same religion as that of the bride's father. This can also be an attorney.
Identification papers of the bride's father, closest male relative, or attorney.
"Certificate of Embracing Islam" – can be received from any Islamic center approved by the General Authority of Islamic Affairs and Endowments (Awqaf).
If the bride is Muslim, and her guardian/attorney is not, she needs a No Objection Letter from her embassy/consulate in Arabic and attested by the Ministry of Foreign Affairs. Or, the letter must be translated into Arabic and attested by the Ministry of Justice.
A spouse's age should not be twice the other; otherwise, the judge's approval must be received.
Any document issued from abroad must be attested from the following entities: Ministry of Foreign Affairs in that Country, Ministry of Foreign Affairs of U.A.E, and translated legally into the Arabic Language from Ministry of Justice (if the papers weren't already translated).
Note that the requirements to marry vary per nationality and as per the country you'll be getting married in. To avoid complications, we recommend consulting with your country's embassy in the UAE to find out any other additional details and requirements.
Groom's side
Birth certificate - original and copy.
Passport - original and copy.
Divorce papers (for divorcees).
Death certificate of previous spouse (for widowers).
Two male Muslim witnesses.
Identification papers of the two male witnesses.
Family book.
Special permission from their employers (if the Emirati male is a member of UAE Armed Forces or employees of the Ministry of Foreign Affairs and Police).
Approval of the Sharia court of Ajman (if the Emirati male is an Ajman national).
3. Procedures
What to do
Apply for marriage through the eZawaj system.
Complete both your lists of required documents.
Pay the fees.
Both you and your husband-to-be must appear with the two witnesses, guardian, and necessary documents before a judge for the examination of the application. Both of you will receive the judge's decision.
If all goes well, you will get a positive response and you will receive your marriage certificate after completing the information online.
Worth noting
You may be called in for an interview by your embassy/consulate to verify the authenticity of your wedding.
Avoid living together prior to your marriage. Individuals in the UAE should only live together with a member of the opposite sex if a) You are married to them, or b) They are a family member.**
"Sharia" means Islamic law, or "the way to enforce the law of God". It follows a set of doctrinal, social, cultural, and relational norms.
Under UAE law, polygamy is allowed. A Muslim male may have four wives, as long as he provides for and treats them all equally.
More information can be found at the Official Portal of the United Arab Emirates Government. You can also apply through the Government of Dubai's page.
** Editor's update: Living together unmarried in the UAE is now allowed.