Vote Now: Which Whirlwind Celebrity Engagement Will Last?
Hailey and Justin, Priyanka and Nick, Ariana and Pete or Ellie and Casper?

All image credits: Getty images
It's been a summer of engagements as many celebrity couples have put a ring on it and are set to wed –but which high-profile matches will make it down the aisle?
We've seen whirlwind romances lead to shock proposals, from Ariana Grande and Pete Davidson to Hailey Baldwin and Justin Bieber, and more recently Priyanka Chopra and Nick Jonas. With each famous couple deciding to tie the knot after only a short time together. Thus, there has been huge speculation over whether these couples can go the distance –but, only time will tell…
See Also: 17 Celebrity Weddings To Look Forward To In 2018
This week singer Ellie Goulding has also announced her engagement to her partner of eighteen months, Caspar Jopling. Although this couple's engagement doesn't seem as reckless as the above, they're still a part of the 2018 summer of love, so of course, had to be added to the list!
So which ring-related Instagram do you think is genuine? Take our poll below to vote for the celebrity engagement you believe is destined to make it to the wedding…
Ariana Grande and Pete Davidson
Back in June singer Ariana Grande and comedian Pete Davidson went from the honeymoon stage to planning their actual honeymoon, when they got engaged after a month together –that's what you call a whirlwind romance. They're reported to already have tattoos in honour of their significant other and continuously flirt over Instagram. But, both had recently come out of long-term relationships –so is this a rebound or real love?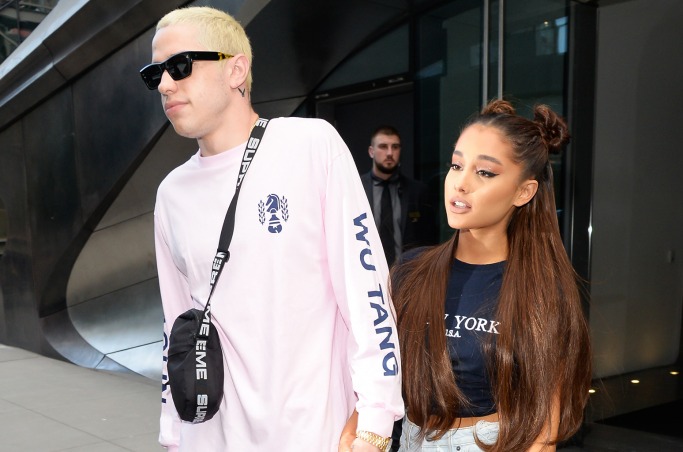 Hailey Baldwin and Justin Bieber
In July Hailey and Justin (a.k.a Jailey) got engagement in the Bahamas after just one month of reuniting their relationship. Bieber commented on Instagram: "Hailey I am soooo in love with everything about you! So committed to spending my life getting to know every single part of you loving you patiently and kindly."
Apparently Bieber's proposal to Baldwin was planned, he even asked her dad, Stephen Baldwin, for his permission. Stephen happily gave his blessing, because he believes Bieber shares the same Christian values as he and his daughter. Hailey is rumoured to have picked her bridesmaids already, so is the wedding imminent?

Priyanka Chopra and Nick Jonas
Priyanka Chopra and Nick Jonas first sparked dating rumours in May 2017 when they appeared at the Met Gala together –but, it was just as friends it seems. Fast forward a year and the pair were spotted on numerous occasions together attending weddings, parties and family gatherings, before they became Instagram official in June.
By July it was reported that Nick had proposed to Priyanka with a Tiffany & Co engagement ring while they were in London for her 36th birthday. Although the couple are yet to comment, the pair is apparently smitten –but what do you think of their whirlwind relationship, could there be wedding bells on the horizon?

Ellie Goulding and Caspar Jopling
Ellie Goulding has kept her relationship with Caspar Jopling on the DL, so fans were surprised to hear the news of their engagement. We know very little about the starry-eyed singer's fiancé, but the couple announced that they were set to marry in the sweetest way.
Written in the London Times was a traditional engagement announcement, which read: "The engagement is announced between Caspar, son of The Hon Nicholas Jopling of Yorkshire and Mrs Jayne Warde-Aldam of Yorkshire, and Elena, daughter of Mr Arthur Goulding of Herefordshire and Mrs Tracey Sumner of West Midlands." Now can we see the ring please?!

Poll
Which Celebrity Engagement Will Make It Down The Aisle?
Ellie Goulding and Caspar Jopling –they're SO sweet
47% (17 votes)
Priyanka Chopra and Nick Jonas –Chonas are the best celeb couple
33% (12 votes)
Hailey Baldwin and Justin Bieber –Jelena, what? I prefer Jailey
14% (5 votes)
Ariana Grande and Pete Davidson –I'm team Grandson
6% (2 votes)
Total votes: 36