10 Times The Kardashian-Jenners Wore Vintage Clothes
Yes, the noughties are vintage –we feel old!

All image credits: Instagram/ Getty images
When it comes to clothes, if it's 10 years old it's vintage –so everything from the first season of Keeping Up with the Kardashians actually qualifies! So far this year we've seen an array of outfits taken from the fashion archives and given a new lease of life, as the Kardashian-Jenner brood have worn everything from vintage Gucci to Versace.
In particular, Kim Kardashian, has been going through a nineties Versace, Versace, Versace phase –having worn three vintage looks from the fashion house already in 2018. Kylie Jenner also opted for a Gucci mini-dress classic for her 21st birthday celebrations, as Kourtney and Kendall also like to keep a chic vintage piece in their wardrobe.
This inspired us to look back through the fashion files and highlight every time a Kardashian or Jenner has showcased a vintage look. Prepare to feel old (how can 2000 be vintage?) and reminisce over some classic looks and controversial Kardashian fashion choices, as always!
Here are 10 vintage looks brought back by the Kardashian-Jenner sisters…
#1 Kim Kardashian in Dior
During Kris Jenner's annual Christmas party in December 2017, Kim K wore a lilac vintage Dior dress from Dior Autumn/Winter 1997 ready-to-wear collection, which was designed by the John Galliano.

#2 Kylie Jenner in Gucci
Kylie Jenner's recent 21st birthday celebrations featured many parties and many outfits, as Kylie wore this vintage Gucci dress in Las Vegas in August 2018. The dress is from the Tom Ford for Gucci Spring/Summer 2000 collection.

#3 Kim Kardashian in Versace
In April 2017, Kim Kardashian wore a shaped gold dress which was vintage Versace for a red carpet premiere.

#4 Kourtney Kardashian in Alexander McQueen
Kourtney Kardashian sported a vintage Alexander McQueen denim two-piece on a trip to Japan in March 2018. The double denim look was from McQueen's "The Eye" Spring/Summer 2000 collection. Kourtney paired the look with a vintage Dior saddle bag.

#5 Kim Kardashian in Versace
Kim Kardashian wore a vintage black Versace mini-dress during a Met Gala after party in May 2018. The look came from the Versace archives of Autumn 1992.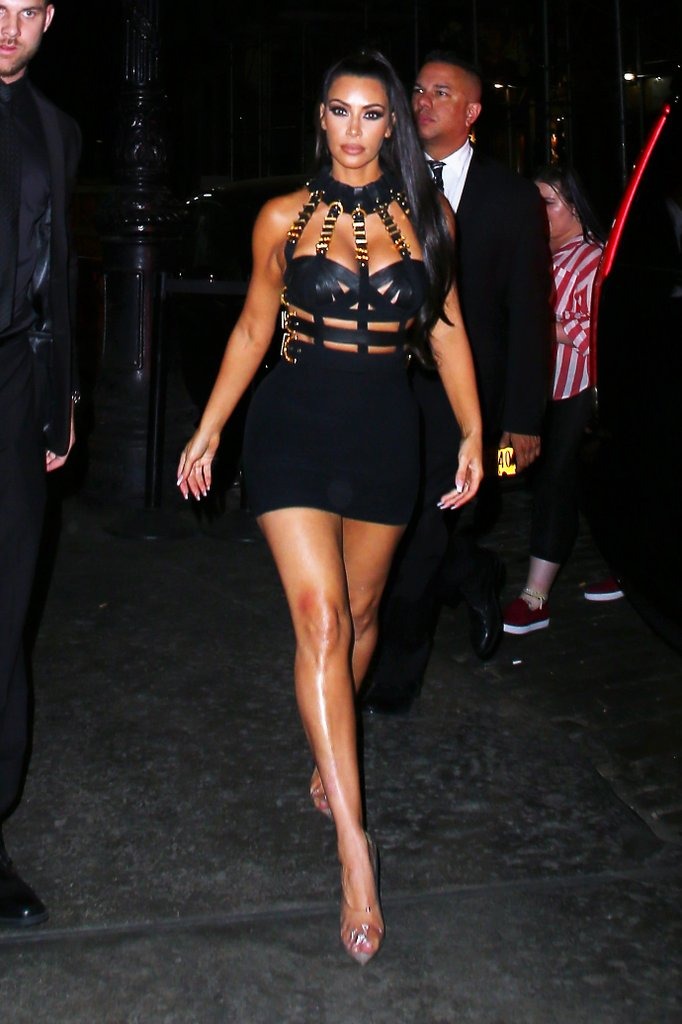 #6 Kim Kardashian in Versace
This year has definitely been year of vintage Versace for Mrs West, as Kim commented in May that she was "on a '90s Versace kick." Also in May 2018, Kim Kardashian wore this gold vintage Versace gown from the Spring 1995 collection.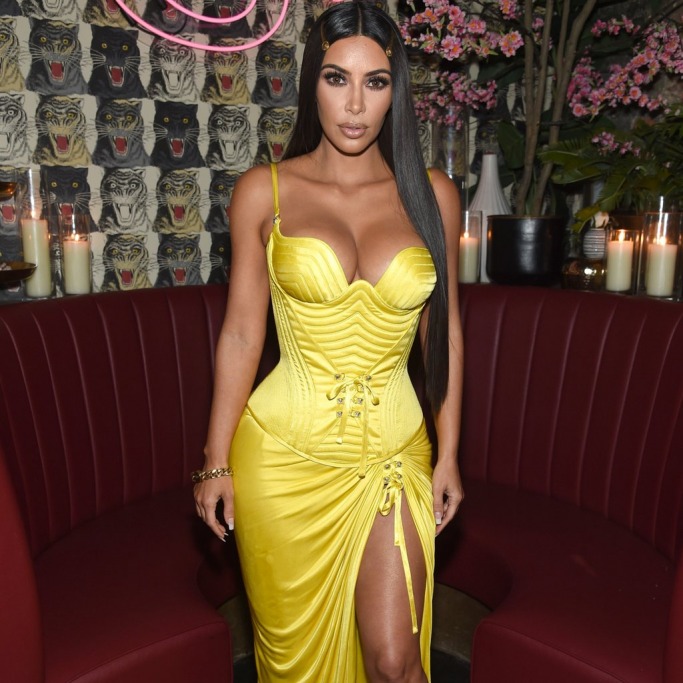 #7 Kendall Jenner in Chanel
During her appearance on "The Tonight Show" in February 2017, Kendall Jenner wore a pink tweed suit from vintage Chanel 1990s.

#8 Kim Kardashian in Valentino
In 2010, Kim Kardashian attended the White House Correspondents Dinner wearing a vintage dress straight from her mother's wardrobe. The monochrome dress which once belonged to Kris Jenner was vintage Valentino.

#9 Kendall Jenner in Noughties Paris Hilton
For her 21st birthday, Kendall channelled 2002 Paris Hilton vibes, as although her LaBourjoisie dress wasn't vintage, the look was custom made to recreate Paris Hilton's original ensemble. Both looks came complete with crystals, plunging necklines and backless statements.
#10 Kim Kardashian in Versace
On a recent holiday to the Bahamas, Kim Kardashian opted for vintage Versace once again, wearing another bright yellow dress. The skin-tight vintage Versace mini was inspired by the Versace Spring 1996 collection, Kim paired the dress with PVC Yeezy heels.