Hijab On The Runway: The Nike Pro Hijab Debuts At Fashion Forward Dubai
The hijab is SO high fashion!
Posted on
29 October 2017

Saudi Arabian designer Mashael Al Rajhi made history by including the Nike Pro Hijab in her runway collection for this year's Fashion Forward Dubai.
Known for mixing high-end fashion with street style, the Muslim fashion designer paired flowing fabrics with Nike Air Force trainers and of course, the Nike Pro Hijab.
Nike launched the Hijab back in March and it still won't be available to buy in shops until spring 2018! But it has been tested and made in consultation with athletes from the UAE, including weightlifter Amna Al Haddad and Emirati figure skater Zahra and now it has made its runway debut.
Al Rajhi believes the Nike Pro Hijab symbolises independence and femininity and it will break barriers by including it in her Fashion Forward collection. We're sure the hijab will be featuring much more in the fashion industry, as other designers in the world are using the hijab on the runway.
Hijab in High Fashion
Indonesian designer Anniesa Hasibuan's collection of silk hijabs, were revealed on the runway at New York Fashion Week. The Muslim fashion designer made history as every model wore a hijab in gold, pale pink, ivory or grey silk.
Her designs were inspired by her home city of Jakarta, as Hasibuan became one of five Indonesian designers to feature, including Dian Pelangi and Vivi Zubedi who also used hijabs in their collection.

Image credit: Rex

Image credit: Brian Ach for Indonesian Diversity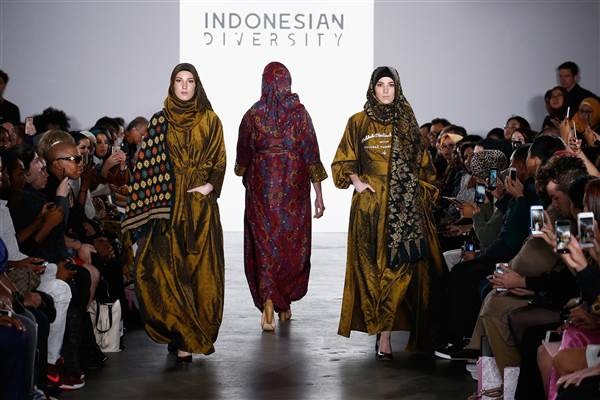 Image credit: Brian Ach for Indonesian Diversity
Other designers who feature the hijab include Dina Torkia, who started her career as a fashion blogger and has now developed her own fashion line. Her collections usually focus on scarves with modest, minimalist styles and an ethnic touch.
Another female Muslim fashion designer is Iman Aldebe who aimed to change the image of Muslim women with a Turban line which now displays exclusively from Paris to New York.
Uniqlo also previously teamed up with British-Japanese Muslim fashion designer Hana Tajima to create a collection which featured the hijab and expand the Islamic fashion industry.
Last year saw some western designers celebrate the hijab, with designer labels such as Dolce & Gabanna, Oscar de la Renta and Tommy Hilfiger, all releasing hijab collections. Although some of these were only exclusive to the Middle East, the hijab is definitely starting to establish itself on the runway!

Image credit: Dolce & Gabanna