The Internet Is NOT Happy With These New Sneakers By Dolce & Gabbana
This is the second controversy for Dolce And Gabbana this year.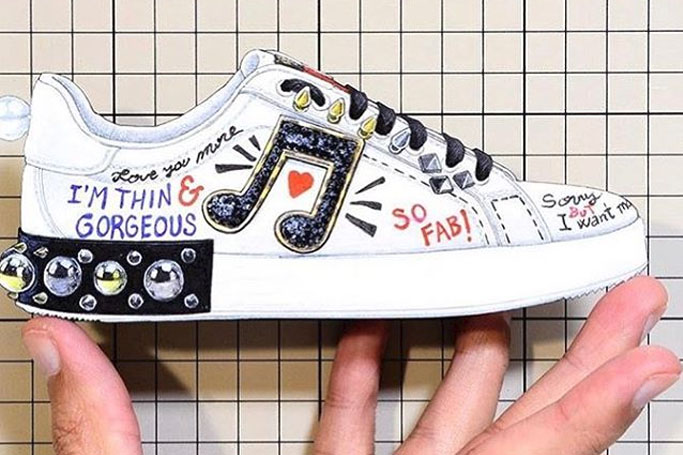 After receiving severe backlash for body shaming Lady Gaga earlier this year, Stefano Gabbana, co-founder of luxury fashion house Dolce & Gabbana, has found himself in hot waters yet again. This time, it's for a pair of sneakers from Dolce & Gabbana's Fall 2017 collection that equate beauty with thinness.
Stefano took to Instagram to post a picture of the sneakers.
The white leather sneakers are meant to represent the millennials and have phrases like "I Love Pizza Pasta," "Sorry But I Want More Of You," and "So Fab" scribbled over in addition to the controversial phrase in question - "I'm Thin & Gorgeous."
Most of the initial reactions on Gabbana's post were praising the sneakers until fans began questioning the motive behind the statement, "Why do you insist on the concept of 'thin'?," and "You don't think it's a little [irresponsible] to push a message of 'thin and gorgeous'?". There were other fans, however, who defended the design house - "For goodness sake – get a sense of humour!" Debbie.rutter wrote. "Do you look for the worst in EVERY situation?! Will you be boycotting @stefanogabbana next? I'm SO bored with this stuff. Get a life!"
No comments on the issue have been made by the designer or the design house yet.
However, Claire Mysko, CEO of the National Eating Disorders Association, insists that there's a deeper issue with this Dolce & Gabbana design: "Though there may be an element of cheeky humor at play in the design of these sneakers, equating thinness and beauty with success and status is a message that hurts everyone," she told Yahoo Style.