3 No-Fuss Ways To Set A Perfect Christmas Table
Serve up in style this festive season
Posted on
10 December 2020

If conjuring a beautiful table setting is usually one frazzled festive step too far, don't fear, we're here to make it a little easier!
Turning the tables on traditional table settings, we want to give you tools to put your own creative spin to your dining room this year. Discover our three fabulously festive looks and best of all, they're all easy-peasy to do!
We follow the stylish food writer, Anna Barnett through some of her insider tips and tricks as she shares her creative table set ideas.
"I love doing a Christmas table setting as it's a chance to be super-creative and let your personality shine through," says Barnett.
"It honestly doesn't need many ingredients to give a setting the 'wow' factor. Just be inspired by your bauble collection and add a few more details, like foliage," adds Barnett. "Make it eye-catching and engaging – and a little bit different – and people will enjoy your feast even more. Then sit back and wait for the compliments – guaranteed to give you a seasonal glow!"
Serve up in style this festive season with these go-to tips and tricks. Simply choose your look and get creative!
1. Serve Nature With An Aussie Flavour
This is a refreshing, Australian-inspired scheme using eucalyptus stems. The subtle, muted colour is so in tune with the fashionable country look.
Step 1: A hanging display
Use a small bunch of willow branches attached to two leather straps or ribbon. Hang from a ceiling centrally above the table or kitchen counter, or alternatively on a wall or from a pendant light or chandelier.
Hang a selection of lightweight baubles at different heights onto branches using invisible thread (fishing line works well).
Select a colour palette of two to three colours – gold and orange are a classic combination, Barnett points out. "I've included miniature Christingles (oranges spiked with cloves)."
Barnett's colourful hanging display features: Cosmos Set Of 3 Gold Star Tree Decorations, £8 (AED 38); Roca Set of 6 Multi-Coloured Faceted Baubles, £8 (AED 38); Anngarsk Set of 40 Metallic Baubles, £8 (AED 38); Neal Set of 3 Glitter-Dipped Baubles, £12 (AED 57), all Habitat.
Step 2: The Centrepiece
Lay a line of eucalyptus stems the length of the table and intersperse with gold, copper or bronze baubles, which will reflect candlelight. These shades compliment each other and eucalyptus has a relaxing aroma.
Bring the effect to life with pomegranates, artichokes, oranges and walnuts – you can spray paint some of them gold also. A selection of candlesticks (marble or metallic) of different heights creates atmospheric lighting.
Enhance with interesting texture, she suggests, such as a linen tablecloth and napkins, and creamy white hand-thrown pottery contrasting with sleek china dinnerware.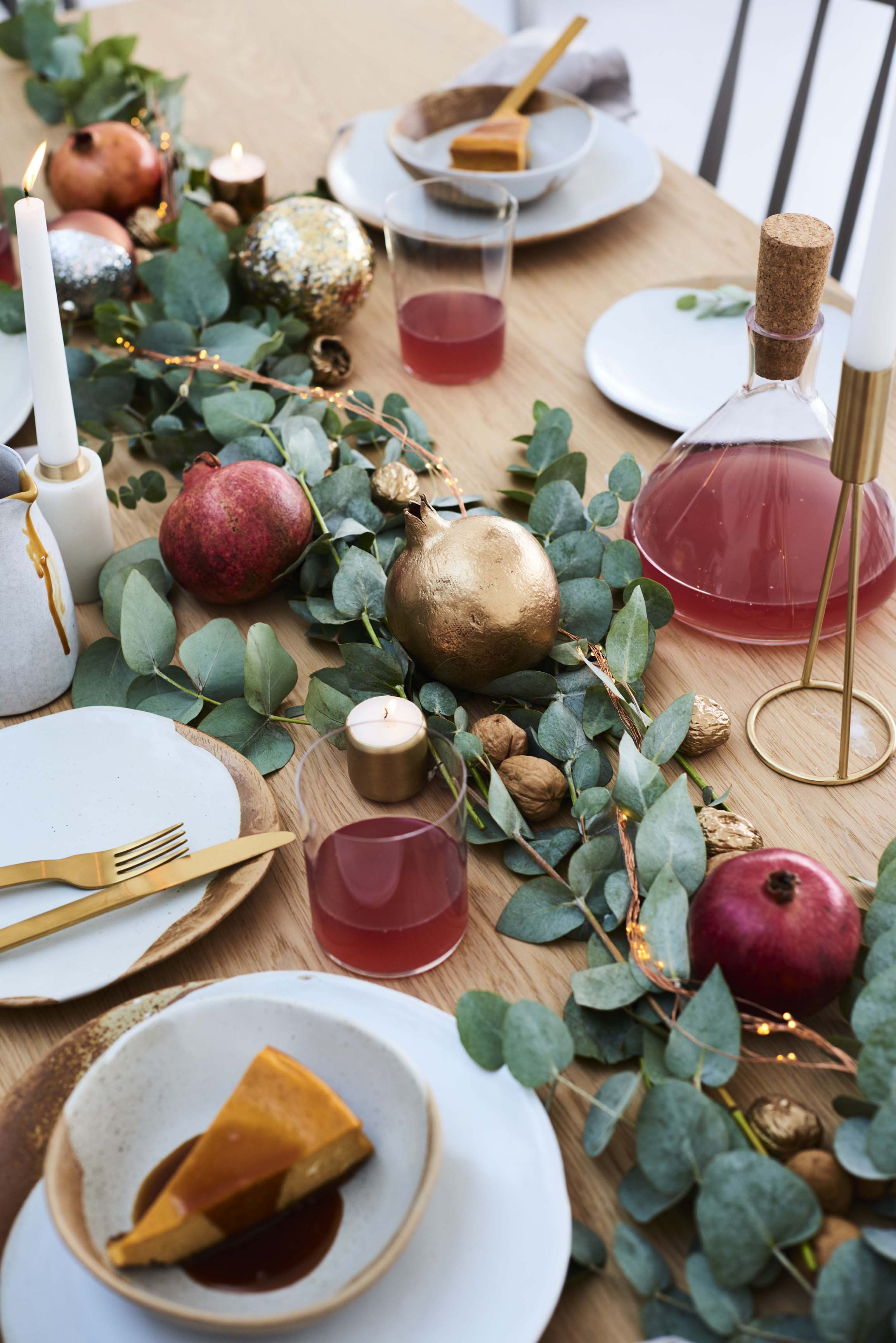 2. Decorate On The Dark Side
Black isn't a traditional colour to decorate with at Christmas, but this is a really different dramatic scheme, with a cool, contemporary vibe.
Ramp up the drama and go really moody with all-black dinnerware, or keep that lovely sharp contrast of monochrome. A fun combination of playful and quirky.
Step 1: The Centre Piece
Black is a great base to accentuate colour and texture, and Barnett has layered gold and pine on the top with fir tree branches down the middle of the table. These branches will fill the room with a fresh pine scent, and entwine nicely with battery-operated fairy lights.
Pine fronds and pom-poms give warmth to this look, and stop it being too stark, Barnett adds.
Step 2: Bespoke A Place Setting
Baubles and gift tags, with every guest's name written on each, conjure really personal place settings and make a lovely gift and souvenir of the meal for each person to take away.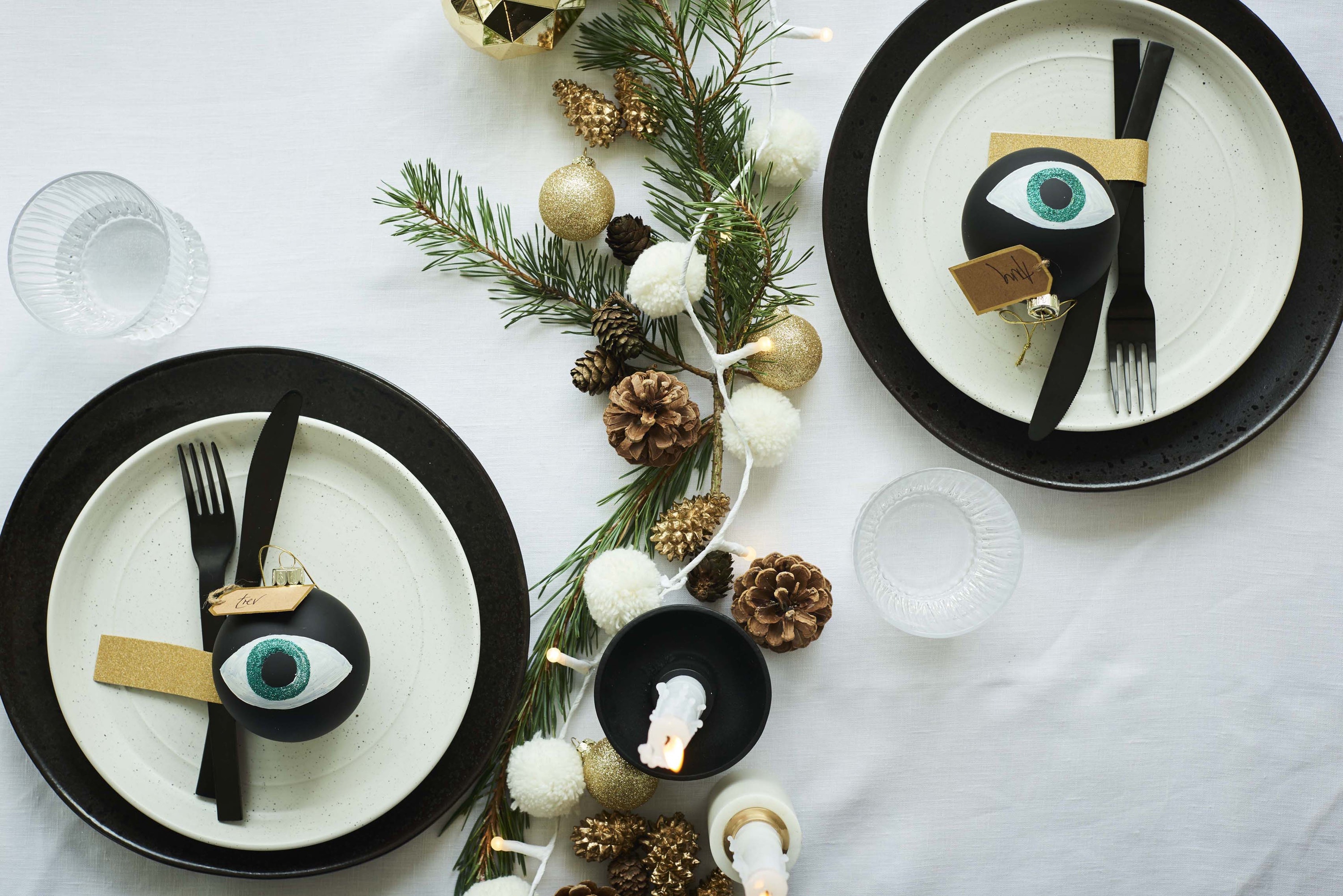 3. Create A Fiesta Feast
If you love colour, this one's for you! Barnett uses a traditionally seasonal palette of red and gold as a base but then thrown in a 'fiesta' vibe with over-the-top patterned baubles, sequins and glitter. Lots of glitter!
Step 1: The Centrepiece
For this step any foliage will work with lots of intertwined fairy lights. For added zing, weave in strands of red and gold ribbon or glitter string.
If you're worried about overwhelming a table and not leaving enough space for platters and plates, arrange the effects in clusters spaced at intervals.
Step 2: Place Setting
"Attach gift tags to small cocktail crackers for each setting. I've used wool tassel tree decorations (Habitat) here as a cutlery tie, or you could use them as a napkin ring. These are nice takeaway favours for guests," Barnett notes.
"If you want to 'cool' down the look, substitute white or even silver china for the red plates," she suggests. "It'll give the same vibe but not quite as bold."