8 Ways To Give Your Home A Glam Makeover On A Budget
Your wallet will thank you.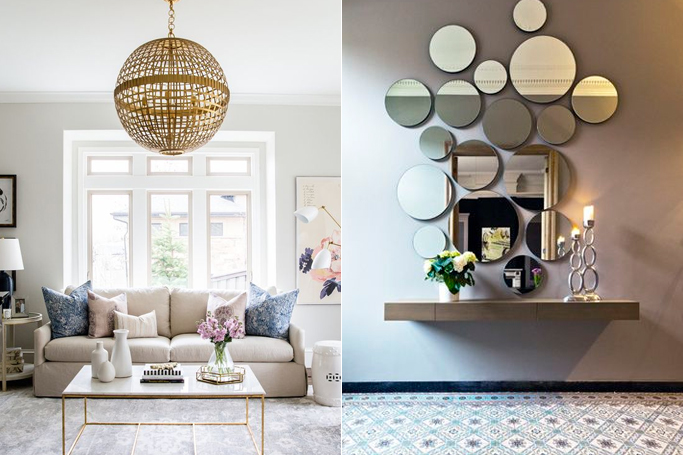 Let's start by stating the obvious: We all want our homes to look like a million bucks. And we don't have a million bucks.
You may be strapped for cash but that doesn't mean your home has to be strapped for style. Adding some chic designer pieces sure makes the job easy but it's NOT the only way to make your home look tastefully expensive.
If money could buy class, there would be no badly decorated places in the world. Below are some budget-friendly tricks to give your home a classy makeover.
Pick a few and your wallet will thank you.
1. Opt for long curtains.
Curtains are much more than just window-dressing. The right material and length of a curtain can bring a dramatic visual change to any room.
Opt for high-ceiling curtains to create an instant revamp. They also create an illusion of vertical space giving your room a neat formal touch.

image credit: Pinterest
2. Add a touch of gold.
Anything gold shouts glam. Grab a can of gold spray and add sheen to any piece of furniture in need of a face-lift.
Tip: Just don't overdo the gold effect.

image credit: Pinterest
3. Invest in statement pieces.
No matter how tight your budget, allow one large piece of furniture or artwork that dominates the room. You can then compliment it with less expensive items like porcelain, wood or glass.
Splurge on things that are classy timeless and durable. It could be your sofa, dining table, an artwork or even a chandelier.

image credit: Pinterest
4. Hang a collection of mirrors.
Mirrors are probably the most pocket-friendly way to add dimension, space and light to any room.
Play with different sizes or shapes to create a chic decor pattern in the hallway or entrance — it's a winner!

image credit: Pinterest
5. Add an oversized piece of art.
Nothing says drama like a vibrant statement piece of art. It's the easiest way to take your room decor to the next level.
The good part? It doesn't have to be expensive. Do some research, you can buy great art pieces at sale auctions. But if you want to avoid the effort, then enlarge black and white photographs or a DIY mural, they look great too.

image credit: Pinterest
6. Do your layering right.
A vintage bookshelf, a cosy sheepskin spread or a vibrantly patterned rug — small details make all the difference. Fill your space with what inspires you and makes you feel at home.

image credit: Pinterest
7. Combine old and new.
Can't afford a new sofa? No problem. Add some vibrant hues of fresh pillows and you'll have a sofa as good as new. Do the same with other old pieces too.
Sometimes changing the paint, adding a vase and throwing a rug can give an instant lift to an otherwise dull place.

image credit: Pinterest
8. Play with the windows.
Whether you opt for a floral pattern roller blinds or an eye-catching plant display, updating your window area is bound to give your scheme the bargain boost it needs.

image credit: Pinterest