Destination Style: Here's How To Channel The Nomadic Decor Trend
Feeling adventurous?
Posted on
5 November 2018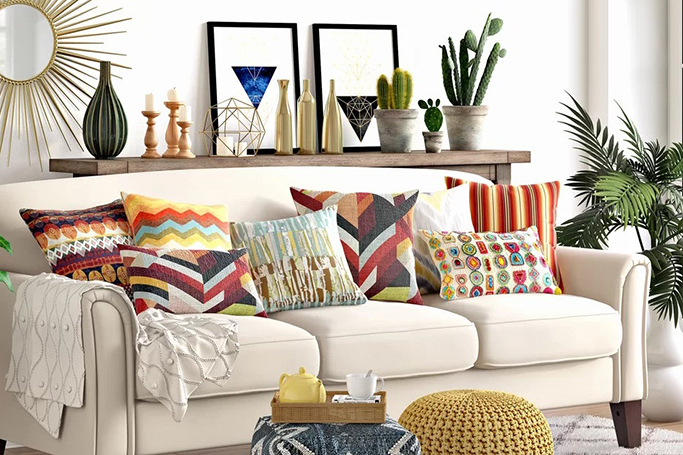 Some trends suit those who like to play it safe, but 'Nomadic Modern' certainly isn't one of them.
This is a decor direction for those who want to push the creative boundaries, are open to inspirations from all over the world, and love curating their exotic treasures into schemes which ooze personality.
Tempted? There are three key routes available if you want to journey to this style destination, and join the nomadic decor tribe.
If you're an intrepid adventurer, show off your souvenirs in a colourful, quirky way with a dash of bohemian, or simply but subtly pick up on tribal patterns and layer them set against an earthy rich colour palette. Alternatively, the stay-at-home but stylish could opt for a sophisticated, uber-contemporary scheme that just hints at global glamour.
Be adventurous and take a style journey – no passport required! Just follow the experts' simple guide to joining the global gang…
Let textiles tell a faraway story
"If one word defines this trend, it's textiles, textiles, textiles! From chunky Moroccan pouffes to scatter cushions in tribal prints, woven accessories are the surest way to bring to life the nomadic look," enthuses Nadia McCowan Hill, resident style advisor at Wayfair.
"Don't be afraid of vibrant hues or colour-clashing, as this trend is reserved for the bold. Bear in mind though, that the look should be eclectic and fresh, rather than rigidly devoted to a single style. Accents of metallics, such as a golden sunburst mirror or a bronze or copper lantern or tray, can add an essential touch of glamour and richness."
Abundant greenery is an essential finishing touch, adds McCowan Hill, who suggests lavishing a home with luscious foliage, from elegant palms to trailing hanging plants.
TRIBAL TIP: This is a great opportunity to show off your most prized treasures. Dig out trinkets and reminders of long-forgotten trips and display on a striking decorative tray or coffee table.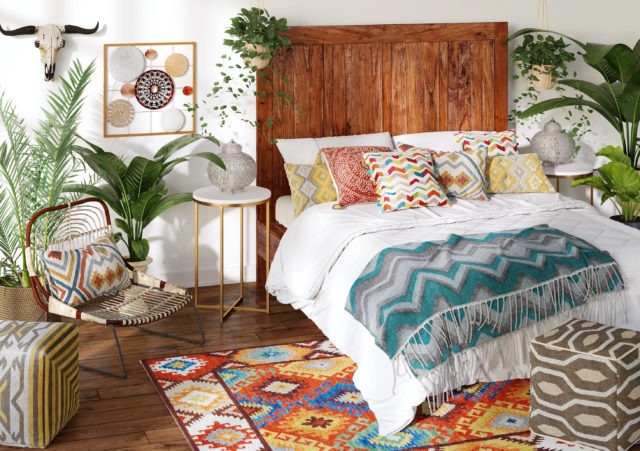 (Wayfair/PA)
Take it tribal
"I'm a big fan of nomadic style because it's unconventional, artistic and relaxed," declares designer Abigail Ahern, who has a new collection of curtains and cushions for windows and blinds specialists, Hillarys.
"All it takes are three simple steps to pull it off. First, mix in tribal patterns in small ways through curtains, blinds, cushions, accessories. These are the hallmark of this style and I tend to plump for subdued hues, like super-cool noirs, browns and olives."
Secondly, she suggests, introduce an infusion of natural and raw materials, such as wood, rattan and hemp – think baskets, rugs, planters and foot stools. Finally, she adds: "Use vintage pieces as an interesting and unique mix, especially if you keep the palette restrained so that it unifies the scheme."
TRIBAL TIP: Accessories are the equivalent of a five-minute facelift for decor and one of the easiest ways to turn rooms around, notes Ahern. "Cushions are a game-changer, especially on beds and sofas," she says. "Even better if they're embellished with fringing, as it shouts instant nomadic style."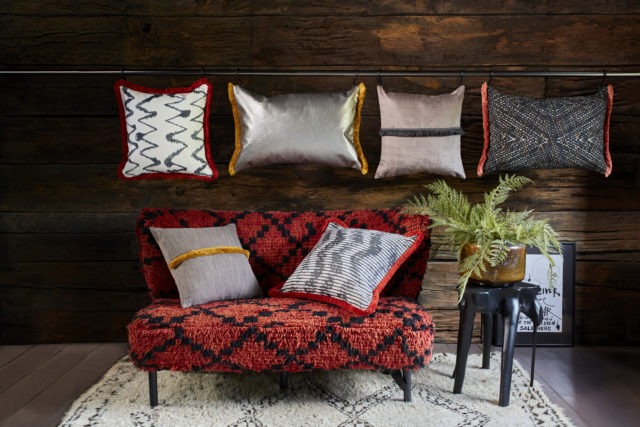 (Abigail Ahern/PA)
Get earthy
"This look allows people to truly explore, and have the freedom to create their own style," says Kris Manalo, upholstery buyer at Heal's. "The nomadic trend fuses influences from every corner of the globe, to capture a wonderful sense of warmth, comfort and style. Capture elements of it by layering earthy, terracotta tones against refined neutrals," she suggests.
"Bring personality with bold tribal prints and rich, wooden finishes. Pair vintage pieces with contemporary updates for an added layer of interest, and for a distinctively personal touch, look for hand-crafted accessories, which will give an organic sense of individuality to a room."
TRIBAL TIP: Style with luxury materials – buttery leathers, knubbly knitted throws and cashmere cushions are ideal – to create a cosy, intimate and sophisticated sanctuary.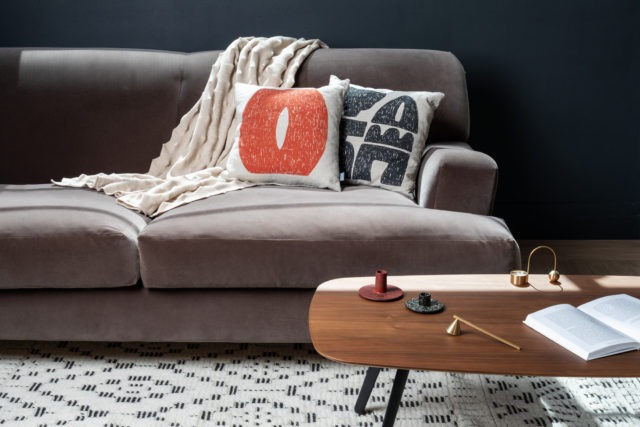 (Heal's/PA)